William Kherbek takes a closer look at the lyrical stylings of Kylie in this group exhibition, which "transcends the sum of its parts"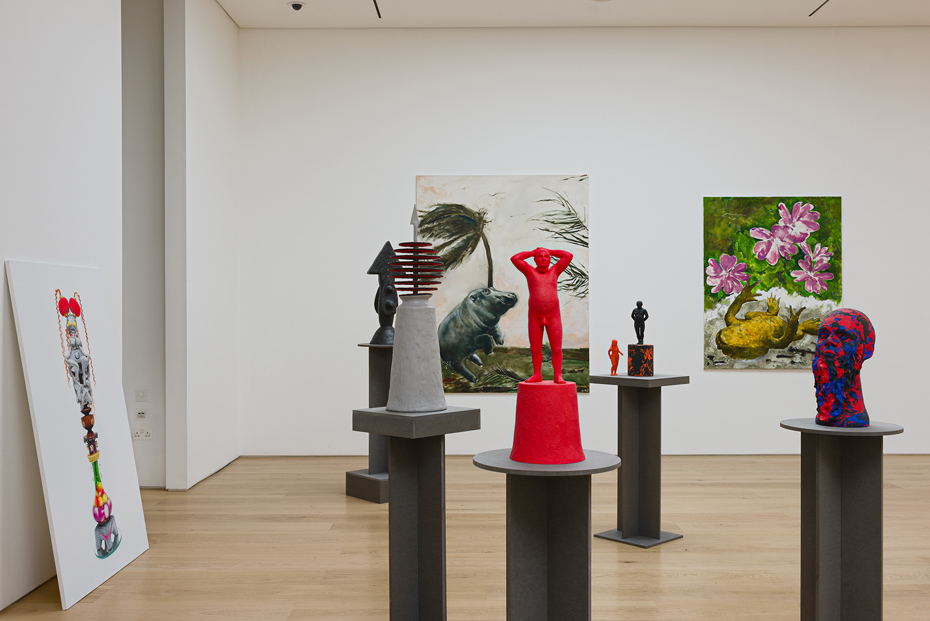 It's usually sensitive male singer-songwriters, (James Blunt, or James Morrison for example) who get me thinking about the apocalypse, but thanks to the press-release for Cowboy Style at Marlborough Contemporary Gallery, I had my first apocalypse experience with Kylie Minogue. I've always appreciated the lightness of Kylie. I wouldn't call myself a fan, but she's one of the partial-creations of pop-world that has always struck me as completely acceptable, even a generally positive thing for a certain section of humanity. That was before I'd read the lyrics to Cowboy Style. Reprinted in full in the press release, the shudders I felt were not, I trust, entirely reducible to influenza: "Cowboy style with a peaceful smile / You are from the temple won't you stay awhile?" I should note that it took three people to write the song, Kylie, Dave Seaman (here's hoping it's an England goalie's stab at a second career), and Steve Anderson (an obvious alias). The lyrics are full of mind-blowing reversals of expectation like "you take me close and far away", and "you took me to a deeper high". What would happen, I thought, if civilisation – such as it is – collapsed and the only text that was found by the giant roaches who came to rule the earth later was the lyric to Cowboy Style? "These", a roach equivalent of Simon Schama would intone, "were their sacred scriptures."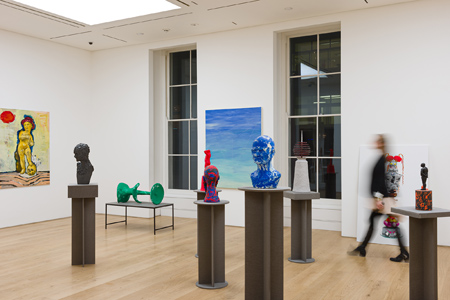 If you like the kind of disorientation of which Kylie sings, I think Cowboy Style the exhibition will take you to a deeper high of your own. Its one of those grand messes of a group show that somehow transcends the sum of its parts. In a sense, it's the sheer crowdedness of the show that makes it work. Works, seemingly straining at the edges of their media and forms, are all shouting above each other so intently that their combined voices reach a kind of transcendence. There's exuberance to burn, not least in the strange menagerie that is the sculptural work of Laura White. White's works seem determined to consume every possible expression of sculptural– and commercial form. Somehow, Werner Buttner's paintings manage to assert themselves amid the cacophony.
Possibly it's the dialogue between the brushwork and the materials depicted, possibly its the unstable but extremely tactile grounding of the images, it's hard to say, but their presence seemed to reign in the tendency toward, if not whimsy, then perhaps overly aggressive omnivorousness that the show risked. Hard not to love psychoanalYSL's plasticine skull impaled with crayons that sat in the eastern end of the room. The significance of the sculpture is revealed in a video work installed against a constructed wall dotted with speakers. The film has plenty of "now" about it, but I did wonder whether it was better to have picked one work or other, the skull or the wall video, and let it stand alone.
Somehow it felt like a point laboured, an interesting point, granted, but somehow too insistent on not missing an opportunity. Sometimes suggestion tells you more than explanation. I say this, but it's a show that understands subtlety can be overrated. If you need further proof, take it from Kylie, Dave Seaman and Steve Anderson: "The ordinary is surreal / Peace and terror all in one / My future life has just begun". After Cowboy Style, maybe mine did too.
Cowboy Style runs until 17 February at Marlborough Contemporary, 6 Albermarle Street, London W1S 4BY