The vineyard-hotel in Provence housing work from some of the most revered contemporary architects and artists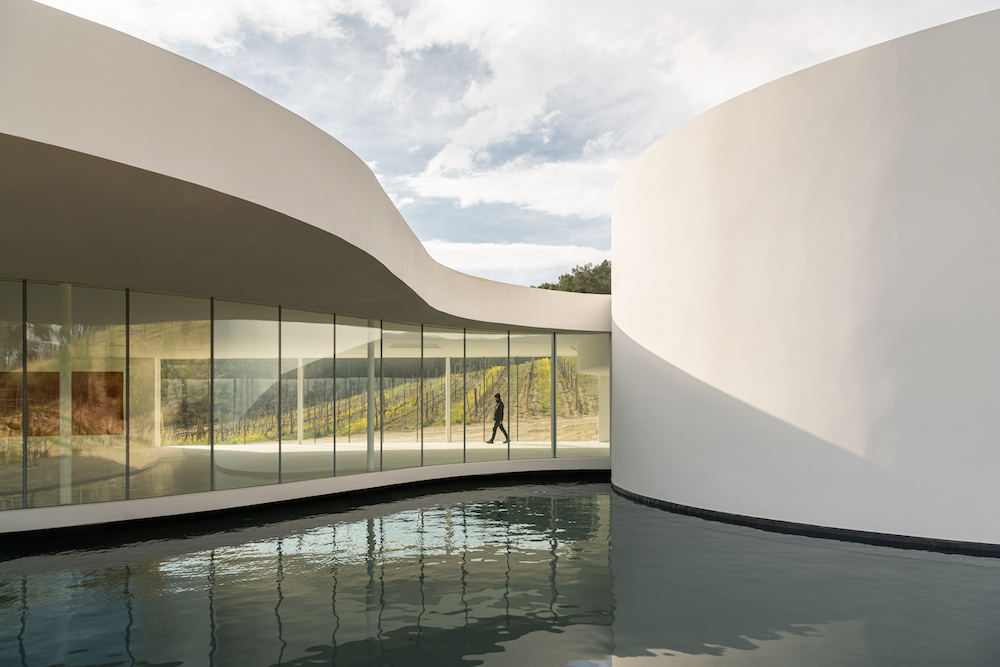 A muscular white horse named D'Artagnan, after The Three Musketeers, is slowly but surely ploughing a row of grenache, overlooked by a remarkable feat of engineering. A 120m2 gallery – encased in skeletal orange steel beams – floats over the surrounding woodland, upheld by a clever cantilever courtesy of the late great Richard Rogers, his last project before retirement. This unlikely vignette is an apt example of what makes Château La Coste (CLC) so charming and singular.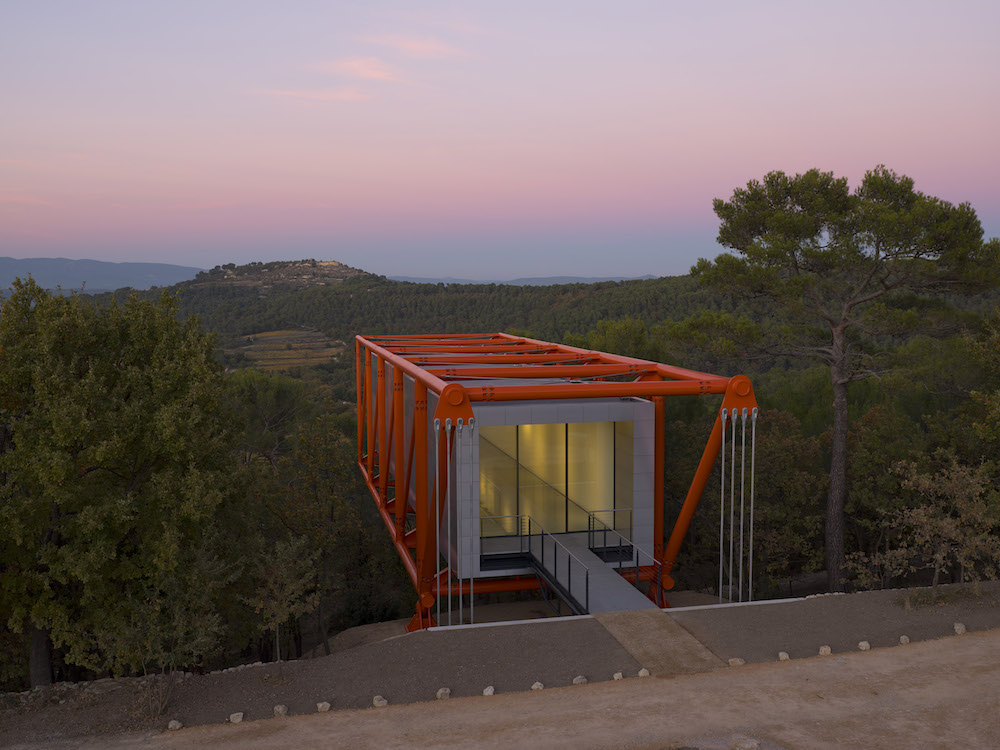 Sat between the historic city of Aix-en-Provence and the Luberon National Park, it is both a working vineyard, five-star hotel, and publicly accessible site with work from some of the most revered contemporary architects and artists. Sculptures, galleries and pavilions are scattered around the sprawling estate that opened its doors in 2011 and is the labour of love of Patrick McKillen. The Irish businessman and avid collector has been able to pull in names like the aforementioned Rogers, Renzo Piano, Frank Gehry and Tadao Ando because of pre-existing friendships, often through past projects. The latter's assured hand is felt from the off, having made both the entrance gate and tranquil arts centre you first encounter on arrival. Built in a V shape, the sleek concrete and glass building sits upon a small body of water that is populated by a crouching Louise Bourgeois spider and kinetic mobile sculpture by Alexander Calder (the first artwork acquired); its sharp geometric form resembling a ship's bow serenely cutting into the open sea.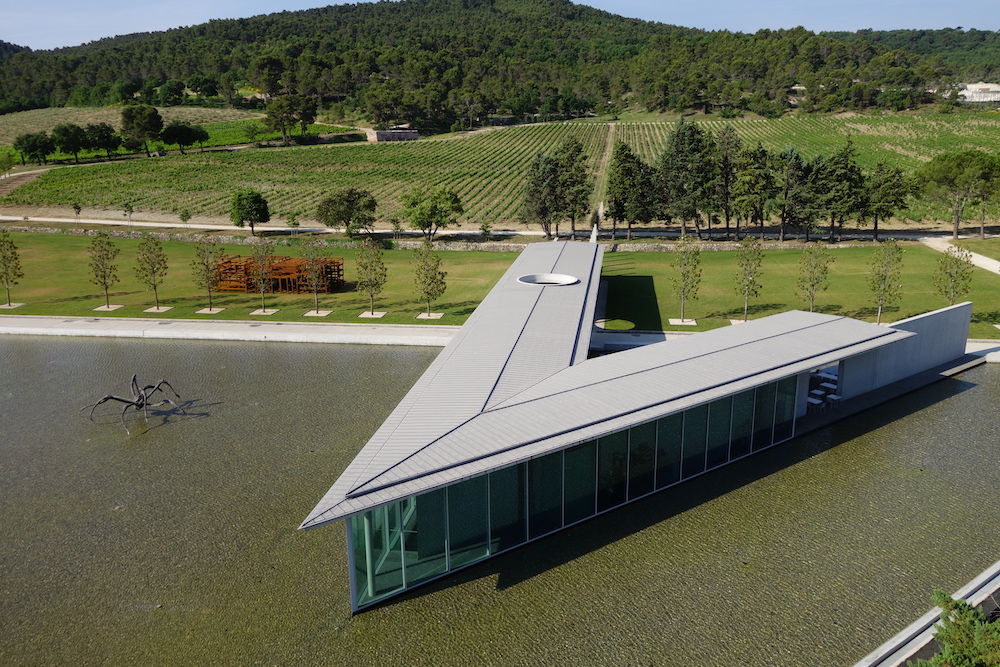 CLC's villas and suites lie on the crest of a sloping hill, giving a commanding view of the cabernet sauvignon, syrah, vermentino, cinsaut, chardonnay and sauvignon blanc plots, as well as trim lines of aglandau olive trees. Walking through the main reception you are flanked by two enormous skulls, while Japanese Noh masks hang over the fireplace. The tall wall of windows opening onto the balcony floods the room with light, and a James Turrell-esque aperture in the roof carves out the brilliant blue of the spring sky.
After a late lunch of sea bass, wilted greens and polenta, I wander down to the winery designed by celebrated French architect Jean Nouvel. Laying like an aluminium bottle half sunk in the soil, it houses cavernous steel vats and a cool subterranean cellar where the bottles are left to mature. Though erratic weather brought on by climate change and long spells of drought are increasingly playing havoc with harvest times, the terroir is rich and healthy due to the quasi-Mediterranean climate, with a wine-making tradition that can be traced back to the Romans. When it was originally taken over, the 200 hectares was producing one million bottles a year, however this was purposefully scaled back to nearly half while they adapted the land to biodynamic practices. The entire vineyard is now back to that original level of production but wholly organic, having been so since 2013. Suffice to say the vintages it has produced in recent years are outstanding, its rosé and white being particularly strong, with natural structured notes of wood and red berries.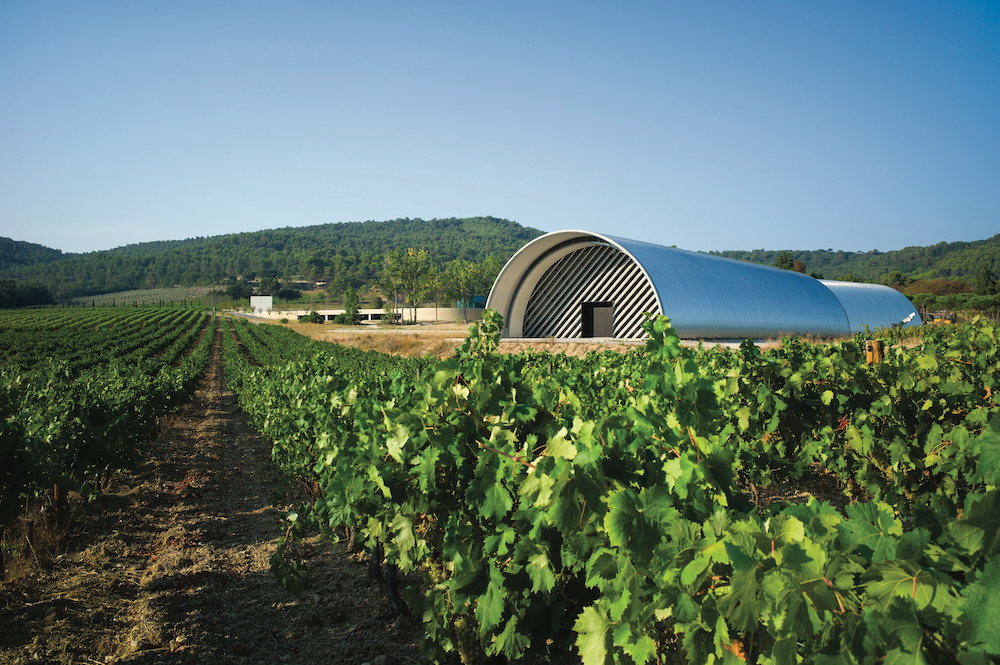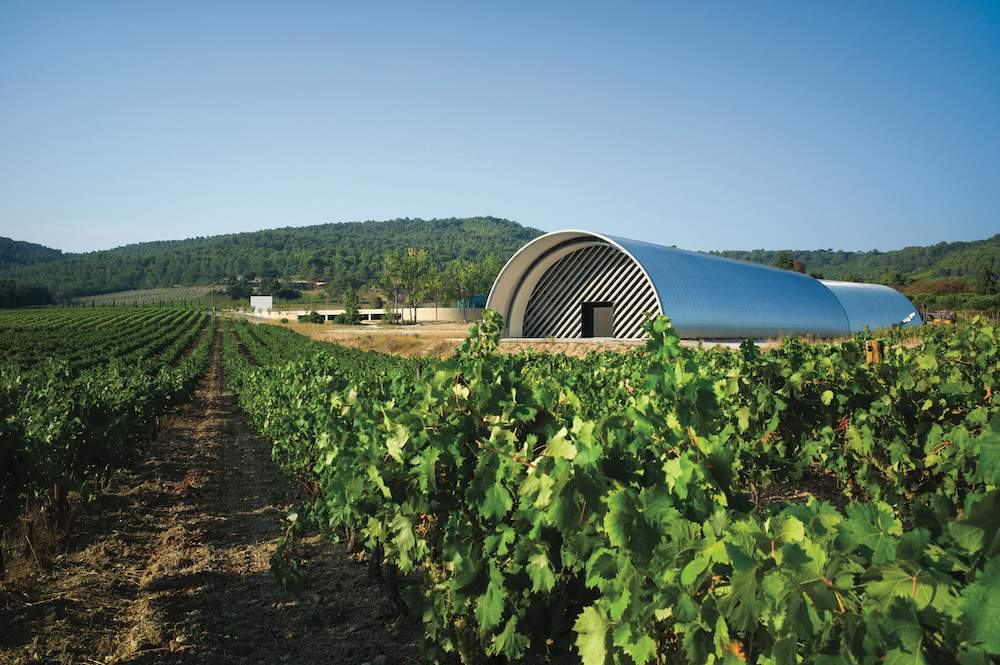 But what is a glass of good wine without a dish to make it sing? In the evening I join a gaggle of French journalists and photographers at Francis Mallmann's restaurant. The charismatic Argentinian constantly travels but has found a place to hang his hat in CLC (when I visited, a dashing beret), his trademark love of cooking with fire to draw out robust flavours on full display. It is a bold, macho affair – rustic wood oven beef empanadas, grilled artichokes with gorgonzola cream, octopus with a kick of anchoiade and purple potatoes, white asparagus that bit back from its freshness – complimented by lively company discussing everything from national strikes to the changing face of nearby Marseilles. I follow their Gallic lead and request my vast rib eye saignant, nice and bloody. Declining the offer to get a taxi to the villas so as to enjoy a night-time walk under the stars, I am cautioned – half jokingly – that wolves live in the surrounding area. After that many courses I would not have been able to run far.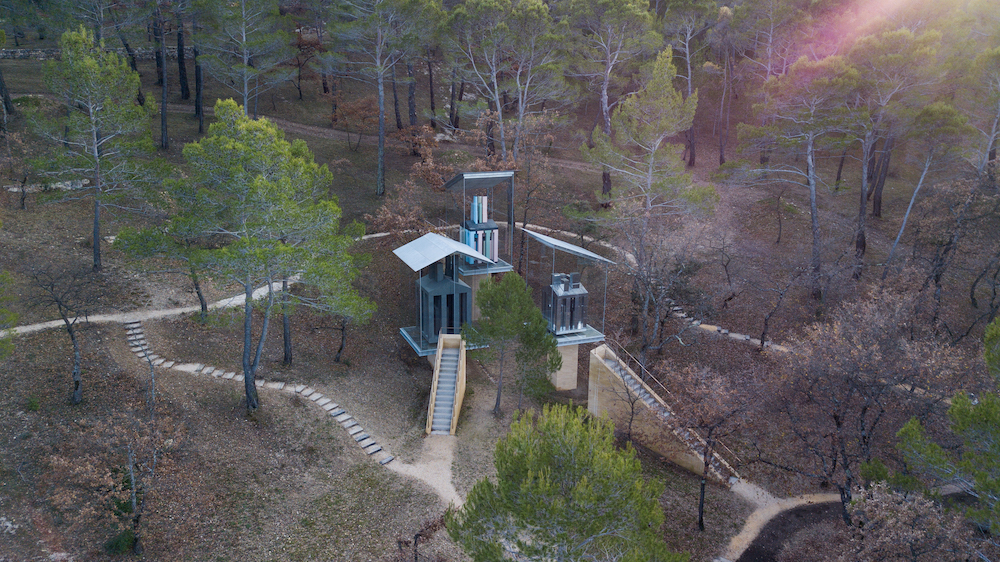 The next day, I am blessed with sunshine for the art and architecture walk, an outdoor ramble that stretches across 4 kilometers with over forty installations lining the way. Each collaborator has actively chosen where their work will live, rather than it being parachuted in and divorced from its location. This breeds a real sense of communion and almost inevitability, a natural marriage that Daniel Kennedy, CLC's art center manager, expands on when I ask what happens when art is experienced outside of a traditional white cube space: "The environment here, the fact that it's a working farm, the history of the place – this all contributes to a magical feeling. Celebrating those natural elements, the specificity of this place, remains fundamental. Our artists and architects spend a great deal of time here discussing the what and how of their projects. They have plenty of freedom, and these conversations lead to work feeling integrated into the site, they're not just positioned here. I think that distinction is clear, and important."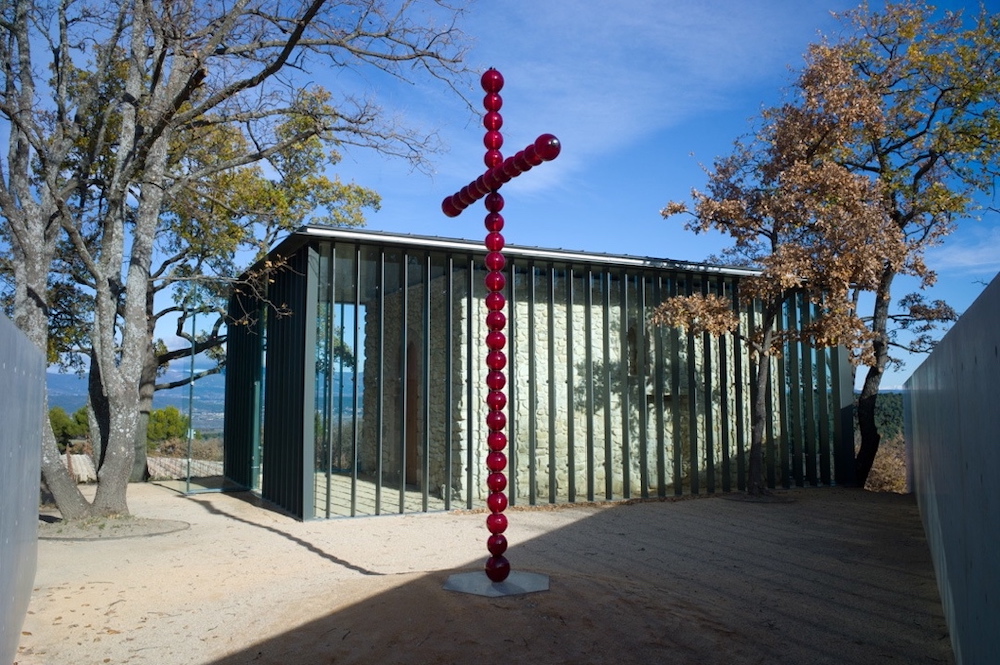 Carved paths cut through cypresses, stone pines and oaks, and I begin with a slight climb to meet Liam Gillick's Multiplied Resistance Screened, sliding gates that encourage visitors to move said screens and blend their varied colours. Nearby, a skulk of bronze foxes by REM frontman Michael Stipe litter the undergrowth, while a wine barrel doubling as a self-portrait (with a hidden feline element I won't spoil) by Tracey Emin rests on a viewing platform jutting out over a clearing. Further ascent reveals a modest 16th century chapel restored by Tadao Ando, a daring chimeric pairing of past and present architecture exemplified by three brick holes at the bottom of the back wall naturally lighting the modern glass altar. Keeping it company is Jean-Michel Othoniel's La Grande Croix Rouge, a ruby red glass cross that references both transubstantiation and Ando's native home, red being a traditional colour for wedding kimonos.
A downwards jaunt leads me past Kengo Kuma's Komorebi – a latticed layering of ipé wood beams whose title refers to the Japanese term of how 'rays of light filter through trees' – to the vineyard housing Richard Rogers' Galerie d'exposition, which at the time I visit houses wonderful tapestries by Isabel Nolan. Skirting its edges are an ironwork freight car by Bob Dylan (fusing design motifs and details he's catalogued whilst touring), Lee Ufan's House of Air (painted gravel creating a shadow that doesn't exist) and Sophie Calle's Dead End, a confessional tombstone that invites visitors to deposit written secrets.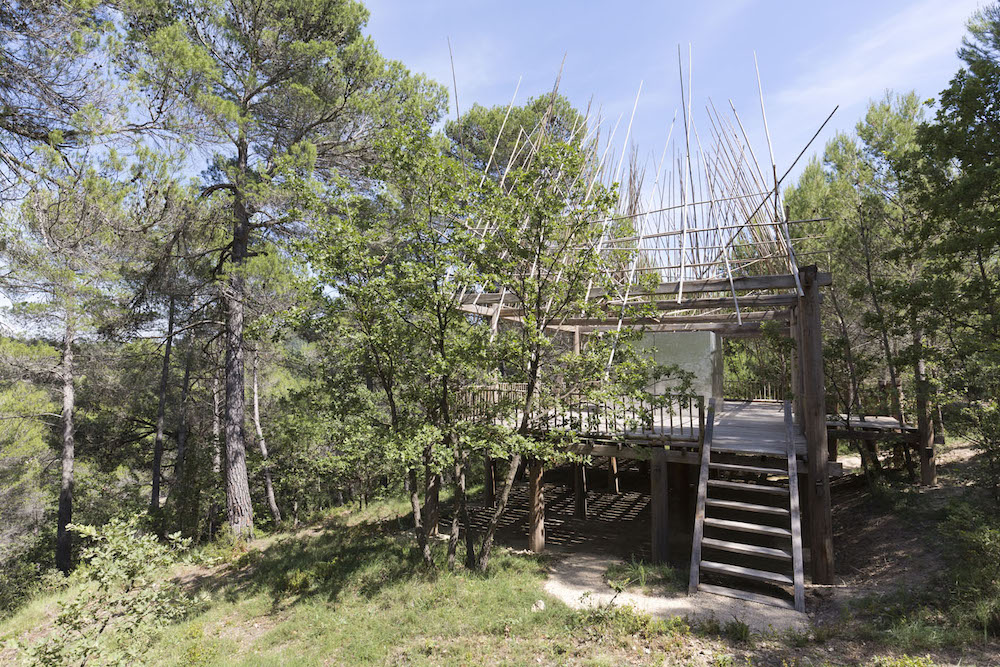 Winding down further still is a zig zag path by Ai Weiwei using paving stones from Marseille's Port that were initially destined for the scrap heap. Having acted as a key gateway for migrants travelling into Europe for centuries, the worn stone has been given new life and speaks to the Chinese dissident's extensive work on the refugee crisis. At its base is a vivid yellow totem by Franz West (its phallic nature winked at through its title, Faux-Pas) and a traditional Vietnamese bamboo house by Tia-Thuy Nguyen, its silver leaf iridescence calling to mind the lustre of Gustav Klimt.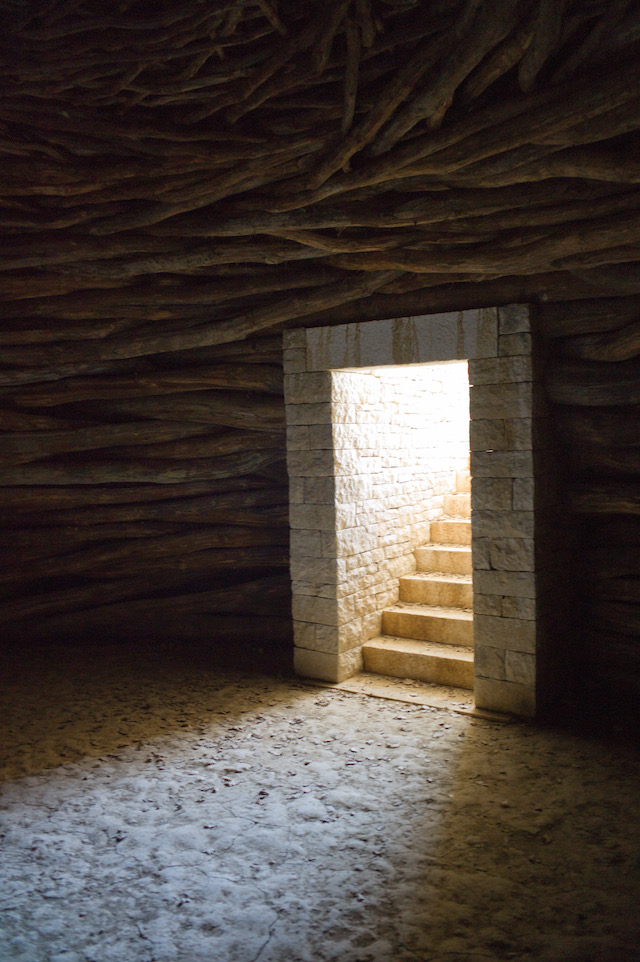 After passing Conrad Shawcross' Schism (nineteen tetrahedra arranged together to form a failed sphere, Per Kirkeby's Brick Labyrinth (formed from 24,000 handmade bricks) and Andy Goldsworthy's tremendous Oak Room (over 1,200 pieces of oak intertwined to create a cosy nest within an old stone wall) one has a clear vantage point to glimpse the arced beauty of Oscar Niemeyer's gallery and auditorium. The Brazilian architect's mastery of the curved form manifests here as a large comma or breaking wave, its foor-to-ceiling windows reflecting the placid pool of water around its exterior.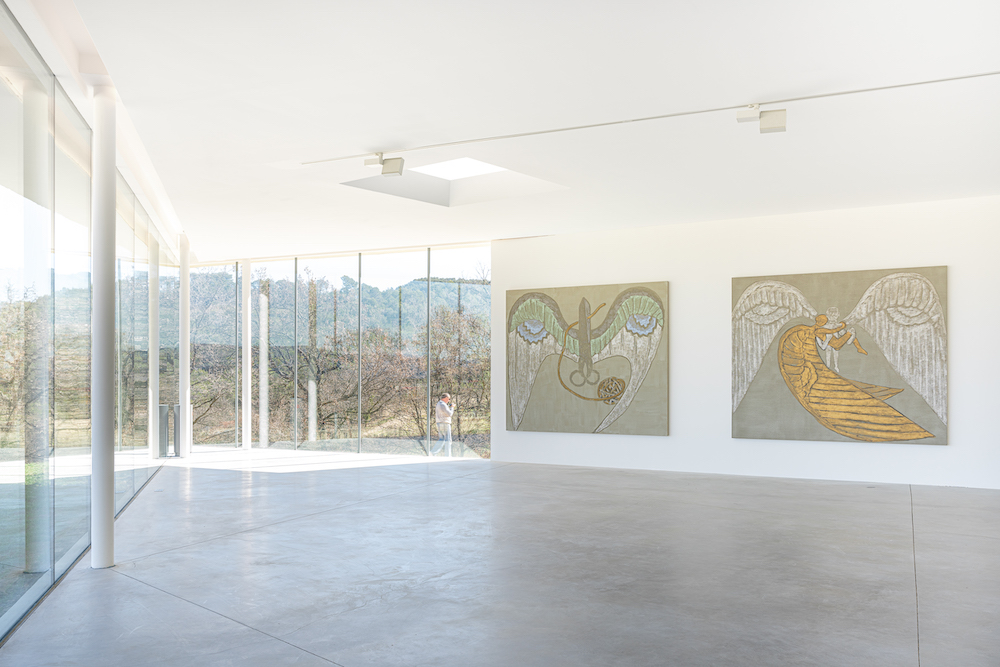 Such is the strength of these permanent installations that in many instances artists have gone on to hold separate exhibitions – Ai Weiwei, Conrad Shawcross and Lee Ufan, to name a few. "We're keen not to be pigeonholed into one style of program or work," notes Kennedy. "We display photography, design, painting – figurative, abstract – and sculpture, and want to give a platform to younger artists as well as established names." The rest of 2023 certainly captures this range, with photographic work by Andy Warhol, landscape paintings by Jennifer Guidi, sculpture from Anselm Kiefer, and original works from designer Pierre Paulin planned until September.
The end of the walk leads me back to the main cluster of galleries and restaurants at the entrance, and I while a way the afternoon at Vanina Chimeno's eponymous Italian restaurant under the shade of a chestnut tree. A wickedly sharp salad of fennel, mint, avocado, lemon and lime is followed by slice after slice of pesto shiitake potato pizza, orange almond cake and tiramisu. Despite the soporific effect of filling my boots so thoroughly, I find myself magnetically drawn to another loop of the art and architecture walk.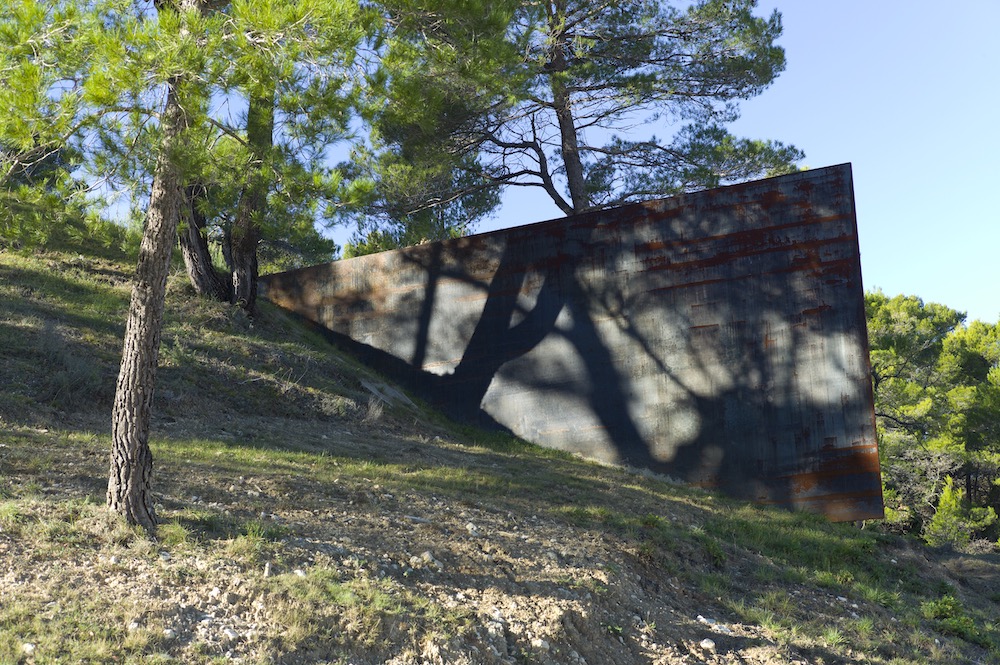 There is a quiet delight in the fact that all it takes is a different quality of light, or angle, to completely change how you see something. Looking at Richard Serra's Aix anew – three metal sheets made from a mix of steel, iron, copper and zinc that are half buried in a hill – and the burnt umber rust blooming across it, I am reminded of a quote from French poet Paul Valery: "An artist never really finishes his work, he merely abandons it." This joyful surrender can be found pretty much anywhere in Château La Coste, the patina of its installations and architecture constantly being revised by the elements, slowly assimilated into the earth it seemingly springs from.