South African artist Esther Mahlangu discusses taking her art from the back walls of her house near Pretoria to the Centre Pompidou in Paris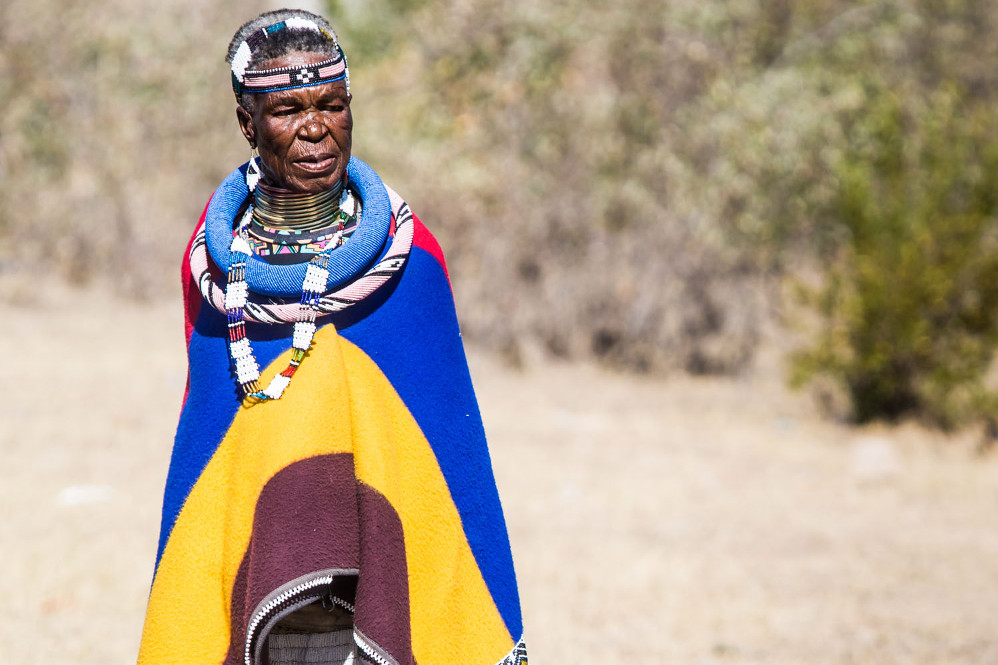 Despite being 81 years old, Esther Mahlangu doesn't show any signs of slowing down. For the past 70 years, the South African artist has been creating bold and beautiful murals and working them onto any surface she sees fit, be it the houses and walls of her native Ndebele community, or BMW cars and British airways planes.
Labelled the 'grandmother' of African art, Mahlangu has gained international recognition for her large and colourful geometric designs, which she was taught by her mother and grandmother. Her colourful – and (often large-scale) patterns are rooted in a Ndebele tradition that dates back to the 18th and 19th centuries, which saw women from the community paint vibrant symbols on their homes in order to communicate with their peers in a manner that couldn't be understood by the local Boer.
Although she still lives in her homeland, Mahlangu is still prolific on the international stage and is using her popularity for benevolent causes. Her latest project has seen her distinctive motifs applied to Belvedere Vodka bottles, as part of an ongoing campaign in collaboration with AIDS charity (RED)
Here, we meet the indefatigable artist to discuss where her passion for art began, painting traditional Ndebele motifs on modern day technology, and teaming up with Belvedere Vodka.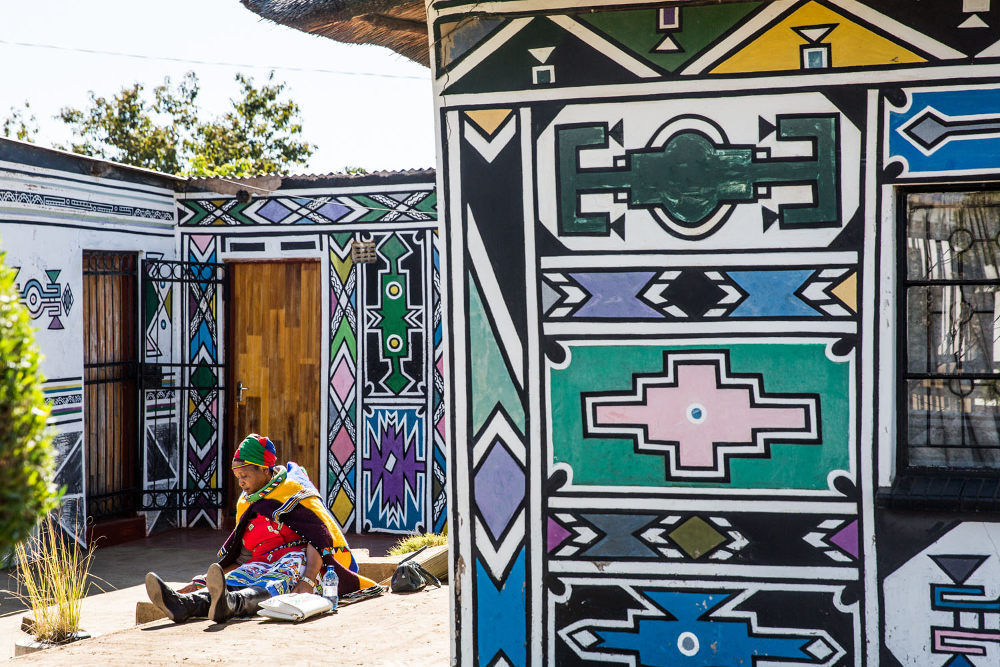 How would you describe yourself as an artist?
I always loved to paint, since I was a small girl I started off by painting on the back walls of our house, then as I got better I was allowed to paint the front. I knew this is what makes me happy and I just want to keep on painting.
Painting is in my heart and in my blood. When I was invited to paint for the first time in the Centre Pompidou in Paris in 1989, I saw how happy my work made the people and I knew I had to keep on doing that. Through my painting I can show people about my culture and the painting style of the Ndebele. Every time I travel to paint overseas I know that more people now know about Esther and the Ndebele. I paint every day.
Where did your interest in painting objects and walls begin?

Part of Ndebele culture is to paint and decorate walls of our houses to tell a story or send a message to the passers by. It was also a way to unite and identify the Ndebele as a nation during difficult times. The walls are painted for special occasions to announce happenings like a wedding or when a son goes to initiation school.
The girls are taught from a young age to help their mothers paint and this is seen as part of upholding the culture and becoming a woman. After 1989 when I did the first painting for the the Museum in Paris I started painting on other objects and surfaces as they were presented to me. I have painted cars, caravans, aeroplanes, shoes, bottles and even the body of the fashion model Iman once. When I am presented with a new object it is always a challenge, but before I start to paint I see the design in my head of what I am going to do…then I just start painting.
How did your mother and grandmother influence your work?
They were not artists in way you think of artists, and also never thought of themselves as artists, but they were natural-born artists who painted and decorated the houses in the traditional Ndebele design, like all women of the time and the women before them. They did this as part of their daily duties.
I watched them from a very early age and they got me started, albeit on the back of the houses like I said. Their work was never seen by people who appreciated art but only by the Ndebele who "read" the walls and the messages they contained.
What does your art say about where your home is in South Africa?
If you look at my paintings, my art is who I am. I am Esther, a Ndebele woman from Weltevrede South Africa. Over the years I kept on painting in the same way I was taught, although I incorporated new designs and colours. The designs I paint are often similar to those I paint on my house.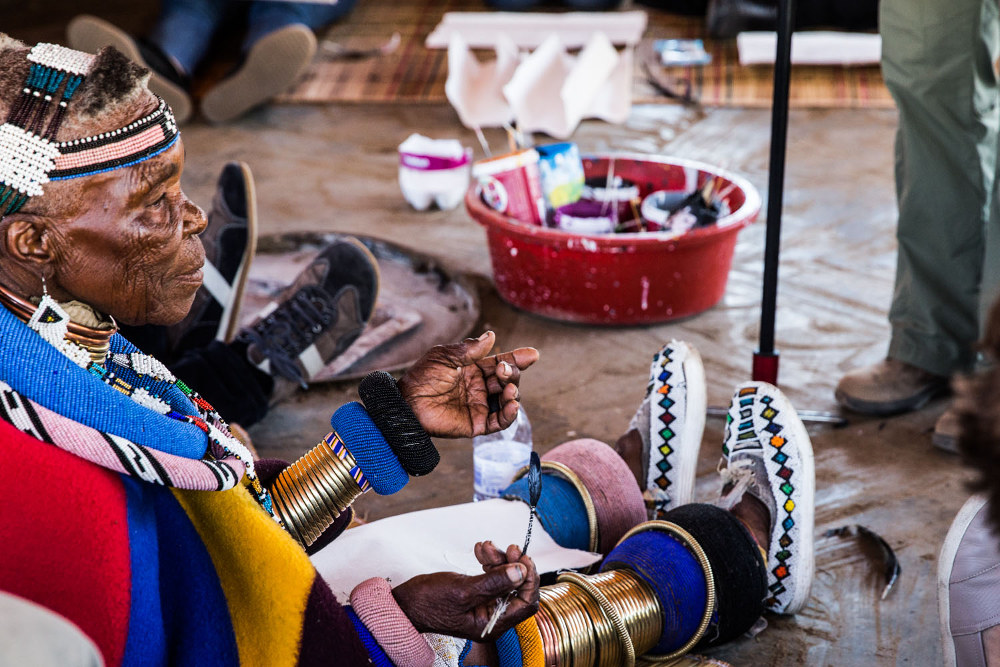 How do you think public art, like painted houses and cars, can help change society?
Most artists want to do some public artwork for everybody from the street to see. Public art is a good way to make people aware of art. Many people never go to see exhibitions or museums, but when they see art on a wall or a public space they will look at it and then wondered 'who made that?'. 
Twenty-five years ago, you collaborated with BMW to customise a BMW 525i Sedan. How different is your approach to partnerships today?
When I was approached by BMW 25 years ago I was very happy and from that came lots more collaborations and partnerships with other brands like Fiat, BA, Eytys, Melissa's, etc. This all allowed me to spread my art all over the world as it would never be possible to make so many artworks by myself.
My latest projects include the second commission I just did with BMW to paint the inside of a individual 7 series BMW, which was exhibited and sold at FRIEZE in October (the proceed of which were donated to charity). I also just worked with Belvedere on its bottle label. The collaboration with all these companies also gives me the opportunity to travel even more and see the world and meet lots of people and tell them about my culture.
Can you talk us through the collaboration with Belvedere?
In 2016, John Legend joined the fight against AIDS as the ambassador for (BELVEDERE)RED, and developed the campaign's core values: security, change, support, and unity. They asked me to paint an artwork to decorate the bottle in my typical Ndebele style.
My collaboration with Belvedere was a very special one as 50 per cent of all sales will be donated to fight against AIDS in Africa. I went to the USA for a month on their invitation and they showed the bottle all over – everybody was very happy to see it
For every bottle of the limited edition Belvedere (RED) vodka purchased, Belvedere will donate 50 per cent of the profits to the Global Fund, the leading financier of HIV/Aids prevention in Africa.
For more information see: esthermahlangu.co.za
Additional text Gonzalo Mases