Photographer Jane Hilton recounts her time documenting the drama, brutality and surprising spirituality of the pro bull riders competing at the National Finals Rodeo in Nevada
Even though I can't ride a horse, I have a horrid feeling I was a cowgirl in a former life. I've been photographing the weird and wonderful spectrum of American culture now for over 25 years now, so when I was offered access to the National Finals Rodeo I was too curious to resist. The National Finals Rodeo is the last major rodeo of the calendar, taking place just before Christmas. All the best bull riders from nationwide rodeos that have taken place throughout the year compete for a cash prize of over one million dollars and, of course, the coveted gold buckle trophy.
For 10 days and 10 nights, Las Vegas' iconic strip becomes a sea of Stetsons as cowboys descend on the city, with many driving for over 15 hours to take their chances on the backs of bulls. Sponsored by Wrangler, the scale of the televised event is absolutely huge and the stakes are high. To stay on the back of a bucking bull for the target time of eight seconds is a gruelling and dangerous task; riders are shaken to near-death in front of a packed audience, all on the edge of their seats. Both rider and the bull they choose are judged in the competition, so everybody aims to ride the most vicious bull possible in order to prove their skill and prowess. It's a cowboy thing: they're so proud of their heritage, and they mourn the day they will be too busted to get back on the bull. One rider went out in the 2nd round, breaking his collarbone – it's an adrenaline-fuelled sport.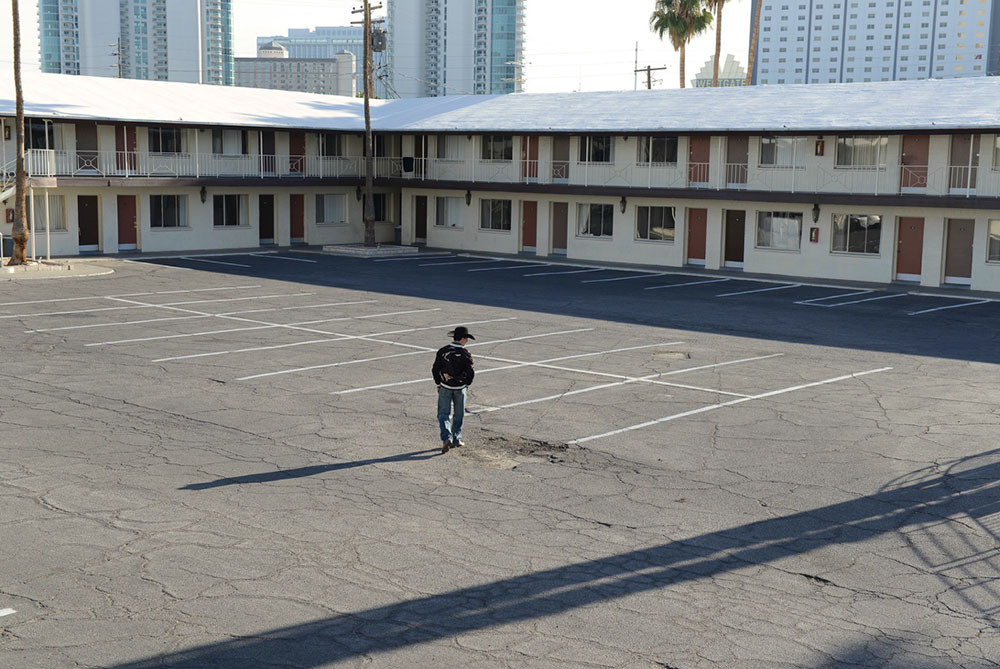 I watched Scotty Knapp over two nights, photographing him on his bed wearing a green scarf. By this time, he'd already had numerous stitches in his forehead and a dislocated shoulder. He was strapped up before he put his shirt on, and could hardly move his shoulders back. Knowing how broken he was he told me, "It's okay, I'll make it through the next three nights." I almost couldn't watch. This isn't like other sports where a stretcher and medical team will be sent onto the pitch if you get injured. You have to walk out. Occasionally the barrel men or the wranglers who push the bull out of the way so that riders can get up will help someone who is hurt, but they're walking out regardless.
Thankfully, Scotty won his round, which he was chuffed about because it meant he won a cash prize. He was very sweet, and had two small children and a baby who had travelled to Las Vegas with him. Rodeo has a tradition of bringing people and communities together. The event is very family orientated, and everyone from brothers and sisters to second cousins come along as a whole support network.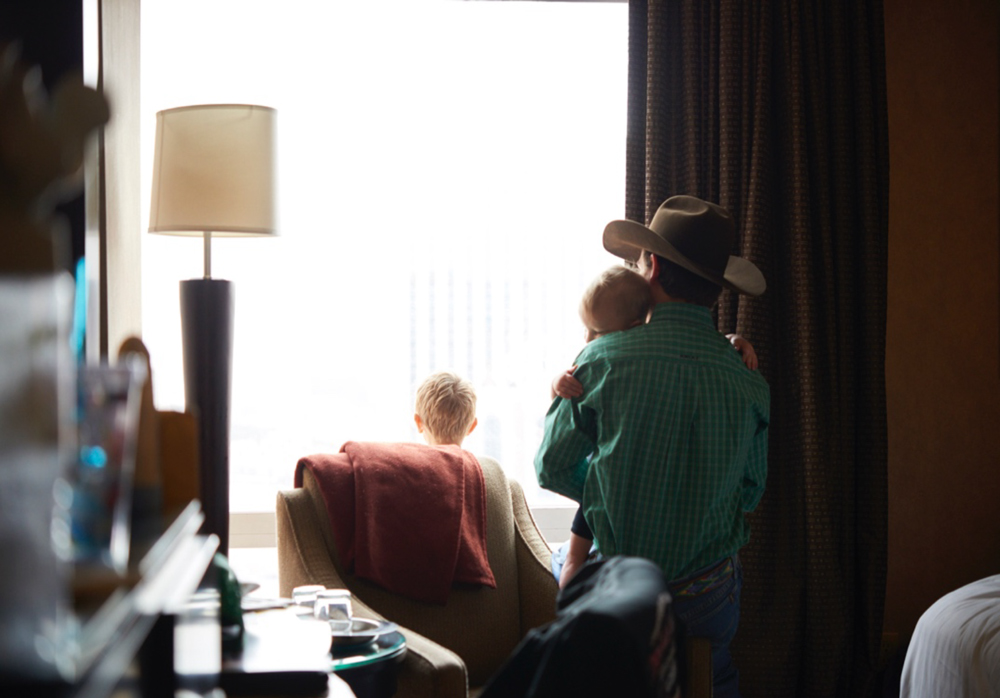 I've never met a cowboy who did it for the money, but when it presents itself as it does in rodeo, they have to take that chance. They weren't what I imagined at all, and were much shorter than I had imagined with their lithe, jockey-like builds and physiques. I have a strong belief that most men are more handsome with stetsons on, and I hardly ever asked them to remove their hats.
 One of the guys I met grew up on a ranch so his family obviously had money because he'd had bulls to practice on when he was a child, but this is not the norm. Most of them will have just started out practicing on a sheep at three or four years old, before transitioning to a calf and then a bull at around 14.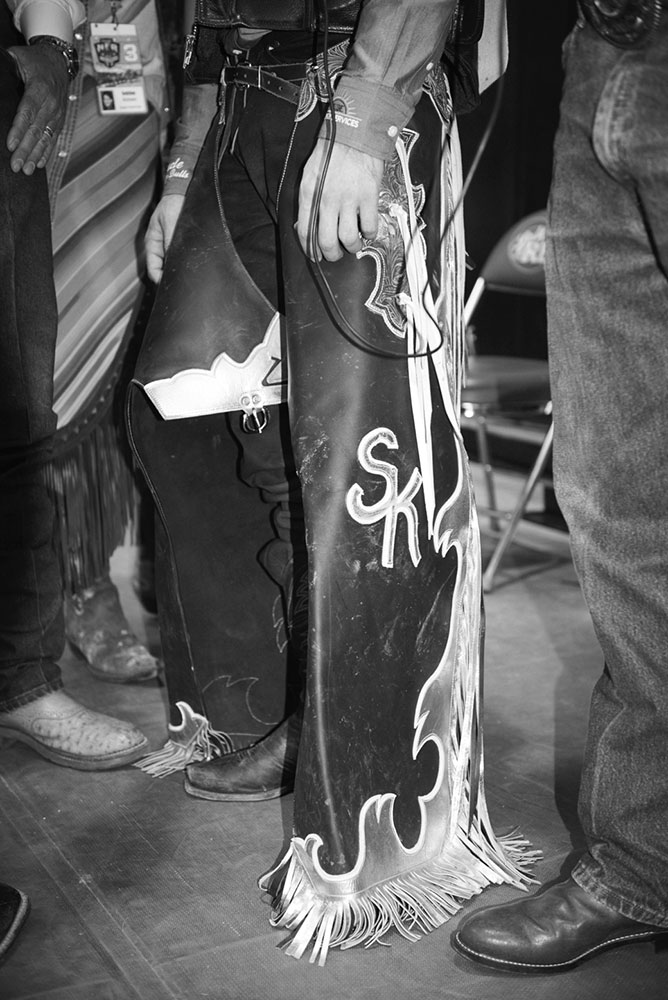 After Sage Kimzey – who wore the most amazing chaps I've ever seen – lifted the title and won, there was a meet-and-greet where all 15 of the riders signed autographs. There were just queues of people. I guess there is a bit of celebrity that comes with competing in the National Finals Rodeo, but I found that this definitely isn't what motivates these guys.
All cowboys dream of owning their own ranch and the attraction of pro-riding is that the prize money creates the opportunity to buy and maintain the land and livestock, which is very expensive. Freelancing as a cowboy pays a pittance; it's definitely the lifestyle that keeps them going.
Even though some of the guys were very handsome and had a movie-star appeal, many I photographed were very shy. Most of the cowboys I've met over the years are very spiritual, and I remember being told once that a cowboy's church is his horse, which he rides out on everyday. I've never forgotten that. I suppose these men might go hours, days or weeks without speaking to anyone as they do their chores around isolated acres of land. It's almost like living as a monk does in a monastery; when you're out in the open, you wipe your brain clear and you can be more in touch with spiritual things. I think that is very good for the soul.
Photography Jane Hilton
Interviewed by Drew Whittam