Photographer Michal Sierakowski recalls travelling across Poland to document the post apocalyptic-landscape of the Sudetes mountains for his acclaimed 'Uranium' series
Back in 2013, I found out that Poland used to be one of the biggest suppliers of uranium ore for the Soviet Union, and I found the story incredibly interesting. The Sudetes mountains were at the centre of this industry, and have been a centre of mining itself in the region for over 800 years. When I arrived on location for the first time, I didn't find it very interesting, so I kept going back until I found something that caught my attention, shooting on a 4×5 large format camera so I could slow the process down and think about each and every frame. I needed to 'dig up' the interesting things from a mostly uninteresting landscape, bury it behind the picture, so the viewer could dig it up again. I wanted to hide the topic, just as the uranium is hidden beneath the mountains.
I wanted to find out more about the people who had populated the area in its heyday, so I decided to visit a regional branch of the National Atomic Agency – a small office from the 1970s. The lone staff member seemed surprised in my interest in the topic and eagerly pointed me in the direction of museums and a few contacts. They reminded me that over the last 60 years, most of the miners and engineers had long since passed away. However, one person that was still alive to tell the story of the area was the former director of the secret R-1 industrial works, which searched, mined and enriched uranium ore.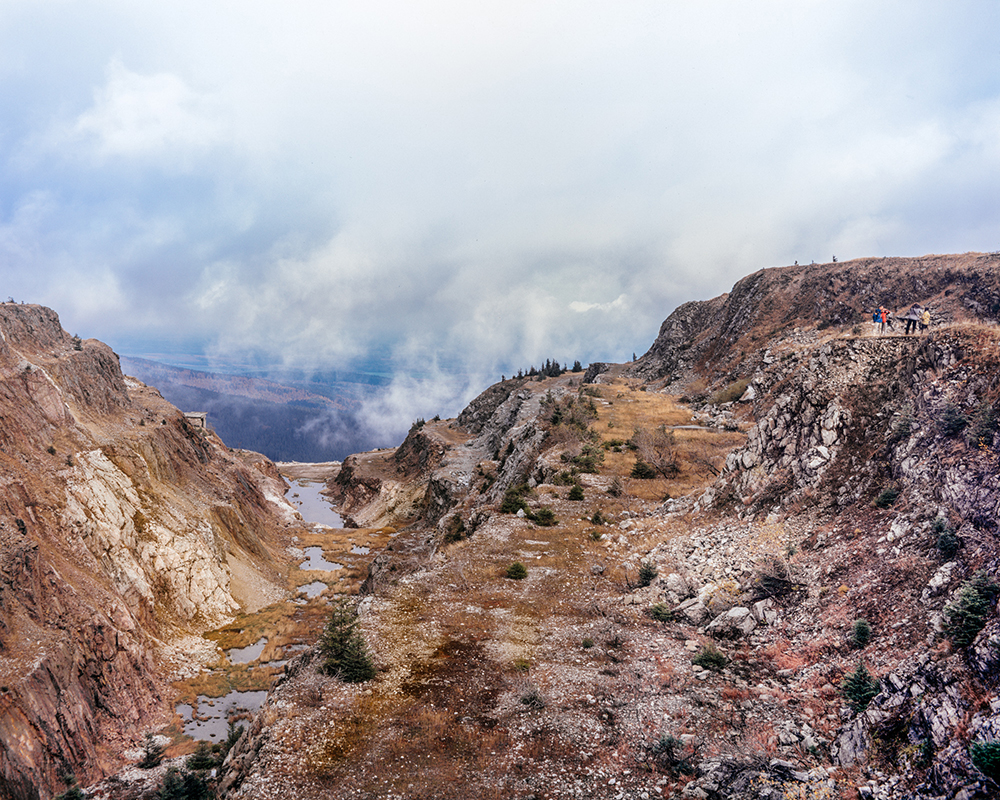 Involved in uranium mining since the early 50s, he told me much about Soviet bureaucracy and the business of industry in the area. Polish miners, he suggested, were only contracted to sell ore that yielded at least 0.2 per cent of uranium by mass and were paid for only this amount. So when the miners happened to find pitchblende – a radioactive mineral and ore yielding up to 60 per cent uranium – they simply crushed it and mixed it with regular rocks, until the final mixture yielded exactly this percentage of uranium required. Of course processing pitchblende would be easier, but rules are rules….
Meanwhile, in the 60s, when the facility's giant waste tips were being recycled to produce gravel for roads, locals joked they didn't need street lamps, because the roads themselves glowed. The locals still tell tales relating to the pre-war German presence, and to the numerous Nazi underground facilities which are located in the nearby Owl Mountains. There's also a lot of stories about people going into the woods of the Sudetes and never coming back; in general the atmosphere of the place is really mysterious.
Michal Sierakowski is a finalist for the New East Photo Prize, hosted by Calvert 22 Foundation
Photography Michal Sierakowski