The pair talk 8am starts, work soundtracks, Ira Glass and why the word 'dark' is a turn-off when applied to their artwork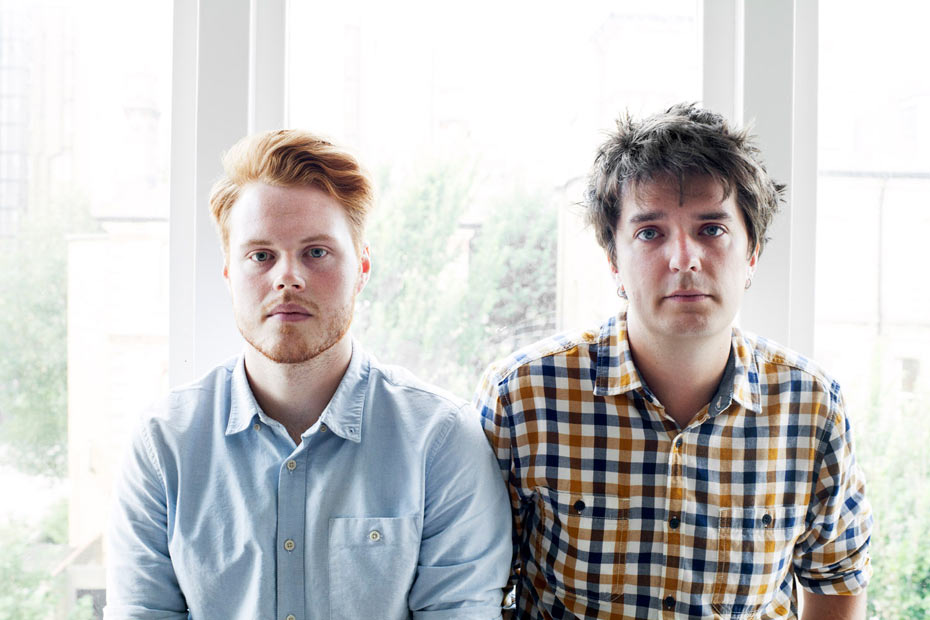 Alexander Wells and Tim McDonagh are two of the most exciting and technically gifted illustrators working at the moment. It's no coincidence they are also good friends, living and working from the same studio overlooking Brighton's seafront. Harry Watts photographed the pair at their desks, as Betty Wood talks to them about how they feed each other creatively, the difficulties (and practicalities) of being a freelance illustrator, and the nuances of their work.
How did you both end up living and working in the same space?
Tim Mc Donagh: Alex and I first met in the queue for the student union bar at Westminster University –
Alex Wells:  I'm pretty sure we met in the registration line for class, but I definitely remember an exchange at our terrible student union bar about the queue and there being a World of Warcraft joke in there somewhere…
Tim: Over the years we became interested in similar styles of illustration and slowly started to form a sort of 'agreement' on what illustration should be. We both appreciated the craft of illustration and (a type of) aesthetic – at the time there seemed to be a trend of idea over technical ability.
Alex: Being able to bounce ideas off each other really helped me maintain an illustrative identity. Especially [at a time] when it felt like whatever the latest 'trend' was within the industry was (subconsciously) being forced upon new students; it's hard not to go along with everything around you.
We lived together through our final year and , both moved back to our respective homes –
Tim: I invited Alex down the Brighton a few times, and he decided to stay. We – along with my girlfriend and another friend – found a flat together by the sea, and we've been creating images and chatting the same nonsense we did all those years ago ever since.
Does it keep you motivated, working in the same space as another illustrator?
Tim: Yes, it does. Being an illustrator can be a lonely career, and I think it takes a certain type of person to get used to long periods of time alone with your own thoughts and ideas. We both fit that type quite well, but it's nice to take a break from it and bounce ideas off each other.
Alex: We need to get ourselves a water cooler so we can awkwardly chat by it like in a real office…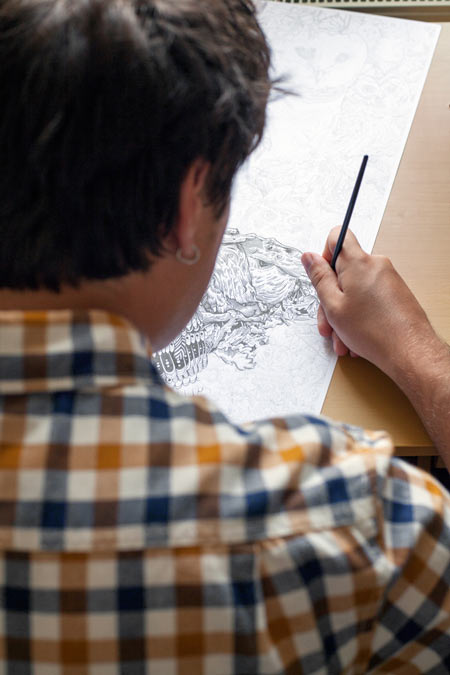 Alex: We send each other new images we find everyday, which is usually followed by a resounding "Yeah, that's great", but sometimes when we don't see eye to eye on a particular illustration, it's really interesting to try and find out why each of us feels like that, or why something is not working.
Tim: We try and expose each other to new ways of looking at images.
How would you each describe your style of illustration?
Alex: This is a question I was asked in my first year of university and I still can't give a 'proper' answer. I always tend to lean on the term 'graphic-novelish'. The black line work and bold digital colours (I use) conjure up this feeling for a lot of people, and it's by no means a bad connotation. For me recently it's been a struggle between adding as much detail as I want but stripping back line-work, which just gets in the way.
I used to be strongly against the term 'digital artist' – I still do all my line-work traditionally – but more and more these days I'm trying to push my digital colouring a bit further and compositing images together on the computer as it allows for more freedom to change and alter the illustration later on.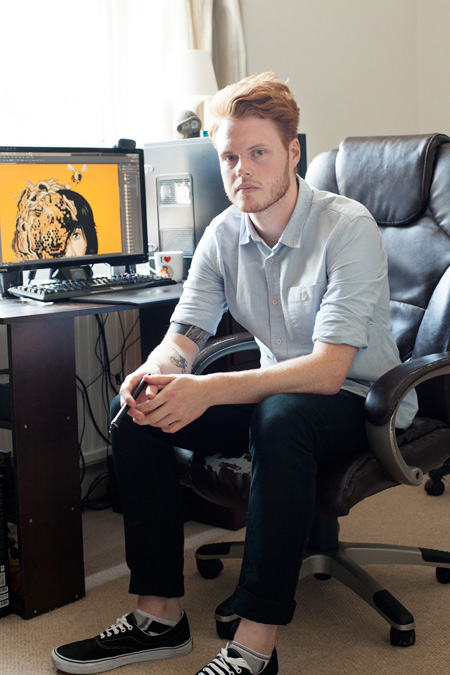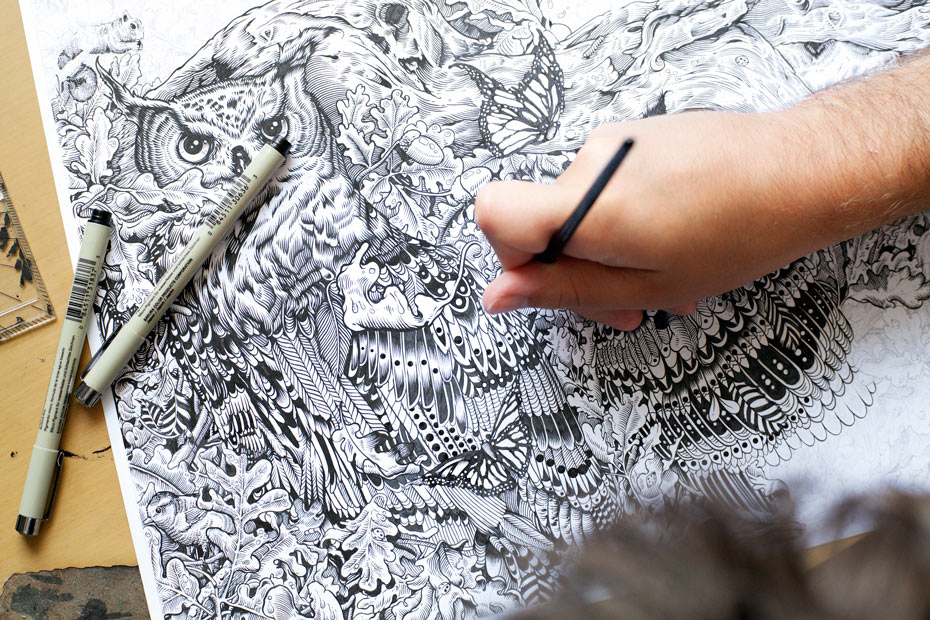 And you Tim?
Tim: I see [my style] as something that's constantly changing, (however minor). I suppose I would place it in the realms of something comic bookish, but more concentrated in single images, and with an emphasis on detail. My work is more rooted in nature, with a strange twist?… I don't know! The word 'dark' is sometimes associated with my work, but I'm not that keen on that word…
Why not?
Tim: I don't know: it's just one of those words that gets stuck on to a lot of things, when there's something else to it. It just turns me off a bit.
Talk me through your work day. How does it start?
Alex: Usually angrily! I have the worst sounding alarm possible. The kettle goes on, then it's coffee while I go through emails and my bookmarked websites to see the latest of what the Internet has to offer.
Tim: I get up around 8am. [I'm similar to Alex; coffee, breakfast, emails, websites]… I read Reddit, FFFound, It's Nice That, some blogs and Tumblrs. Then I settle down and carrying on whatever drawing I put down the night before.
Alex: I tend to write myself a list the night before which helps me get focused for the day to come. Ideally it's pouring with rain outside, so I feel pretty cosy…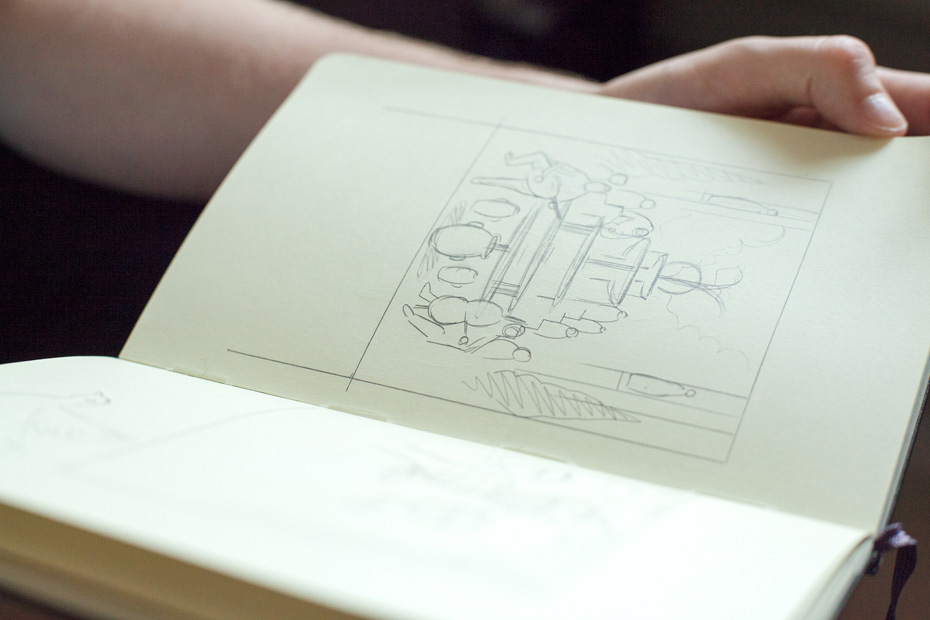 Do you keep a tidy desk? Or a schedule?
Alex: It's a tidy room for me. I have clutter, but it's perfectly organised clutter (or so I tell myself). I don't tend to have a routine that I strictly follow everyday, although I can't work in complete silence. I'm usually listening to music or I'll stick on a film that I've seen a million times (which means I'm practically not watching the thing.) Studio Ghibli films are especially good for this as the soundtracks themselves still amaze me.
I'm addicted to This American Life, which is the ideal thing to have on whilst working. If I ever get to a stagnant point in the day, instead of sitting trying to power through I find its better if I go for a quick run down the seafront or take a few minutes out in another room.
Tim: I can be quite sporadic when it comes to working times. Sometimes I enjoy getting up really early and powering through the day whilst having a TV series on in the background and trying to keep a fairly normal 9-5 structure. But some of my best work comes out at night: when you have the perfect album on, and the window open to the sound of the sea, if everything is going smoothly with your drawing, it's just bliss. I think the most important part of being an illustrator is to enjoy it and have a love of drawing. Otherwise, it's going to be a bit of a race to the end, which always makes for bad work.
Let's talk good work; what's the most exciting project you've done to date?
Alex: Working with the Folio Society was my most exciting. Getting to illustrate science fiction was amazing – hands down, they're the nicest people I've worked with to date.
Tim: The past few months actually have bought in some really cool stuff. I don't think I'm supposed to say too much about it yet, but I've recently finished something with Nike I'm really excited about being able to show. A couple of months ago I was asked to do the cover for New Scientist magazine. This magazine was always held in high regard throughout our University course for illustration, so being asked to do a cover was a dream come true.
www.wellsillustration.com/
www.mcdonaghillustration.com/
See Alex's illustrations for Port issue 9 here
Photography Harry Watts