Published by Stanley/Barker, Paul Guilmoth's new photo book is a loving and nostalgic ode to the garden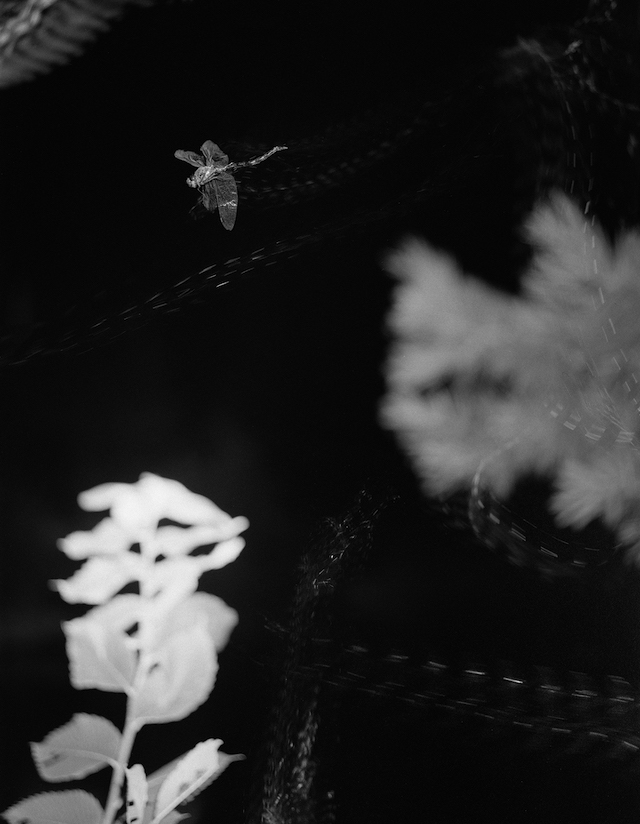 When you imagine the luscious grounds of a garden, a handful of nostalgic emblems may rise to the surface: first the feeling of freedom, prancing through the long grass in the warm and sunny spells of summer – care-free and revelling in the goods that nature has provided. The second, a sense of safety, evoked by the familiar four walls of fencing or shrubbery. The garden, in this sense, is a sacred place and will remain to be one that's loaded with memory – personal history – for those who enter. But how many have visited the leafy grounds at night, indulging in the moonlit shadows of the fauna as the spider webs thread from branch to branch?
Paul Guilmoth, a photographer based in New England, does just that in a new book aptly named At The Night Garden, which is now published by Stanley/Barker. Conceived through a stark yet weirdly calming monochrome lens, we see myriad of emblematic features prevail – the silky web taking on a sculptural form, the flash-lit structures of the leafs and bushes, and the glowing faces of their subjects only visible through the silver torch of the sky. But along with the magical, there's also a sense of eeriness and longing that protrudes from the work. We observe the somewhat blank expressions of the people he photographs – their family and loved ones – as they stand hauntingly, sometimes posing and other times candidly raising an arm or glance, or cradling their head on a bed of florals. Their postures, along with the carefully chosen landscape of garden beds and trees, are more than aesthetic compositions: they're telling us a story, Paul's own personal story.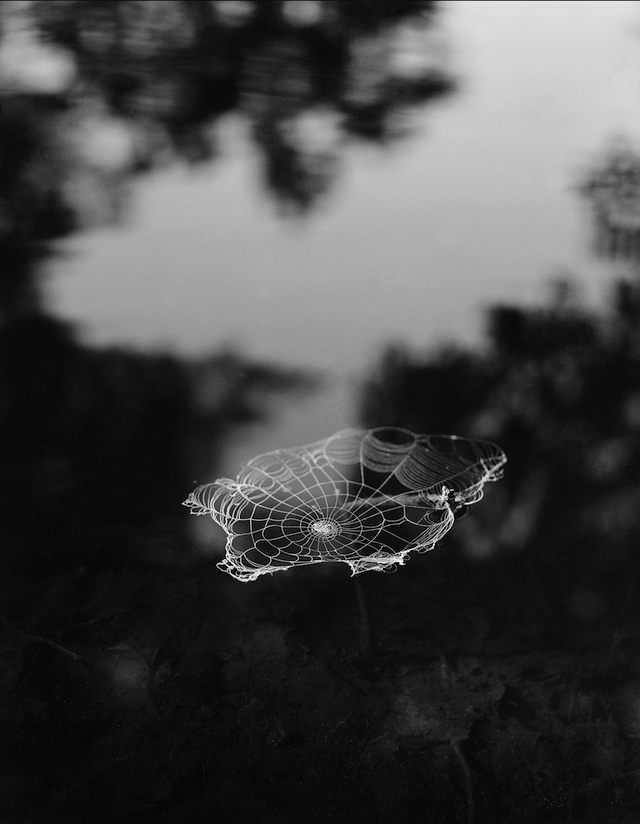 Not only is it an elegy to a queer world and identity, At The Night Garden is also lovingly dedicated to Trula Drinkard-Goolsby, who died on July 17 2021 after one last day spent laying in the field – the setting at which Paul decided to centre this photographic study. "The week before Trula died," says Paul, "she began spending entire days reclined in her field. Her body would be so still we'd come up closer to be sure she hadn't left us. A slight movement of her head chasing a loose swallow, or a finger grazing a plucked blade of grass was enough. Tuesday night she had come into the kitchen after a particularly long 12 hours in her field. Her hair disheveled like a bird nest. She looked at a rhubarb stalk on the table and said to us 'all this time I've never seen the flowers growing, but they're taller every morning.'"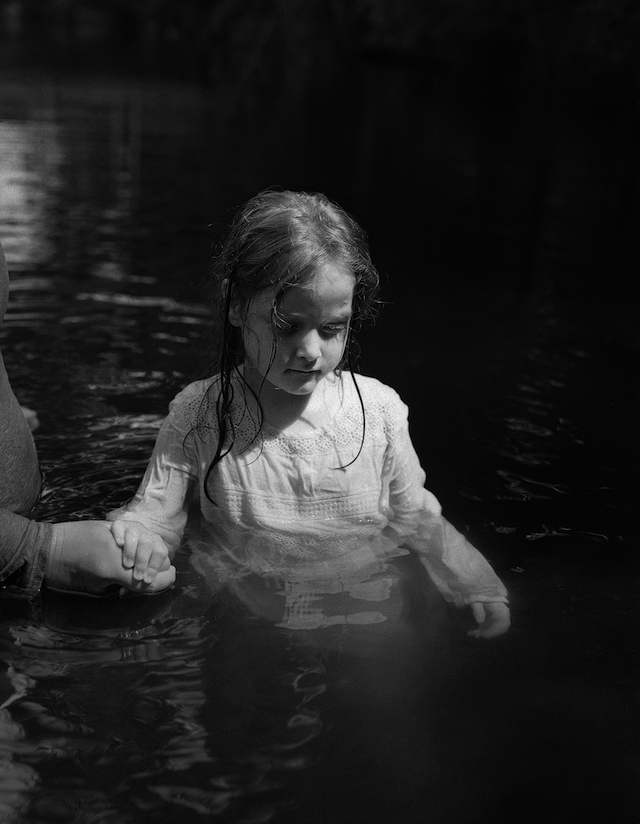 For Trula, as perceived through this visual narrative, the garden is the safe space at which she spent her very last moments. It's symbolic in a multitude of ways, nodding to the cycle of life and biorhythm of the natural world; commencing with energetic shots of place and people, the book's sequence then concludes with an illuminated cave-like door that alludes to a passage. Once a human dies, do they then reincarnate into the lands, the trees and grasses, in which they passed? It's humbling to think of it in that way, imagining the environment as a place that houses the memories of our loved ones. 
Paul's At The Night Garden beholds many spiritual and religious references, from baptisms to funerals, to birth, folklore and the fragility of life. Multilayered and allegorical, it shows the non-permanence of everything around us, plus the uniquely human desire to preserve the things that we hold dearly – the garden, here, serving as the archive. So to make sense of the work in all but a sentence or two would be a tricky one, because most – if not all – will relate to the pictures in some form of another, giving the photographs new meaning with each and every viewing. It's like a dreamworld, a place of past and present in which Paul records their memories of Trula. It's a story that never ends so long as Paul, and we, will remember.
Paul's At The Night Garden is available at Stanley/Barker