The sculptor's exhibition at Gagosian Gallery deconstructs an unrealised piece of public art into its constituent parts to great impact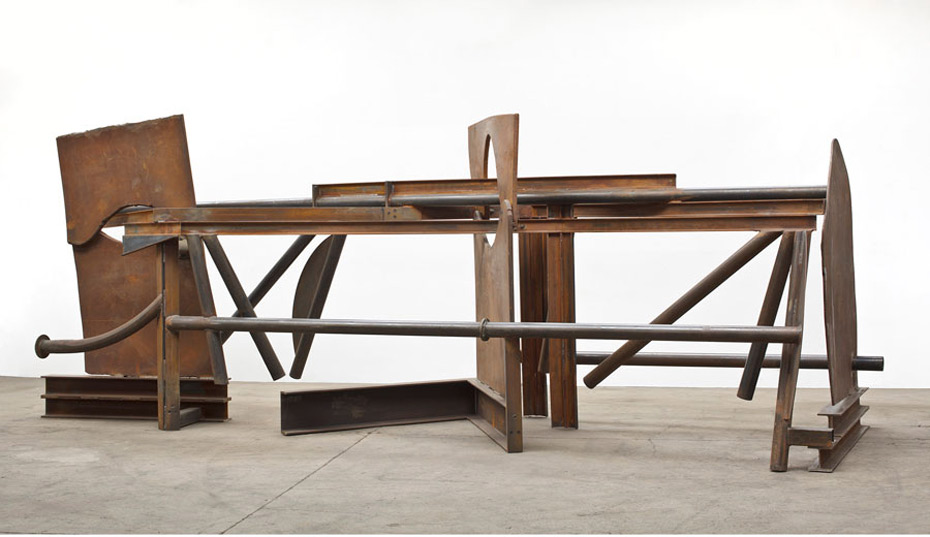 Scale is a funny thing. It can cover any number of crimes against art. If you think a sculpture of an elfin kid is a bad idea, try blowing it up to the size where it could be seen from space and suddenly it's a comment on mass media and the tyranny of taste in modern society. Making a mawkish realistic painting? Execute using the nucleobases of a strand of DNA and suddenly you're making a comment on memory, permanence and sentimentality. Sculpture is the place to see this writ, quite literally, largest. Pound for pound, you probably see the most scale-masquerading-as-idea fails in sculpture of any art form. Much like tequila though, sculpture is very much about knowing your limits. The greats are great because they know when too much is too much and when it's not enough. Anthony Caro has been making those kinds of decisions longer than most, at 89 years of age, Caro could be fully excused for spending his golden years writing pissed-off letters to The Guardian about how cool smoking is and doodling on his iPad as some artists elect to do. Instead, he's still making work that if not exactly breaking the mould, at least offers masterful investigations of the possibilities of scale and materials.
Caro's new show at the Gagosian, Park Avenue Series, is composed of set of works originally intended to to be displayed as an integrated sculpture as a public work in New York. The project, the press release tells us, was cancelled for "financial reasons". Caro apparently decided to essentially "deconstruct" the unmade final sculpture into its constituent sections. These disarticulated sections of a never-realised whole make up the Gagosian show and, with no disrespect to the Park Avenue dream-sculpture that never was, I have to believe that in their present form, they offer more than the completed work would have.
It's a mug's game working in counterfactuals, but it's hard to imagine a work like 'Morning Shadows' retaining its lyricism and weird, post-Duchamp industrial lyricism as part of some massive sculptural heroicism that would just end up being a maze for kids to swing on while adults sat dozily reading the New York Post on a nearby bench. 'Laughter and Crying' as well has the same elegiac quality. The brute teleological truth of the materials as girders and fittings makes the gentle involutions of the piece's more worked sections that much more human and expressive. Caro might beg to differ, but it feels like less a show about metaphors and more a show about physical forces, energy exchange and deep knowledge of materials.
Anthony Caro: Park Avenue Series runs until 27 July at Gagosian, 6-24 Britannia Street, London WC1X 9JD