William Kherbek reviews the artist's third exhibition at the Bethnal Green gallery, and this time she invites to you to enter a space of her making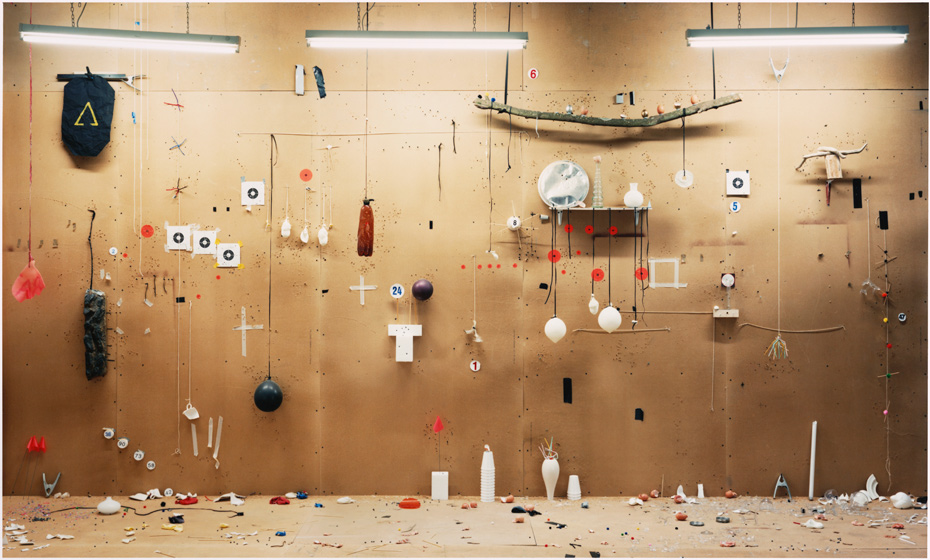 Sometimes the best ideas on paper somehow don't translate to the real world. Jennifer Lopez and Ben Affleck together on film! What could go wrong? Then there are those equally puzzling situations wherein unlikely combinations end up being much better than they have any right to be. Okay, so you've got Flea from the Red Hot Chilli Peppers and Thom Yorke from Radiohead and they're in the same band? Next.This perilous gap between theory and practise bedevils even the best of artists, and that is no doubt on reason why so many established artists end up slouching into a comfort zone which sees them essentially churning out the same tried-and-tested-and-invoiced ideas in slightly attenuated forms, or maybe different colours, until people forget why they ever mattered in the first place. This early-onset of the Fat Elvis phase doesn't seem to be touching Anne Hardy whose new show at Maureen Paley sees her boldly step from paper – in this case photographic paper – into the three dimensions.
Hardy is well known and rightly celebrated for taking photographic images of ramshackle structures she's built and then having the structures destroyed so that they only really exist in the images. These works set up a nice dialogue between provisionality and the impulse to preserve. They could be studies, but they aren't because the study is the work and the work is never just the object. There's also a welcome satirical undertone that takes in the madness to preserve every bit of ephemera in the art making process. In the current show at Maureen Paley, Hardy actually gives us two of her structures to scrunch our way into. Actually, there is a little bet hedging going on here. Included with the structures are photographs of the creative/destructive process. They're sharp and engaging images, and they're probably an important didactic element for people who have never seen Hardy's work before, but if you know Hardy's M.O., they feel dangerously safe in the face of the built structures themselves. Why do what we expect of you when you're going to subvert our expectations?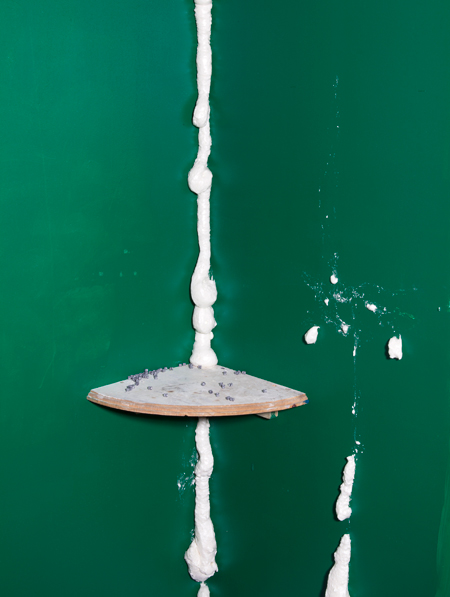 It's a small complaint, perhaps it could simply have been resolved by having the photos in one room and the structures in another, but it did twitch in the back of my mind the whole time. Maybe that says more about me than the show. But there's the bigger question, isn't there, the overwhelming question as they say in poetry: does the leap from photo to installation work? I'd say it does. And in a much more potent way than a lot of art which creates elaborately off-hand structures for viewers to negotiate with irony and distance.
Inside Hardy's structure on the ground floor are off-cuts of wood and leather, fragments of string and carpet. It's kind of like some weird Platonic waiting room where geometric shapes go to be moulded into classic circles and squares and triangles. The feeling is of negative space asserting itself, which is kind of a tough thing to manage when you think about it. The upstairs space has a great deal of charm and humour to it. The swinging doors that you enter the space offer a range of fertile associations from old-time Western movies, to kitsch 1970s suburban interior design. Once inside, hazy light bulbs illuminate a series of geometric figures scrawled in chalk along the walls. It's like being in the roadhouse of a biker gang led by Sol Lewitt. Sounds ridiculous, you say? Well, maybe on paper…
Anne Hardy runs until 26 May at Maureen Paley, 21 Herald Street, London E2 6JT