In an extract from In Character, a retrospective of Anja Niemi's body of work spanning 2011 – 2018, Max Houghton discusses the photographer's hyper-feminine haunted subjects
Freud articulated his ideas about the uncanny and the double following
a close reading of the literary works of E. T. A. Hoffmann, who repeatedly
returned to the concept of the automaton in his writing. Hoffmann's
most memorable female automata, who we meet in the terrifying story
of The Sandman, was Olympia, the 'beautiful statue' with whom Nathanael
fell in love, thus spurning his tender but intellectually challenging fiancée
Klara. Yet it is at Klara that Nathanael aims the accusation "You damned,
lifeless automaton!", in protest at her attempt to disabuse him of his belief
in the Sandman's nocturnal desire to steal his eyes (for Freud, a symbol
of castration). Troubled Nathanael, descending into some kind of madness,
believes in Olympia's love because of her 'yearning looks' and professes
his adoration thus: "You profound spirit, reflecting my whole existence."
It is never clear which, if any, of the female characters is real, and this is
how the story unleashes its uncanny logic, forcing us to question the simple
binary of the certainty of the flesh and lifelessness of the machine. The
faces of Niemi's characters – Darlene, the Starlet, the Cowboy – are doll-like
and expressionless in a way that masks any notion of self. Is their purpose
to reflect our existence, to allow us to enter into the lives of others to better
understand our own?
It is tempting to read Niemi's images as part of a solely gender-related
discourse, though this would be a reductive interpretation of her work.
The characters in her photographs are indeed female, exclusively so, and –
even more significantly – they are hyper-feminine, exaggerated versions of
female icons. She is creating a performance of gender identity that would
be familiar to a drag artist and, in so doing, she is able to pose her central
question: of conformity. While Niemi is not performing drag per se, she is
commanding a similar aesthetic, more usually appropriated by gay men. Her
characters remind us that women perform femininity every day, to greater or
lesser degrees. One is not born a woman; one becomes one. One is not born
with rhinestone eyelashes, but one can acquire them. Or as RuPaul has it:
"You're born naked and the rest is drag."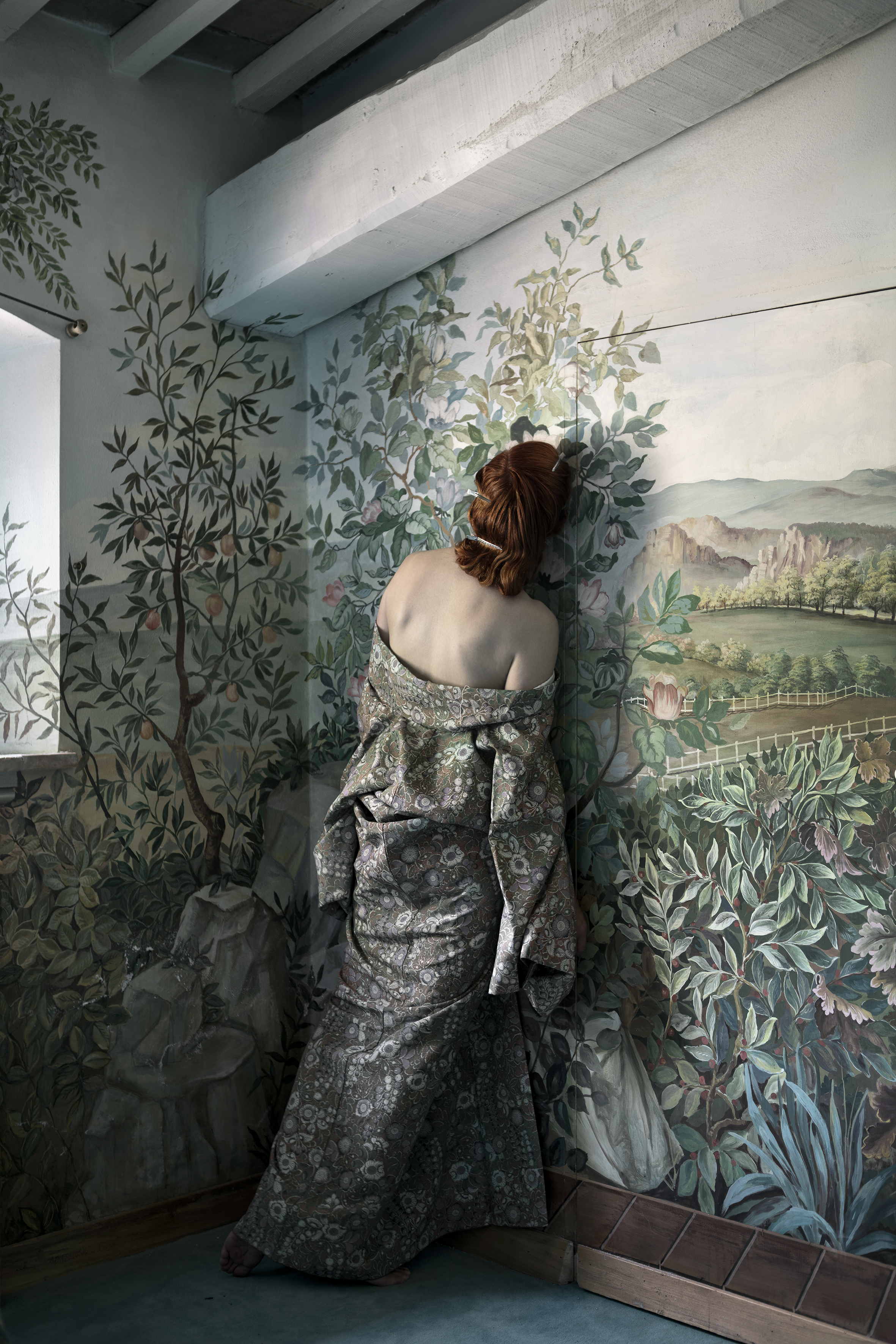 The act of transformation – also in common with drag – is vital to
Niemi, who uses the photographic image specifically for that purpose,
and not only to transform the self. She has an acute eye for the pattern and
fabric of elaborate interiors, and how her characters will interact with them.
There are parallels with how wallpaper was used as a symbol of a suffocating
domesticity and encroaching madness in Charlotte Perkins Gilman's short
story The Yellow Wallpaper. Gilman's female narrator, convalescing from a
'nervous depression', is advised by her husband, who is also her doctor,
to rest, and is forbidden from writing so the rest-cure can work. Her only
stimulation, therefore, is to analyse the yellow wallpaper in the bedroom
to which she is confined. Over time, she becomes transfixed by it, and
convinced that there is a woman trapped within. In an emotional frenzy,
she tears and bites at the wallpaper, desperate to free the spirit – and herself.
The story mirrors the author's real-life experience (though Gilman divorced
her husband and continued to write), and its themes of isolation and control
remain pertinent. Similarly, in at least two images by Francesca Woodman,
an early influence for Niemi, the artist's soft, fragile body is engulfed by
torn wallpaper and subsumed into the hard walls of the room. There is a
sense that Niemi's tactics are similar, but that her motivation is to stage
another disappearance, worlds away from dreary domesticity, and using
her default setting: immaculate beauty. So ethereal is the woman who never
existed that she becomes indistinguishable from the floral wallpaper in her
exquisitely painted prison, for so it seems to become.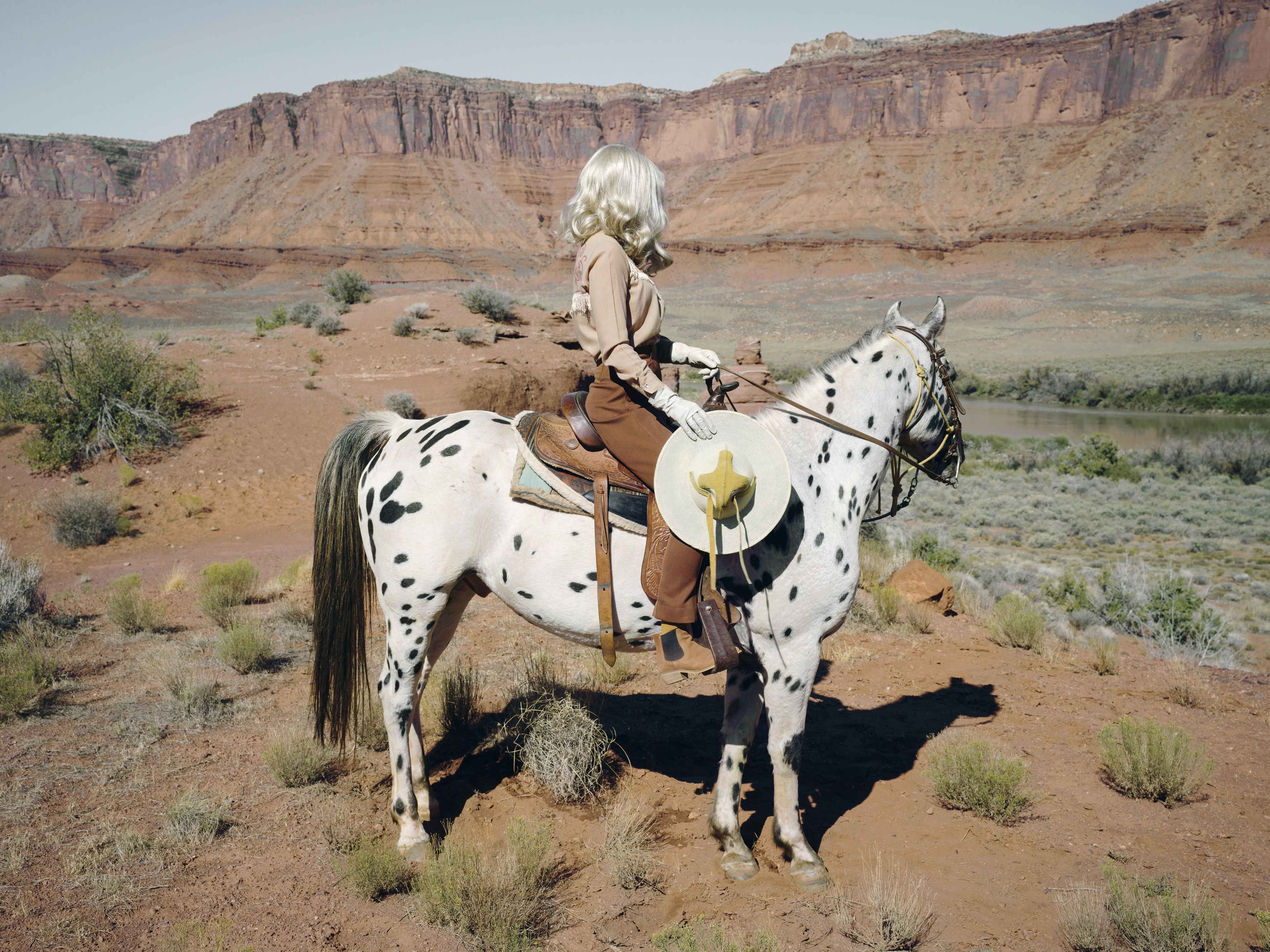 Niemi is at heart a storyteller, a creator of fictions. She crafts exquisite
tableaux in which she can hide in plain sight. She draws on the familiar
imagery of childhood games – the cowboy, the toy soldier – following a
tradition in photography of constructing tightly controlled worlds in which
fantasies can be carried out. Despite the doubles that permeate her work,
despite the seven selves that constitute the Polaroid series Short Stories –
or maybe precisely because of these phantom selves – there is a sense that
Niemi's work operates as a poetics of isolation. Like butterflies pinned
display by the very wings that gave them flight, the better to see their lifeless
beauty, the existence of each character seems transient, though they are
trapped in the photographic frame for posterity.
In her 1905 novel, The House of Mirth, Edith Wharton wrote of tableaux
vivants: 'To unfurnished minds they remain, in spite of every enhancement
of art, only a superior kind of wax-works; but to the responsive fancy
they may give magic glimpses of the boundary world between fact and
imagination.' There dwells the woman who never existed, maintaining her
poker face at every attempt to define who or what or even whether she is…
or is not.
Anja Niemi: In Character (Thames & Hudson, £24.95) is available now