William Kherbek discovers much that is humorous yet eerie in the work of German artist Alexandra Bircken at Herald St, London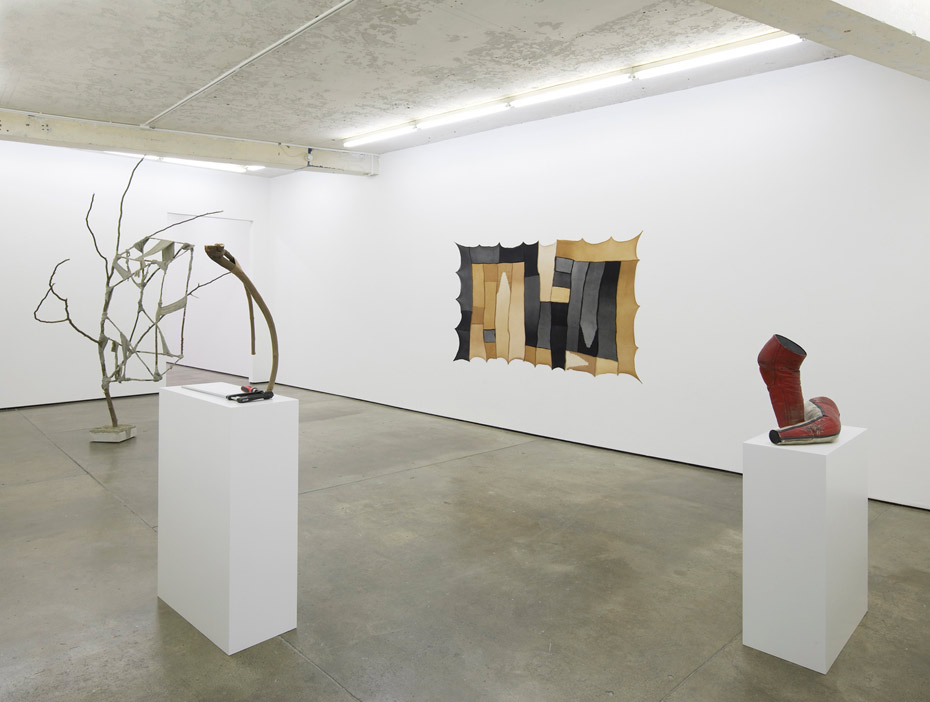 When I was a boy, Twiggy taught me a powerful lesson about what it means to be an icon. I was watching Dan Akroyd and John Belushi's masterwork, The Blues Brothers, in my grandmother's kitchen, and, having made it to the end of the movie, I was now watching the credit montage and noticed that everyone in the film seemed to
have a last name except one person, Twiggy. I asked someone, probably my mother, why she didn't have a last name. The answer was something like, "She's so famous she doesn't need one." Having gone to a decent-sized school, it was clear that there weren't many people named Twiggy in the world, and, maybe, I reasoned, through the sheer
rarity of her name, she'd become famous. Equally, clear however, was the fact I had no idea who she was. I'm not saying I was the hippest four-year-old in the world, but I watched a lot of television; if somebody was famous, I'd have probably heard of them. Sic gloria transit mundi.
"The spare eloquence of a number of pieces belie the hovering whimsy they constantly risk"
Twiggy, as anyone who's watched a London bus pass in the last few years knows, has, of course, been introduced to a new generation through the magic of saturation advertising, but, it's not just American kids in the 80s who wrestled with the legacy of Leslie Hornby's fleeting iconicity. The German artist Alexandra Bircken's show at Herald Street Gallery includes a work titled, Twiggy.
It is, admittedly, one of those puns that starts a certain kind of Brit musing about German humour, in that the sculpture is, in fact, composed largely of a twig. But the pun is not the only lame aspect of the sculpture, one of "Twiggy's" long "legs" is trapped in a metal clamp. Stretched over with nylon, the sculpture requires very little in the way of commentary.
That's the way with the rest of the show as well. The spare eloquence of a number of pieces belie the hovering whimsy they constantly risk. There's a couple of disembodied limbs on another plinth, but these are human limbs encased in motorcycle leathers, they rest clean as twigs ripped off the nearest dying ash tree.
There seem to be a lot of these at first humorous, then eerie, dialogues taking place. In a masterful work titled Mixed Race, a number of swatches of tights of different colours are woven together and fixed to the gallery's south wall. Spidery, defying easy geometries, it feels like a painting that found a way to escape the tyranny imposed by the framed edge, but look a bit deeper and the tights tell a darker tale.
Titled and shaded as they are, the tights cannot help but evoke flesh, and in that evocation the work would seem to be summoning the darkest ghosts from German history, perhaps also offering an uncomfortable commentary on the modalities of the Beauty Industry.
For all such associations, it's not, ultimately, a dark show, a more raucous and humane work than Chariot, the crazed skateboarding tree festooned with fireworks, fruit peels and screws housed in the gallery's second space, would be hard to imagine. And if you can't enjoy the brazenness–no pun intended, well, maybe retroactively intended–of the two bronze mountains entitled Twins, well, you're a drearier soul than I am.
Alexandra Bircken: Recent Work is at
Herald St until December 16th