Eleonora Usseglio-Prinsi talks to the British artist about her how her 3D artworks offer a new perspective on architecture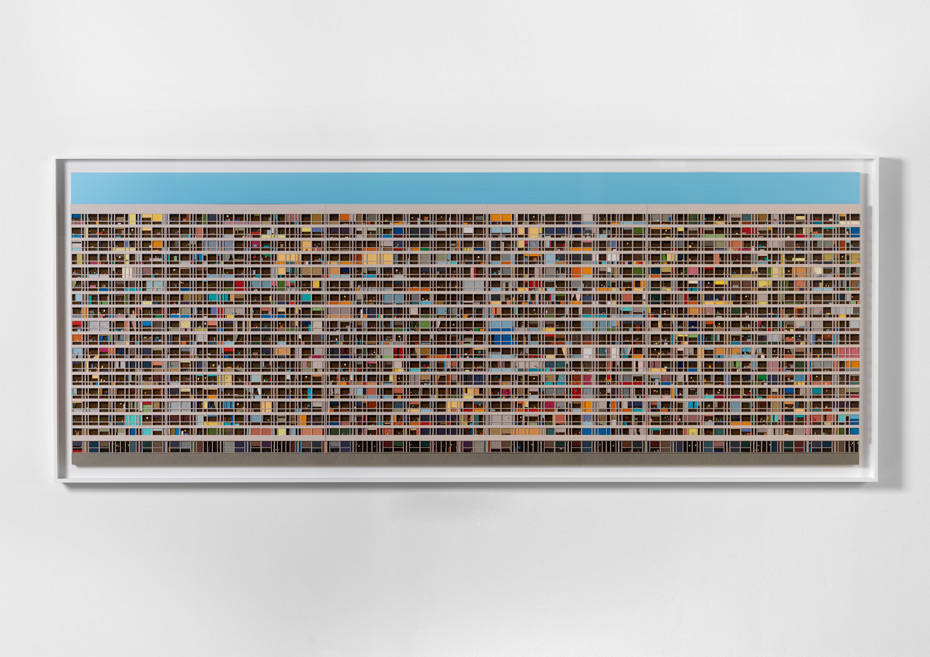 A huge wooden modular structure, composed of coloured panels in a perfect Bauhaus style pave the way to understanding the 16 new works by British artist Lucy Williams.
It's hard categorise the pieces, which on first look could be painted or printed, but go a little closer and they reveal themselves to be stunning "3D collages". Elegant compositions of textures, patterns and fragments of paper give her works a new perspective into well-know architectural structures and invented colourful interiors.
Williams is a London based artist. In 2003, she obtained her Postgraduate Diploma in Fine Art from the Royal Academy. Since graduating, she's exhibited at a number of international exhibitions across America.
Can you talk us through the process you employ when creating your "3D collages"?
I do a lot of research: I have a lot of pictures at home and I get through a lot of books. When I find an image that I want to recreate, I do a technical drawing of it, going through several drafts. From the drawings, I begin the process of creating layers, deciding what materials I might use, and then begin creating the layers (working in a sort of back to front process, different to painting, and working from bottom layer forward). In The Sonneveld House, the tree was the last element I added and took several weeks to make.
"I am interested in the geometry of those buildings repetition and cubic forms"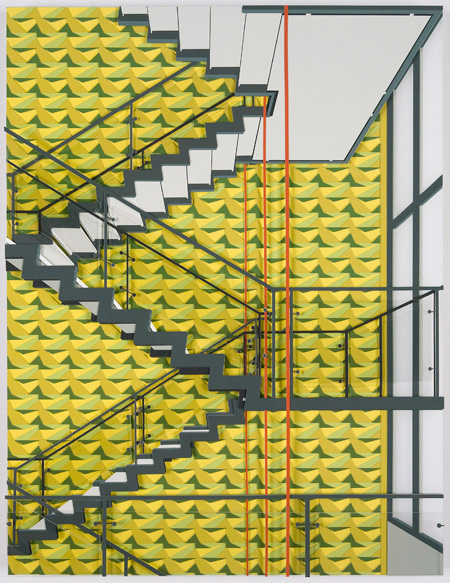 What is it about architecture that interests you as an artist?
Most of the I've got are from the Modernist period, from the 40s until the late 60s – a time of optimism. I am interested in this kind of idea, (that somehow architecture transcends), but also the geometry of those buildings repetition and cubic forms. I am interested in patterns that are made of shapes, and this comes through in the image's analysis of it.
Architecture is something that's been with me as an interest, from being a student,  and when I was doing interiors of buildings. It has always been there, it's just increased I suppose. I have always been interested in architecture in some form.
What is your criteria when selecting the spaces you use to create your "3D collages"?
I tend not to visit, . I tend to use the original source materials; photos from around the time when was built. And some of the buildings don't exist anymore. I use the images I have as springboard, and bring my own kind of vision to it. It is not just a recreation; they're a kind of documentations of these buildings.
"I'm really interested in Russia constructivism, particularly Moholy Nagy's – a lot of colour references come from that, really dark reds"
Do you take inspiration some artist or artistic movement?
Bauhaus. Going back to abstraction, I'm really interested in Russia constructivism, particularly Moholy Nagy – a lot of colour references come from that, especially the use of really dark reds. Also, some British abstract artists, for example Mary Martin. When you work with 3D materials, you can really play with different references.
Can you talk me through one of your last pieces, Apartment block?
This one is Montparnasse in Paris, a building by Jean Dubuisson. It's an apartment building. It's made in three parts, stuck together in the frame and is supposed to be really detailed and abstract at the same time. There is a lot of that in the work – the idea of having an abstract element; I am quite interested in abstract painting.
Colour is part of the work: I selected an authentic colour palette, and then all the papers were individually cut and painted. [In this way] I had control over the colours. I wanted something that was quite visually unifying and strong as well.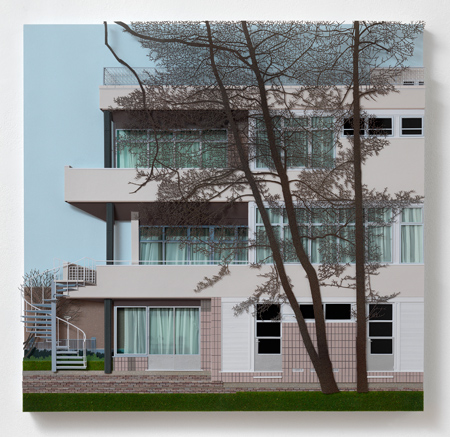 Lucy Williams: Pavilion opens today and runs until 11 January at Timothy Taylor Gallery, 15 Carlos Place, W1K2EX