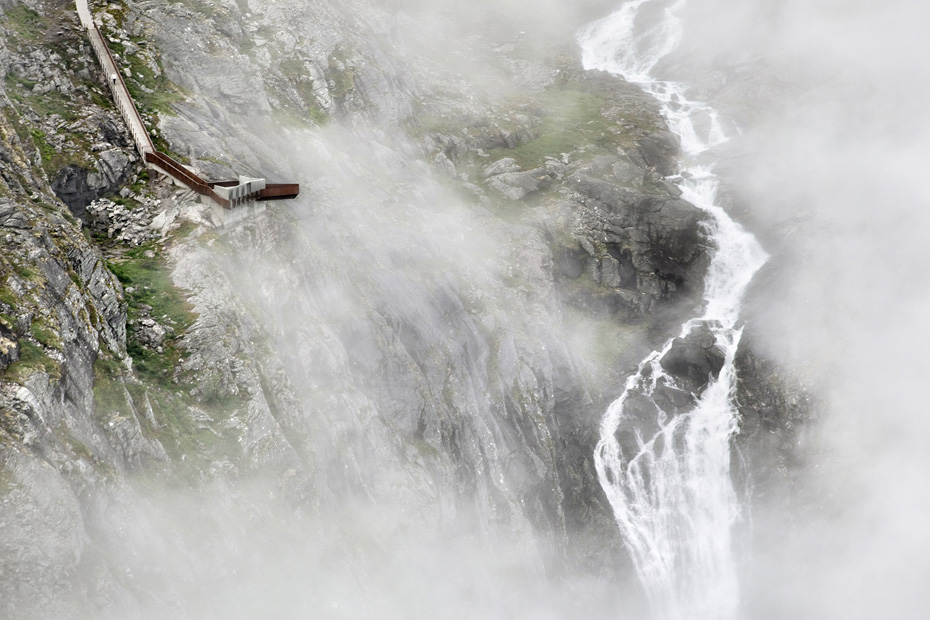 We talk to 2013's winner about the demands (and rewards) of architectural photography ahead of the exhibition's opening at Sto's new East London cultural centre, Werkstatt
2013's Arcaid Images Photography Award was won by German architectural and commercial photographer Ken Schluchtmann, for his dizzying shot of Trollstigen Norwegian visitor centre, a gravity defying building that appears to hover over the precipice of a mountainside, emerging from a band of cloud.
Judged by Dame Zaha Hadid, Ivan Harbour, Catherine Slessor, Eva Jiřičná and Graham Stirk, the exhibition inaugurates Sto's new Werkstatt cultural venue, and recognises photographers working at the apex of architectural photography. We caught up with winner Ken Schluchtmann ahead of the exhibition's opening to find out how he took the winning shot…
Tell us about why you chose to photograph the Nasjonale Turistveger, Trollstigen Visitor Centre: what is it about the design of the building that you like? And the landscape it sits in?

Most of my productions take place in big cities, but in my free time I frequently travel to the mountains. I prefer going to Norway, because it's not far from Germany and you get some of the most fascinating scenery in Europe. For me, it's very important not to lose contact with nature: from there I get energy and optimism. Besides this, I love modern architecture, concrete, steel and glass. In this picture, contemporary design meets extreme nature in a very special way. Instead of skyscrapers and shopping malls in the big cities at Trolltigen Valley, this futuristic architecture is especially composed into the landscape. The result is a perfect symbiosis of both. I was very impressed by the visionary way the architects created this viewing platform.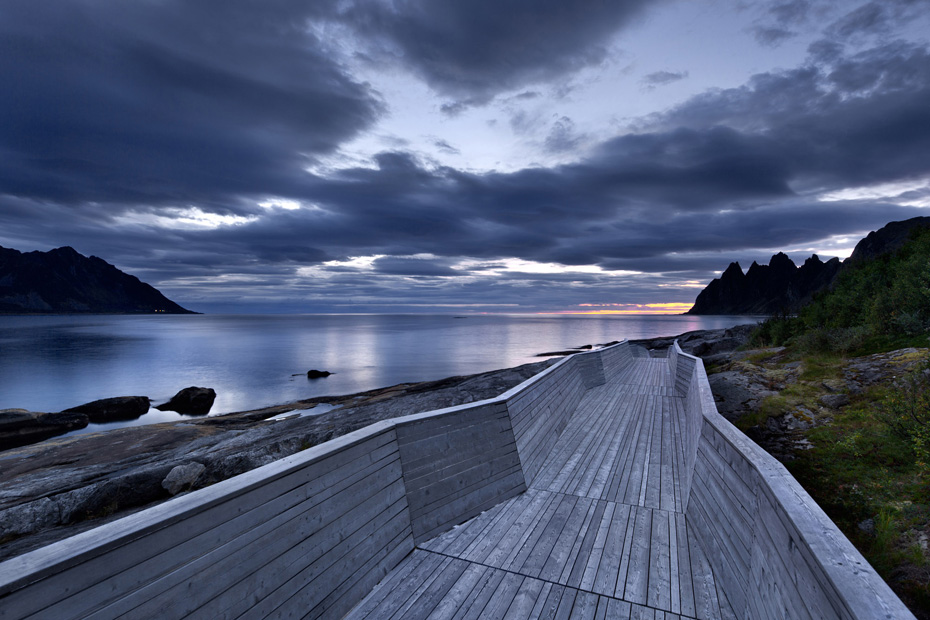 Talk us through the experience of taking the winning shot of Trollstigen…
I've visited this place several times over the last ten years, so I knew the valley before Reiulf Ramstad Arkitekter built the visitor centre and this platform. Even without it, it was very impressive to stand at the edge and to look down. When making this picture I stayed there for several days. Although it was August, it was cold (about six degrees) and stormy. It was raining the whole night before, and just stopped in the morning. Because of my experience with such weather conditions in the mountains, I hoped that the clouds would rise and start to climb up the opposite mountain. It took about two hours to reach this place, about 500-600m above the bottom of the valley. I didn't want to just shoot a postcard motif with sunshine. My aim was to make a picture which shows the architecture in the majestic landscape, the rough weather and compares how small people and manmade things still are. I wanted to transport the sublimity and near monochrome beauty of the scenery.
How did you combine analogue and digital techniques to create the Trollstigen photograph?
During my training to become a photographer 15 years ago I learned analogue techniques, working with film and printing black and white and colour pictures. But now I only work with digital cameras. Their standard is so high that for my technique, they beat analogue film. Just as I take the photo, I have the final picture in my mind, so I can check and control the light and contrasts directly when shooting. I never use flashlight: buildings are too big and you'd need a huge amount of technical equipment. Architects design special light for each object and the flash would just kill this. Also, you often have very little time for the production, especially on commercial productions. So I'm trained to work under nearly every light condition. After making the pictures, each chosen image goes through a long digital process on the computer to work out the light and to achieve the look I was thinking of when making it – for example, the winning picture took nearly two days.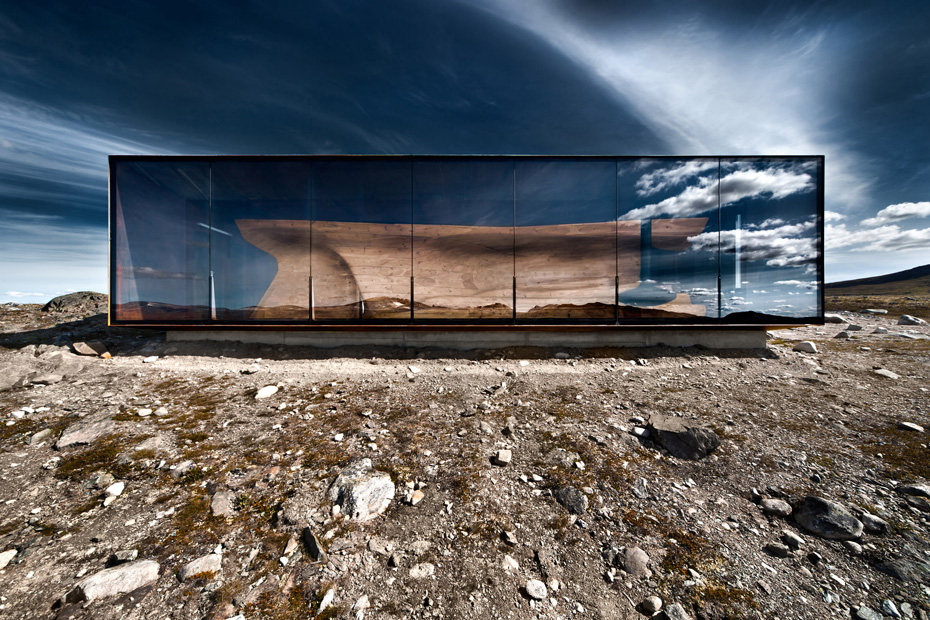 The Trollstigen image won the Arcaid Photography Award – how does this image sit within your work as a whole? What themes and aesthetics emerge consistently in your work?
This picture is, in a way, the result of many years of training and hard work. It shows perfectly the symbiosis of 15 years experience in worldwide commercial jobs and my favourite landscapes. Beside product shots like mobile phones, furniture and cars, landscapes and architecture are my main subjects. In the architectural field I photograph everything from hotels, restaurants, shops, exhibition booths, skyscrapers or science centres and business parks. The look is always clean and often cool, but can also be warm if needed.
I hate the classic postcard look and try to figure out the uniqueness of each project – good pictures are possible under nearly every weather condition. I always try to show the object from an unusual point of view. At the Trollstigen plateau for example, I didn't just take the photo from the platform down to the valley, but tried to find a new unseen perspective.For this I don't care about hours, heights or temperatures. The composition includes all conditions, like the different light during day and night-time, times when there are little or no people, etc. Before shooting a project I try to get as much information as possible from the internet. Tools like Google maps are very helpful to precheck the perspectives, surrounding conditions like other houses and whether it's better to shoot it in the morning, afternoon or at night.
What are some of the demands of photographing architecture in comparison to other types of photography?
You have to travel a lot, because the architecture does not come to you. So this takes a lot of your time: it doesn't care about weekends. Once you reach the spot, you have to be very patient when waiting for the right light and you have to get used to work under imperfect conditions. The weather may be not as expected. Besides this there might be a lot other things you can't check or coordinate beforehand: there could be a truck in front of a building or there are roadworks, or commercial posters on the facade for instance.
Cont'd: When you do interiors you mostly have to empty the space of personal items like flowers and unsuitable furniture. In hotels, restaurants and shops, you often have to work at night, because during the daytime other business is taking place there. You always have to be flexible and improvise a lot.
A lot of architectural photographers are architects themselves: what's your background?
Besides school, I started working in construction for the first time when I was 15. After finishing school, I worked there full time for over two years. Later, I studied law for some years. When I came to Berlin in 1998 to train as a photographer, we had to do shoots in different themes like still life, fashion, architecture and reportage.I realised that you can only be a good photographer when you love what you are taking pictures of. I am addicted to modern architecture and design. A lot of my friends and even my wife are architects, so these themes are around me all the time and to be honest I am not patient enough to shoot fashion with 19 year old models!
Building Images: The Arcaid Images Architectural Photography Awards run from 28 February – 25 April at Werkstatt, 7-9 Woodbridge Street, London EC1R 0LL. For more information, click HERE