Jukka Viitasara and Karl Berglund launch their groundbreaking pipe, merging briar wood with thermo plastic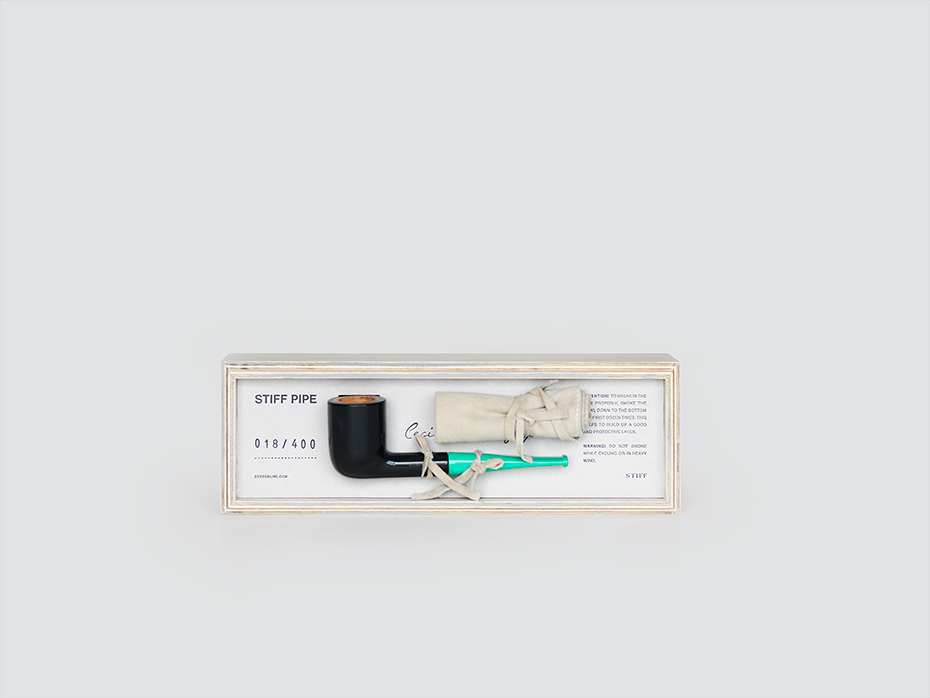 Words David Hellqvist
Photography Nikolas Ventourakis
There is no point in changing the design of a classic product unless you are improving its functionality. Full stop. Too many designers and manufacturers let us down by tinkering with an already perfect object. On the other hand, if your objective is to push the boundaries, develop concepts and further ideas, then be my guest: fiddle away. And that's exactly what Stiff, the brainchild of Swedes Jukka Viitasara and Karl Berglund, has done with the noble art of pipe smoking through mixing industrial expertise with hand made craftsmanship. Produced in Sweden, their pipe is the first "plastic pipe cast in one piece using polished thermo plastic equipped with a briar wood tobacco chamber". The combination allows for a better draught through the pipe, giving the smoker a better experience. But Stiff, their two-year-old Stockholm-based venture, is not all about pipes. Rather, it's a company dedicated to bringing plastic back. The duo believes strongly in this previously 'uncool' material as a sustainable option going forward, not only for functionality-driven products but also for objects of desire – beautifully designed and with superior capacity. Having launched the Stiff Pipe in Tokyo last week, the goal is to develop another plastic product to be launched at Milan's Salone del Mobile in April next year.
David: Where did the idea to make a pipe come from?
Stiff: Our love of the pipe smoking philosophy. My  grandfather smoked a pipe. I remember the lovely smell of pipe tobacco and his little box with the pipe kit. Beautiful!
The thing with pipe smoking is that you can't stress it. Take your time and just contemplate. It's like a ritual. We wanted to create something new in the pipe world, and we love plastic – when it's used in the right way. When we mixed the age-old pipe culture with the more contemporary material and colour scale we managed to do that.
David: You smoke a pipe yourself?
Stiff: Yes, we do. But not everyday, it's something we do to celebrate a special occasion. We enjoy it as you cherish a nice glass of whiskey, or an extra special dinner.
David: You've decided to work with plastic – why?
Stiff: Our aim is to reintroduce plastic as a versatile, luxurious and qualitative material because we believe plastic is due for a revival.
David: What is it with plastic that makes it superior?
Stiff: If used in the right way it's awesome. You can mould and shape it to just about anything. You can choose exactly what colour you like. And if you design the object in the right way you can recycle it or even 'upcycle' it, as we do. That means you send back your worn-out Stiff pipe to us and we'll take out the wooden core, grind down the plastic and produce a 100% new product out of it.
"The thing with pipe smoking is that you can't stress it. Take your time and just contemplate. It's like a ritual"
David: How did you design the pipe, what was the process like?
Stiff: It was a long process. It took us over two years. We hade the idea, and started with rough drawings and produced a prototype. Then we contacted a couple Swedish plastic factories to consult them how to take the product in to production. The first answers were, "no this is impossible''.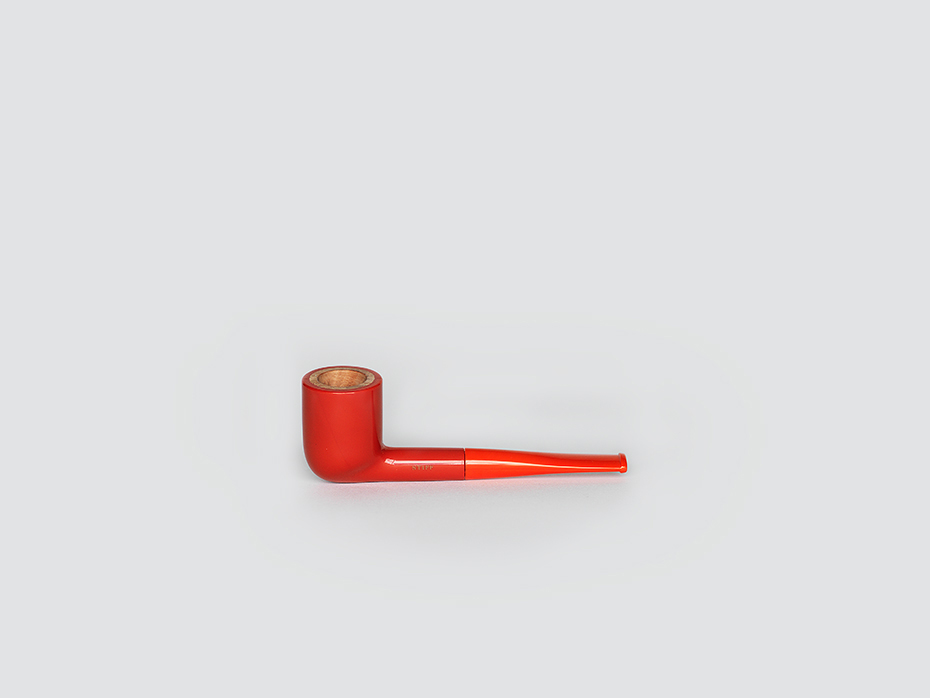 And all the traditional pipe makers said the same. But finally we got hold of a local small-scale factory that was brave enough to try. They had never heard of anyone who had mixed organic materials, like the briar wood core, with the half synthetic material, such as thermo plastic casts. And at the same time we met two of the worlds best pipe makers, Vollmer & Nilsson, who loved our idea and helped us out to find the best air flow etc in the pipe.
David: What makes it unique?
Stiff: It's the world's first plastic pipe cast in one piece using polished thermo plastic. The superior wood chamber resists fire well and gives the pipe the taste of a classic briar pipe. However, it's our mixture of industrial know how and hand made techniques that make the Stiff pipe unique. The design allows for a better draught through the pipe, which – to put it simply – makes the pipe taste better.
For more information, visit stiffonline.com