Pallant House Gallery's artistic director Simon Martin on why he is dedicating a retrospective to one of the most neglected artists of the 20th century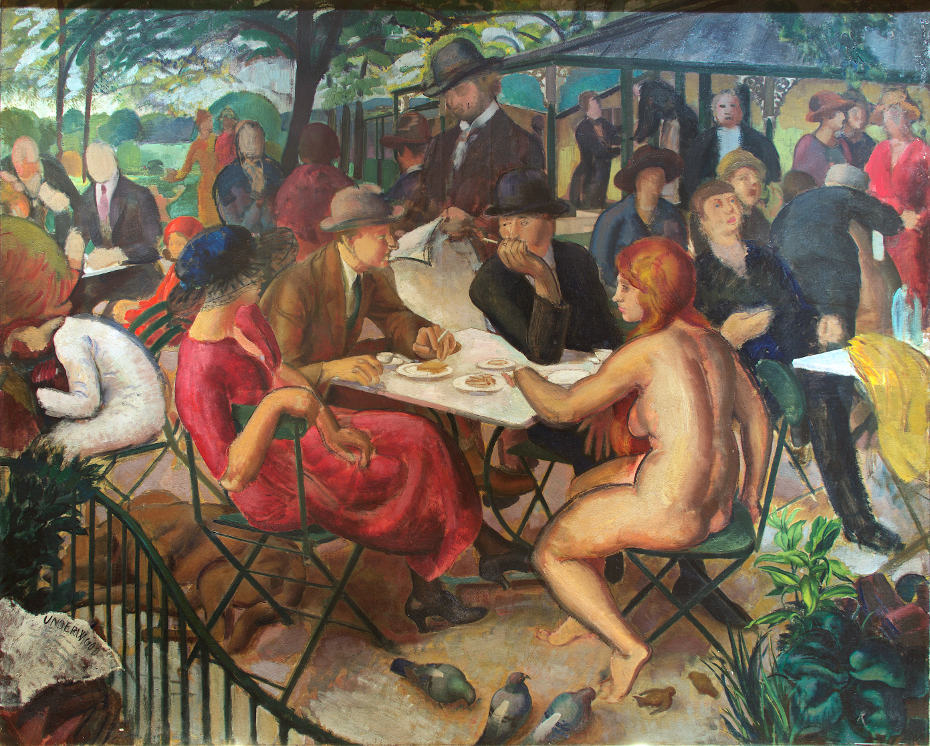 More than 40 years have passed since a retrospective has been dedicated to Leon Underwood (1890 – 1975), an unsung hero of British art that helped cultivate some of sculpture's brightest talents including Henry Moore and Barbara Hepworth. This month, a new show at Chichester's Pallant House Gallery entitled Figure and Rhythm will bring together Underwood's often overlooked paintings, wood engravings, etchings and sculptures, as well as accompanying works by Gertrude Hermes and Blair Hughes-Stanton. Here the exhibition's curator, Simon Martin, tells Port why he believes Underwood deserves far more credit for the role he played in moulding the landscape of modern British sculpture.
Within a year of attending the Slade School of Fine Art to study drawing under Henry Tonks, Leon Underwood had become the assistant teacher for life drawing at the Royal College of Art. He later opened the Brook Green School of Drawing at his home studio; the students under his tutelage included Eileen Agar, Blair Hughes-Stanton, Gertrude Hermes, Vivian Pitchforth, Henry Moore and Raymond Coxon. The men and women who passed through the doors of his school are praised as the most influential of the interwar period and yet he has lacked widespread consideration. As former director of Tate Britain Sir John Rothenstein stated: 'No artist of his generation… has been so little honoured and indeed so neglected.'
So how is it that Leon Underwood – unlike his widely celebrated pupils – has fallen so much from view? Perhaps it was to do with his versatility. He was a painter, sculptor, draughtsman, printmaker, and illustrator, and due to what R.H. Wilenski described as his 'restless progress', Underwood did not have an instantly recognisable 'style' that could be easily categorised. When a remarkable series of etchings produced between 1921-22 demonstrated the strength of his draughtsmanship, London's Chenil Gallery displayed them alongside the then famous Augustus John. Art historian Christopher Neve even described the etchings as 'unsurpassed of their kind in the period immediately after the war'.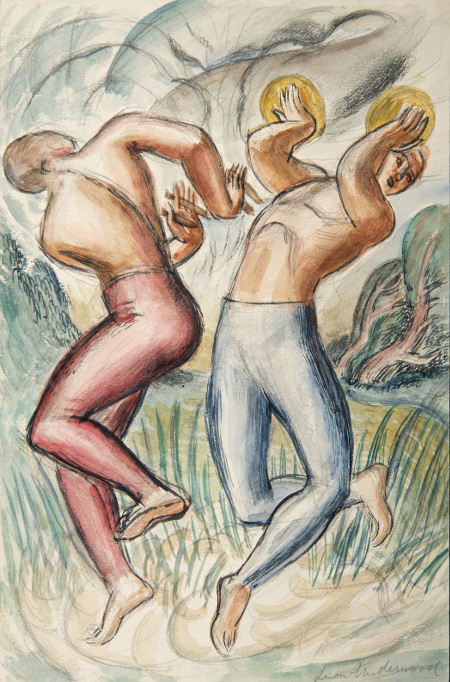 "No artist of his generation has been so little honoured and indeed so neglected"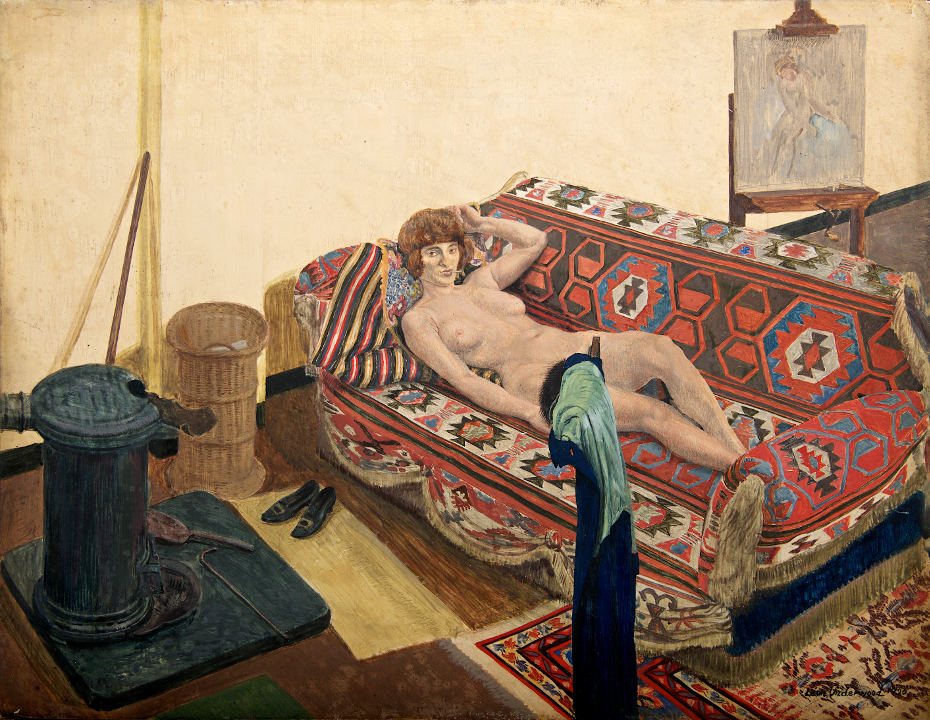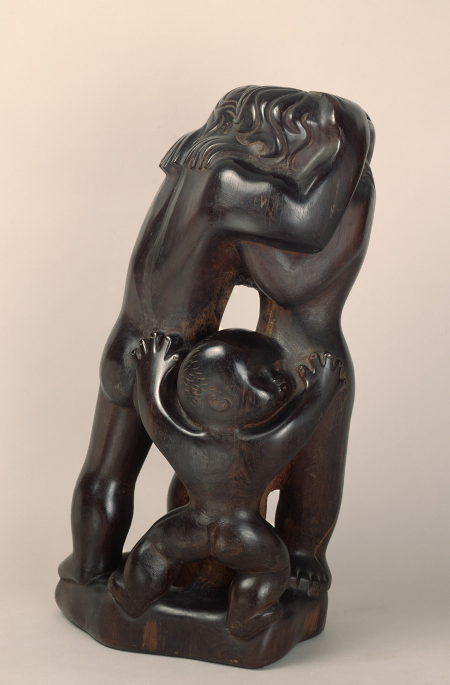 When wood engraving was introduced to the Brook Green School in 1923, Underwood and his pupils began to experiment with tools and techniques to achieve new and unusual effects. This was to be a precursor to his formation of the English Wood Engraving Society in 1925. After moving to New York in 1926, Underwood subsequently became a leading figure in wood-engraved book and magazine illustration. His illustration of Phillips Russell's book The Red Tiger, 1929, had the greatest impact on his career, and introduced Mexican themes into his work.
While other British artists were deliberating over the question of how to 'go modern and be British' Underwood sidestepped the debate entirely by drawing on his first-hand experience of native traditions and 'primitive' cultures. He wrote seminal books on the masks, bronzes and wooden figures of West Africa and became fascinated by the relevance of prehistoric art to the 20th century.
The medium of sculpture seemed to fuse the directness and vitality of tribal art with Underwood's understanding of European traditions, and works such as Recumbent Knight (Catafalque), 1935, heralded his return to sculpture. Later in the decade, his appreciation of 'the rhythm of materials' was to inform a series of dramatic sculptures, which reflected his belief in the 'life-giving force' of the figure and his goal of artstically expressing a sense of 'pure plastic rhythm'.
Underwood's complex ideas and, sometimes, esoteric philosophies, did not always endear him to the mainstream. Whilst his work was always changing, he was devoted to the representation of the human figure and particularly to drawing from life. It's this theme of 'figure and rhythm' which brings together the body of work shown at Pallant House Gallery, through which Underwood's legacy and his position in the history of modern British art ought to be reassessed.
Figure and Rhythm runs at Pallant House Gallery until 14 June 2015
Words Simon Martin