Nothing beats a good book – unless it's accompanied by a great daiquiri.  We meet Babette Kulik whose Soho bookstore combines the two, creating one of the most intriguing literary spaces in London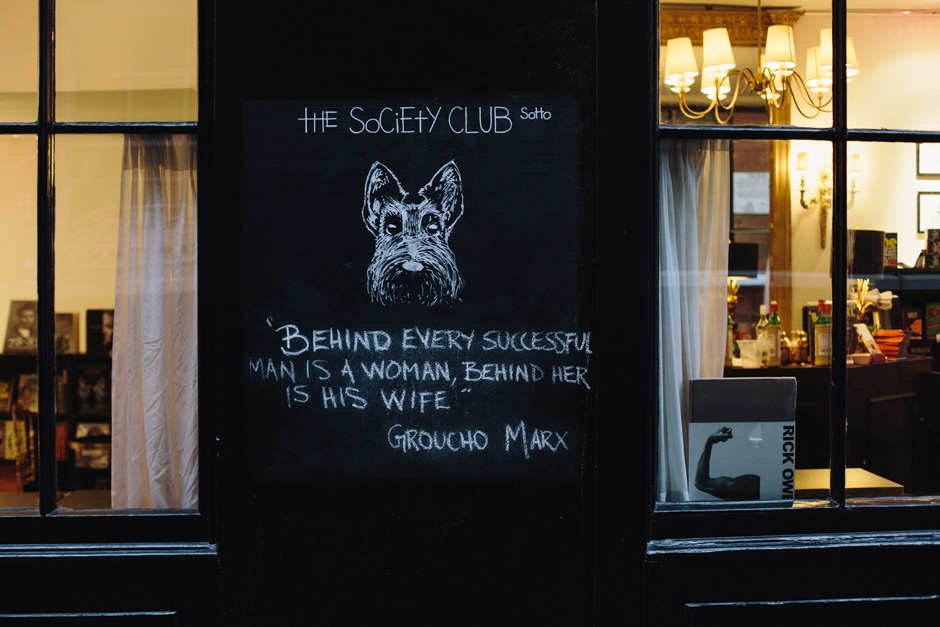 "Behind every good man is a woman, behind her is his wife," reads a quote by Groucho Marx, written on the wall of The Society Club on Ingestre Place. It serves as a fitting introduction to the brilliantly unconventional bookstore/cocktail bar, which has become a favourite haunt of authors, editors and locals since its opening in 1957 – or should that be 1927, as the website claims? Actually, owners Babette Kulik and business partner Carrie Kania opened The Society Club in 2011. "It's a touch of irony", Babette explains with a wry smile, "we've been open three years, but it feels like much longer".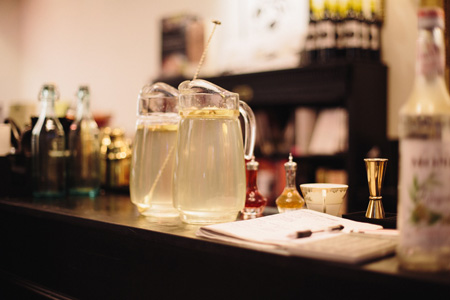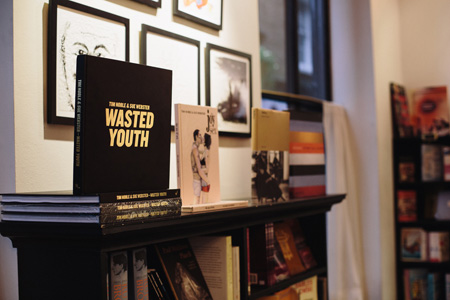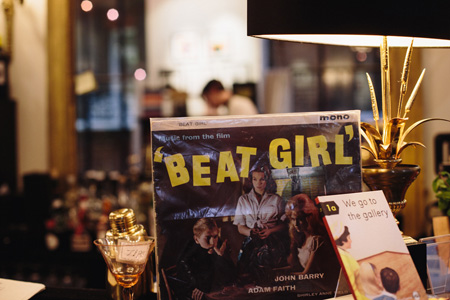 The Society Club manages to channel the feeling of 'Old Soho' (the best bits at least) despite its relative youth. That's probably because Babette and Carrie – the latter of whom worked at Harper Collins in New York before moving to the UK – have been fixtures of the Soho scene for years. And the inspiration for the store itself comes from another Soho legend, their close friend and artist Sebastian Horsley, who died in 2010.
"For years, we'd been talking about opening a bookshop. I joked about putting my living room up for sale – my living room was filled with stacks and stacks of books", Babette tells me, "and Carrie said, 'That's silly – why don't you open a shop instead?'" Horsley's sudden passing spurred the pair into taking the plunge and realising the dream they'd been toying with for years. And in doing so, they created a space in which the deliciously unorthodox spirit of Old Soho is very much alive and well.
Sitting down in the window, Maddie and Modesty, a golden retriever and a squat British bulldog, join us respectively. On Babette's lap sits Monty, a diminutive, sandy coloured chihuahua who at 18 years is also a veteran of the Soho scene. The dogs are something of a feature of The Society Club, with visitors and their dogs adding to the pack they peruse the shelves in search of rare first editions, new releases and the best gimlets in town.
In 2013, The Society Club became a members club, but not in the way you might expect: "It costs £175 per year for membership", Babette explains, "but you get it back in books. You come, you look around, find a book you like, and we take it off your tab". The scheme means the shop remains a viable business, whilst maintaining its core clientele – book enthusiasts. "There's no point becoming a member if you don't like books, because that's what you get back – as well as a drink!"
---
"It's the personality of the store that truly makes it a rarefied experience wandering through its doors"
---
The store has also quickly established itself as a place for authors too. Hanif Kureishi, Lionel Shriver, Miriam Elia and Amy Bloom have all launched titles there. Regular, Friday poetry nights and twice weekly literary talks turn the bookstore into a social space enjoyed by a truly eclectic mix of people, including local residents who've lived in the area most of their lives. It's an unusually democratic and accepting space, and its bar also serves some of the best cocktails in London, many of which are of course literary inspired classics, such as Hemingway's mojito and F.Scott Fitzgerald's gin rickey.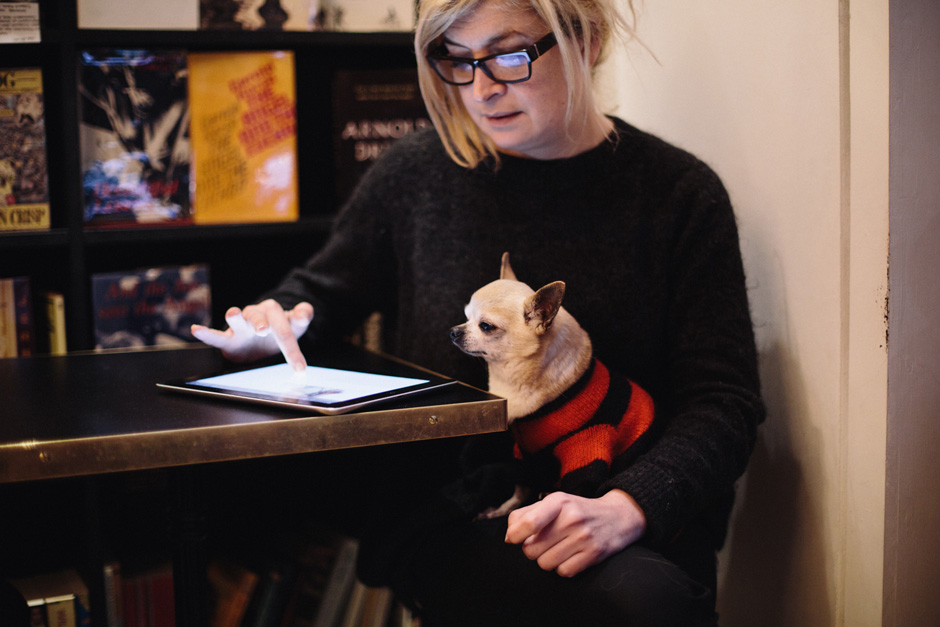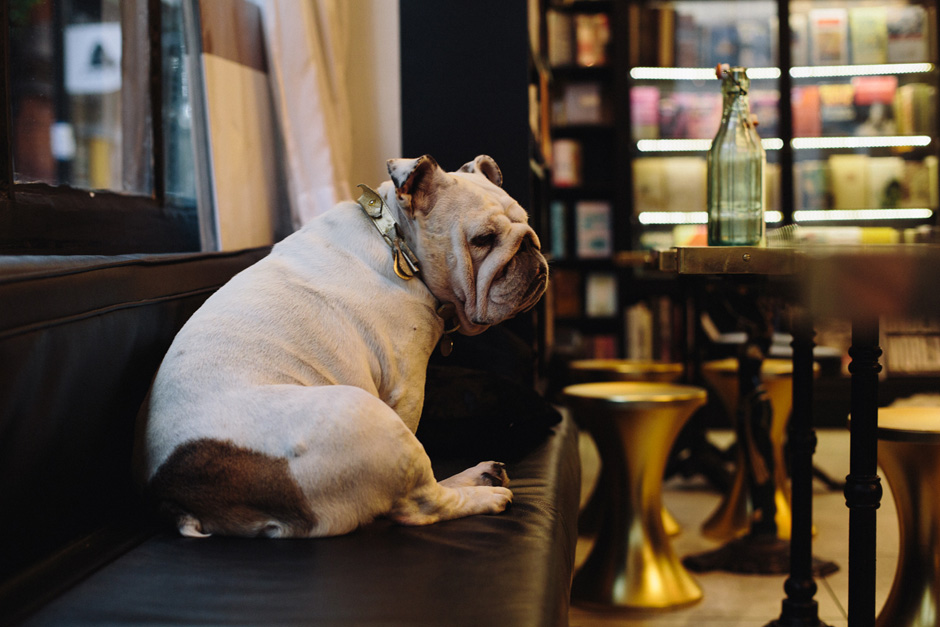 It's a joyful thing to work doing something you love, and Babette's voracious appetite for literature fuels the enterprise. "I love writers like Dorothy Parker", she tells me, when we turn to her current reading material. "For me, she's bitter, twisted, cynical… She's fantastic." It's probably no coincidence either that Parker's enthusiasm for cocktails is very well noted: 'I like to have a martini / Two at the very most. After three I'm under the table / after four I'm under my host.'
As we prepare to part ways, I ask a final question: Does she still have any of the books from her living room collection? "Most of them have gone, but there were a few I couldn't resist keeping hold of…"
We'll raise a glass to that.
Words Betty Wood
Photography Liz Seabrook
A store is only as good as its wares, and shelves of first, rare and new editions of fiction, poetry and non-fiction are amongst the best curated anywhere in London. But it's the personality of the store that truly makes it a rarefied experience wandering through its doors.
We'll raise a glass to that.
We interviewed Babette in support of Small Business Saturday, celebrating and exploring independent businesses across the UK on Saturday 6 December. Visit The Society Club at 12 Ingestre Pl, London and click for more information on shopping small on Small Business Saturday here. This is a sponsored feature in association with American Express® Please note, the opinions shared in this post do not necessarily reflect the opinions of American Express