G-Star's executive creative director, Aitor Throup, reveals the philosophy behind his AW17 collection and his experimental fashion lab in Amsterdam
It might sound like an odd fit, a concept-driven artist from Burnley, England, working for one of the more mainstream denim brands around today. But that might just be why Aitor Throup's appointment as G-Star's executive creative director makes sense. They both need each other and couldn't have accomplished the AW17 collection displayed last week at Palais de Tokyo without the partnership; Throup may have wanted the commercial ability to speak to the masses, while G-Star might have hoped to reach a new audience at Paris Fashion Week.
It's a fine line and it could easily have gone horribly wrong, but as we saw when Throup teased the partnership with a small capsule collection in June last year, it has enough of his design DNA to keep it 'on brand' while also sticking to G-Star's raw denim legacy. In his new role, Throup has moved to Amsterdam to fully focus on the Raw Research laboratory, which is dedicated to his experimental approach to denim. After his Paris AW17 menswear show, we sat down to discuss his new role, doing things 'his way', and how he's injecting 'controlled risk' into the design process.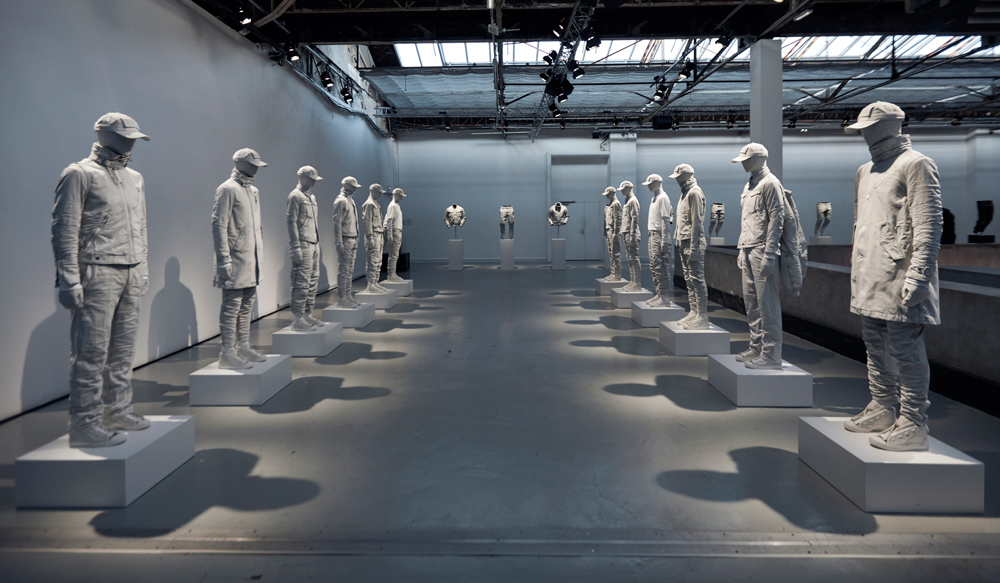 You are now officially based in G-Star's Amsterdam offices, what are they like?
Yeah, the office is beautifully designed and based on an airplane hangar where they design and build the airplanes from scratch. It's all glassed. And also the floor's offset, so that if you're on one floor you can see through to the next one, and the next one…
Apart from the Raw Research laboratory you set up a while back, are you also working on G-Star's mainline?
Absolutely, yeah. We have a huge commercial responsibility as a team. And I think that's why it's important to remind ourselves to take risks, to keep pushing out designs that aren't dictated by the market. Completely new things that didn't exist before, that we don't know whether the consumer needs or wants until we make them.
It doesn't sound like something brands like G-Star usually agree to. How did you persuade them?
They've always liked to push boundaries, It works if you have a controlled risk.
How do you control the risk? 
Through scale. That's why we set up the lab so that a predetermined percentage of the collection is not commercially dictated. The brand was convinced that they would benefit overall by having a small percentage of the collection be completely autonomous. It's a great opportunity to gauge future commercial successes.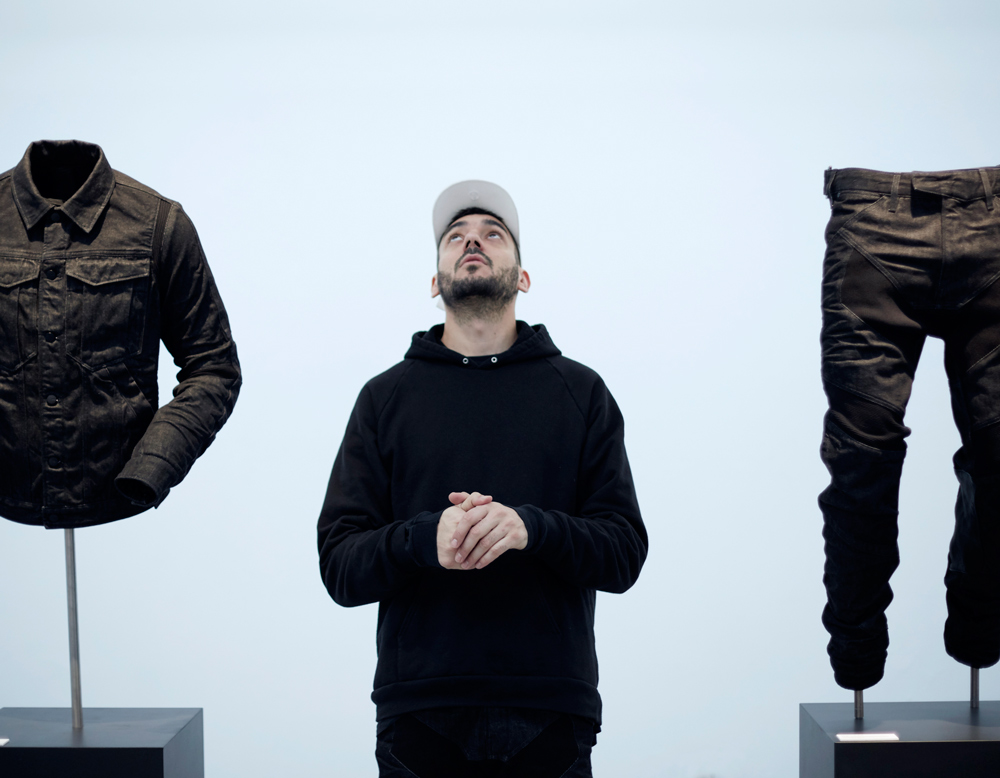 When did G-Star emerge on the denim scene?
G-Star became big because of challenging the conventions of denim. They launched the Elwood style in 1996, which, at the time, was a revolutionary idea for denim. They clashed 2D workwear construction details with a 3D biker-inspired knee-panel. Two completely different references in one pair of jeans!
How did the Elwood jean fare in the beginning?
You know, it was a weird jean and I think it was challenging for people to get their head around them at the beginning. But G-Star persisted, and after about a year or so, it became a huge thing in the denim world, and lots of brands started referencing it and copying it, which shifted the idea what was possible and acceptable for jeans to look like. I'm inspired by that, and I'm trying to capture that defining aspect of them as a brand.
We want to continue to challenge notion of what jeans look like, which in turn allows us to challenge what every other type of G-Star product look like. Otherwise you're just making stuff. It's healthy because it's risk-taking; we want to understand the commercial value of risk-taking. Our first research project was never supposed to turn into a capsule collection, we just set up a lab to progress the brand.
You mean the pieces you showed in June 2016?
Yes, we didn't design it as 'season one'… We only decided that we needed a focused, mini-team with relative autonomy that I could direct, to explore more…to take risks. 
When did it go from just general research to an actual collection?
We created these prototypes to present back to the G-Star board, and for them to pick which ones would go into the general collection. But, as soon as we showed them, everyone had the same reaction: 'Wow, this is amazing, let's put it out as a capsule'. But it's going into the main line as well.
We've been able to test the success of it as a capsule collection. It went to the right stores, like Dover Street Market. It sold really well and it's been well-received and understood by people, by journalist and by buyers. But we're also able to assess the success of the general collection version of season one. Jeans from season one went in and sold amazingly well, globally, even though it was the most expensive jean in the whole collection.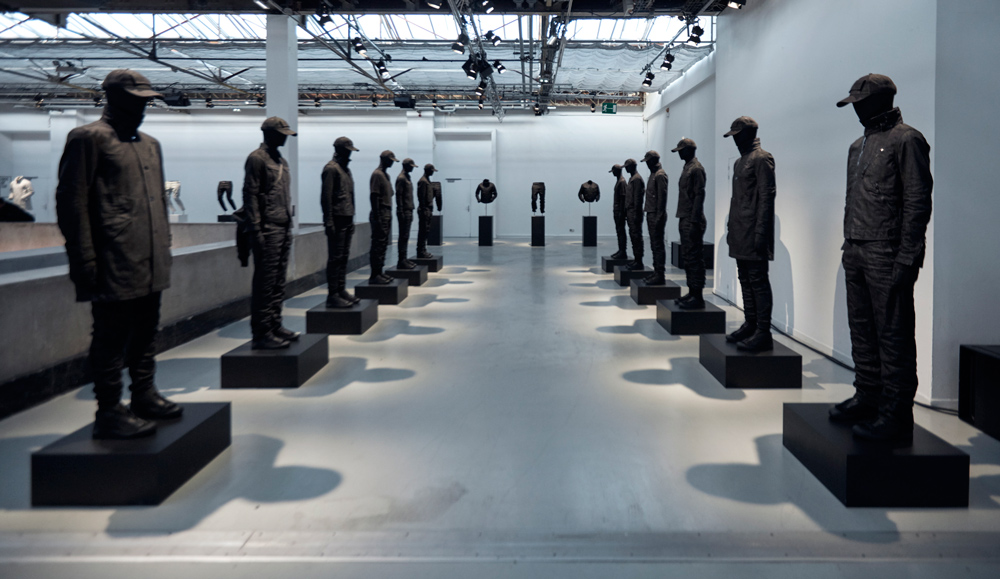 That's the true meaning of a laboratory, right?
Exactly. On one side, we're expressing the needs of the body in different environments and in different functions, so we have these Motac-X jeans that have engineered rib panels that allow very rigid denim to articulate the movements of the body. It's a completely new solution to the problem of rigid raw denim.
Rather than just making a stretch version of the denim we engineered articulations into the product. It's a study of body motion, but with direct reference from the motor cross world. I think it's a connection between the worlds of art and design. I'm personally really interested in symbolism and you can use symbolism to say something through your artwork. 
How does the motor cross culture fit in?
For us, motor cross really represents adolescence. It represents that beautiful moment, that period in your life when you're transitioning from childhood to adulthood. It's the feeling of freedom, but yet a sense of responsibility. And it turned into a mantra for the brand: as an adult and developed brand, we need to go back to our childhood adolescence.
It's like a band that wants to go back to when they made their first album… That's the ultimate challenge isn't it, to get that magic back. And this is what justifies the lab… that freedom of expression.
What about your background as an exclusive and avant-garde designer – do you feel you need G-Star as much as they need you?
That's exactly how it is because, at the end of the day my stuff is incredibly exclusive, as you say, as a symptom of me choosing to do things the my way. 
I think we have a responsibility to continue to work in that place where we can just spend two weeks making one jacket. I believe in investing in newness, so that those things can inform some things in the future that can change and shift how clothes are made or worn.