Why, in the age of CGI and 3D printing, are architectural models still relevant? Betty Wood goes to the studio of one of London's leading model makers to find out. Photography Liz Seabrook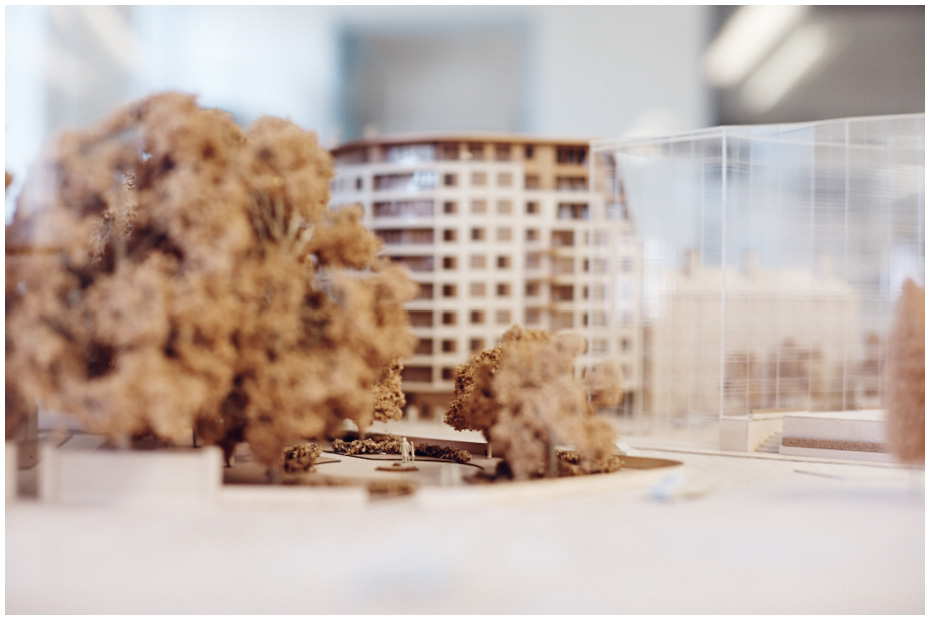 Making architectural models is very Zen. Or, at least it seems to be. Wandering around the workshop of Richard Threadgill Associates, save the occasional high-pitched neeeyhaaaah of a band saw slicing through sheets of wood out back, the studio is a peaceful level of quiet somewhere above silent, but below the buzzing sound of a normal office. I'm reminded of the workshops in a watchmaking factory, where technicians and specialists sit at benches, silently tweezering components into place to the soundtracks of their Discmans.
The slow, steady pace matches the delicacy of the watch-making operation: a ribboned Perspex window, around 0.75mm thick and more than 25 cm long, is glued carefully into place on a model due at the end of the week. You wouldn't guess that was only two days away: the fixings are smoothed gently with a bud, the join perfect. By the time I leave the studio two hours later, the model will be sitting on the desk, windows finished, base fitted and landscaping begun. For such a slow pace, they work remarkably fast…The studio's come along way since its inception, some 25 years ago. Trained as an architect, company founder Richard Threadgill was working at Richard Rogers' practice at the time they were designing the Lloyd's building on Lime Street: "I was asked to have a go at building some of the models with some of my friends, who also worked there" Richard says of his first endeavour. "It worked out well and we did a sort of 'in-house' service at Rogers – or Piano and Rogers, as it was at the time – then eventually got our own workshop together.
"Those early days were relatively lo-fi – we had virtually no equipment – we only had a bandsaw and a sander in a lean-to on the side of one of our houses. We soon took on proper premises in Clapham and forged our reputation by building models such as the Lloyds building exhibition model, which is still on display today.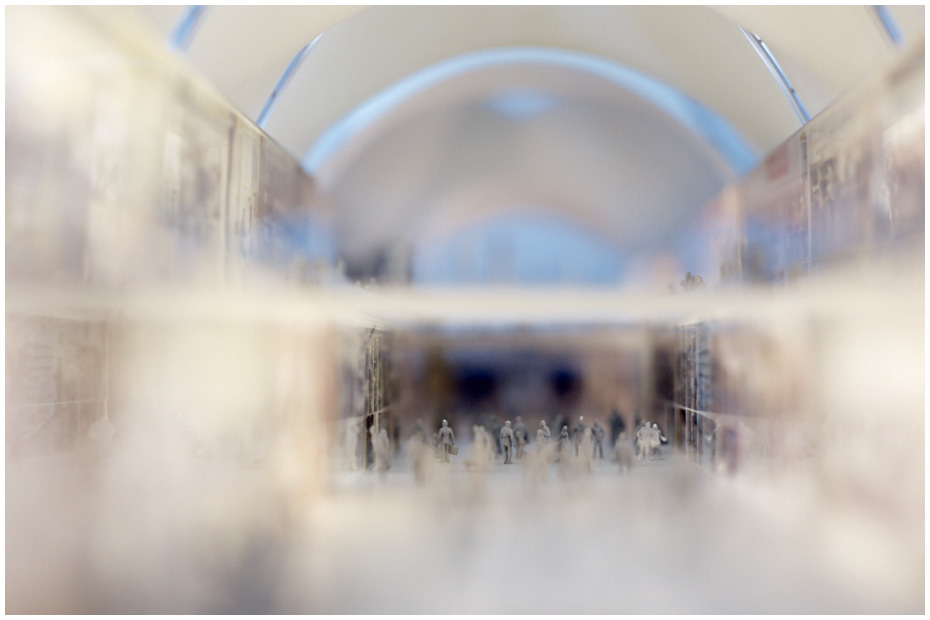 "Pretty much all the model makers were coming out of the model making industry at the time, and what set us apart was that we came at it from a completely left field, being architects ourselves. We started looking at the dimensional co-ordination of components, using processes such as silk screen printing and photo etching to get much more detail on much smaller scales".
Forging a reputation for attention to detail and technological innovation, they built-up a client base throughout the 80s. "We had 40 or 50 staff on PAYE, and suddenly I wasn't making models any more, I was just having meetings all the time. And when the big recession hit, the phones stopped ringing and people stopped paying and we had to meet our creditors" Richard states. "It was a very upsetting time".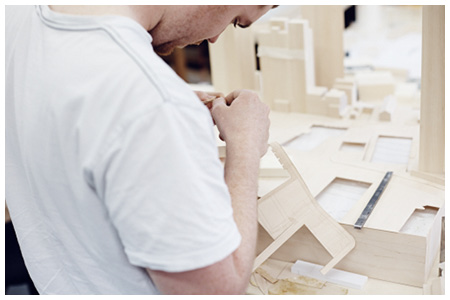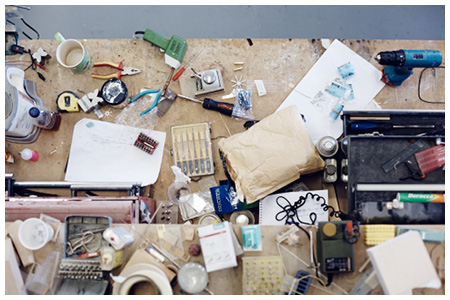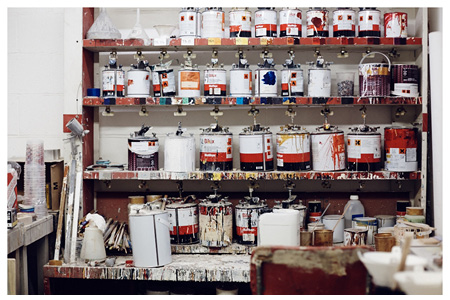 The company split, with Richard and two of his ex-partners from Tetra renting the same premises, where the three each started their own businesses. "We're at our optimum size now," of RT&A, "there's myself and a dozen to 20 people", including his two sons, Alex and Max, and Richard seems much happier for his return to a hands-on approach. "There are times when I think we shouldn't do something because I don't think it's possible, then just go and do it. They have that combination of experience, and of understanding the materials".
With the rise of 3D printing, you might think that architects would be turning their attention to this new form of model making, and there'd be less call for people like Richard. But he quashes that idea in a second: "3D printing's a brilliant tool for architectural practices to have in-house. They'll have a 3D printer that will make up an image of what the building's going to look like, but the simplest, cheapest versions produce a crumbly result which is all right… until you cough near it then it falls into dust!"
---
"Being architects ourselves [we] started looking at the dimensional co-ordination of components, using processes such as silk screen printing and photo etching"
---
It is a weapon in Richard's armoury though: "We use it as a way of making components. It's a fantastic tool, but I think it's slightly misunderstood in the sense that people think they will get a complete model 3D printed. In reality it is more likely to be some parts of the building made as components, sometimes complete buildings, but in a setting – a composition of components. Currently there are limitations to strength or finish or very fine dimensions that mean the best results are from assemblies of components, some 3D printed and some 2D laser-cut or computer-milled and some made by hand, finished and sprayed and assembled."
"I think it's worth saying that architecture has moved on, as model making has over the last 30-40 years", Richard adds. We talk briefly about the rise of CGI several years earlier – "Everyone said that would be the end of model making" – but it echoes the limitations of 3D printing, "it's on a screen, people can't see it feel it or walk round it, they can be cheated. It's an equivalent of seeing the trailer for a movie, you don't get to see round the back where the bins are kept because no-one wanted you to see that!" Both, he concludes "are very powerful tools for presenting, but there's a place for a physical model that I don't think is going to go away any time shortly."
Stood on the mezzanine, Richard walks me through some of the display models the company's produced for previous clients, inviting me with delight to press a button on a private-gym model. The interior lights up, showing where a new entrance was to be installed, the purpose of this particular model. "The client wanted something they could show their customer, so they'd have a clearer understanding of where the building work was leading to, and so they'd feel more involved in the process".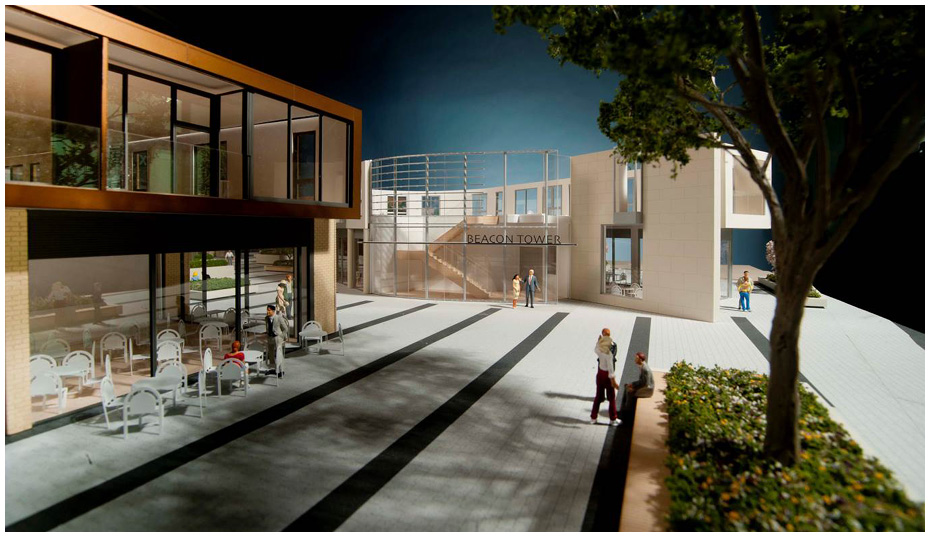 Competition models, designed to have a "wow factor", (and often with little else behind them but a few sketches, a presentation and a couple of A2 mood boards) are another type of model utilising interactive electronic components. "Press a button, the light comes on: it's surprising how people connect with that. It sounds silly, I don't mean to denigrate, but it excites people, it wows them and it sticks with them – if you're seeing 24 pitches in a day for a hospital, or an educational establishment, it helps you connect with the project".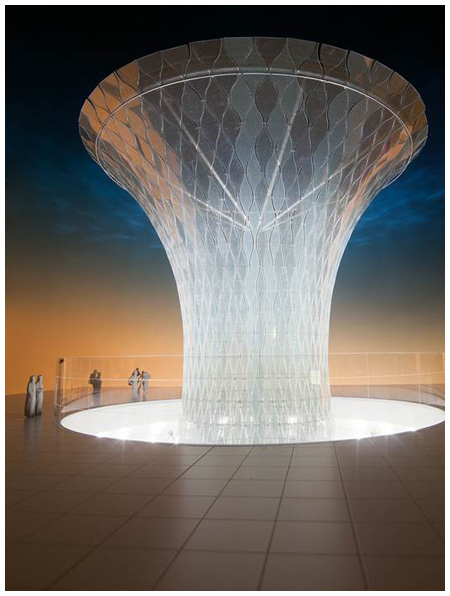 Top: Putney Plaza, 1:43 scale, courtyard model. 2013.
Above: A recent Project. 2014. 1:50 scale model with LED lighting.Photos Daniele De Paola
Interactive electronics are also, as my look of delight attests, fun. We look at an old model of a London mall built in the 1990s on a scale of 1:150, complete with shop fronts with lit displays of records, shoes and clothing. It gives an idea of space – a grand winter garden, wide balconies, even the distance from the entrance to the nearby car park – and was used for public consultation. "That's part of our job, we provide our clients with the best model possible to get them through to the next stage of planning, whether that's a panel, investors or the public". The model in his studio doesn't resemble much the final mall – but Richard and his team worked through the project from start to finish, through the changes, across several evolving models.
---
"Press a button, the light comes on: it's surprising how people connect with that… I don't mean to denigrate, but it excites people, it wows them"
---
Of course, there's that clichéd-sounding but ever-present 'wow' factor in every model they produce. For a Putney residential project last year, they built three models for a developer selling apartments to buyers in China and Singapore. "We built a model that showed the development's location in London; in the whole of London. We did it as a photograph, stuck down, the size of this table with little models of various places: the London Eye, the Shard, the Gherkin, Harrods, Wimbledon… The second, was the complex itself, each flat lighting up individually…" 115 flats, individually wired, at 1:43 (model railway scale), they boast tiny brickwork detail, and are sprayed bespoke, ("that's the actual colour of the bricks they used") to look real life.
"They all sold, by the way," Richard says. LEDs, 3D printing, CGI, gizmos and complexity aside, this is the ultimate goal – the models are, after all, a prelude to the real thing…
Words Betty Wood
Photography Liz Seabrook
Additional images, courtesy Daniele De Paola and Richard Threadgill Associates