PORT travels to Milan to meet the prolific and enigmatic Alessandro Mendini, who has spent the past 50 years at the vanguard of Italy's design scene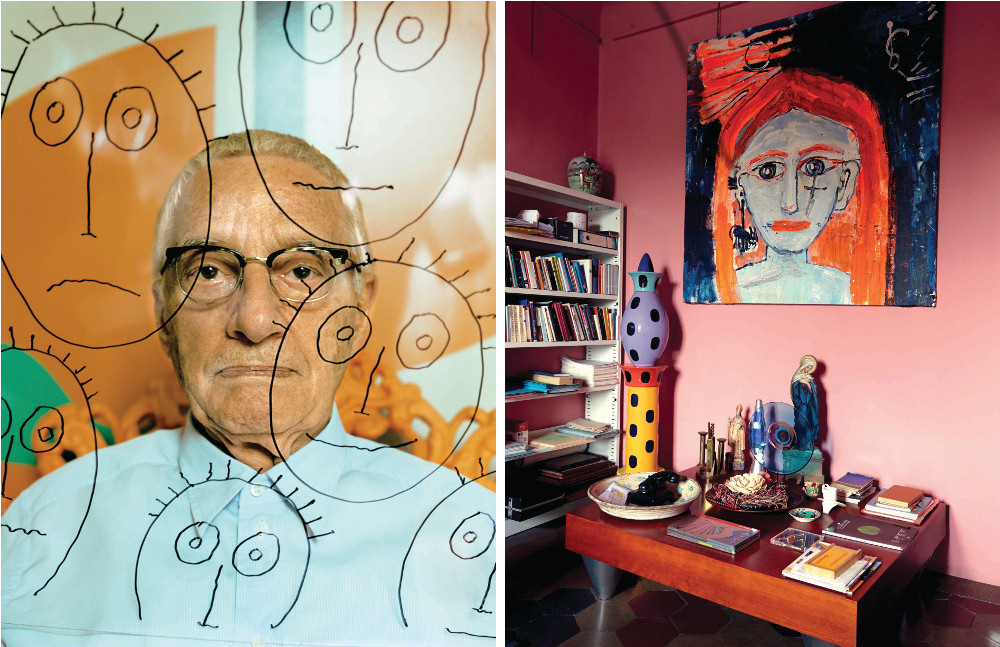 Every day Alessandro Mendini descends a flight of stairs from his modest apartment in Milan's Porta Romana district to the studio where he works alongside his younger brother, Francesco, and a team of around 15 designers and architects. The 85-year-old has spent nearly 60 years challenging the way design is developed and perceived, and he's busier now than ever. "I work a lot," he admits, with a characteristic grin that suggests he enjoys every minute of it. "Maybe before, I worked less, but now I work a lot."
Dressed casually in a shirt, chinos, browline glasses and New Balance trainers, Mendini looks every bit the Italian design maestro. But, despite his stellar career and the steady stream of incoming projects that clearly keep him permanently engaged, he sometimes struggles to elucidate exactly what it is that he's been doing all these years. "I am everything or nothing," he muses. "I am or am not a designer; I am or am not an artisan; I am or am not a journalist, a writer and an artist."
Of course, the truth is that Mendini is all of these things, and more, which is why he is used to working so hard. Last year he was awarded the European Prize for Architecture and he is currently preparing for a major retrospective of his work that will open in early October at the Zaha Hadid-designed Dongdaemun Design Plaza in the South Korean capital, Seoul. At the Milan Furniture Fair in April he launched a stool and a wall clock for Italian brand Kartell, and noise-reducing objects for contract furniture company, Caimi Brevetti. This incessant activity clearly helps maintain his vitality, as evidenced by the speed with which he nips around the studio, but it does have its disadvantages. "I have a beautiful house in the mountains near Bergamo but I never go there," he exclaims from behind his cluttered desk. "I like to work with my imagination and that is my life."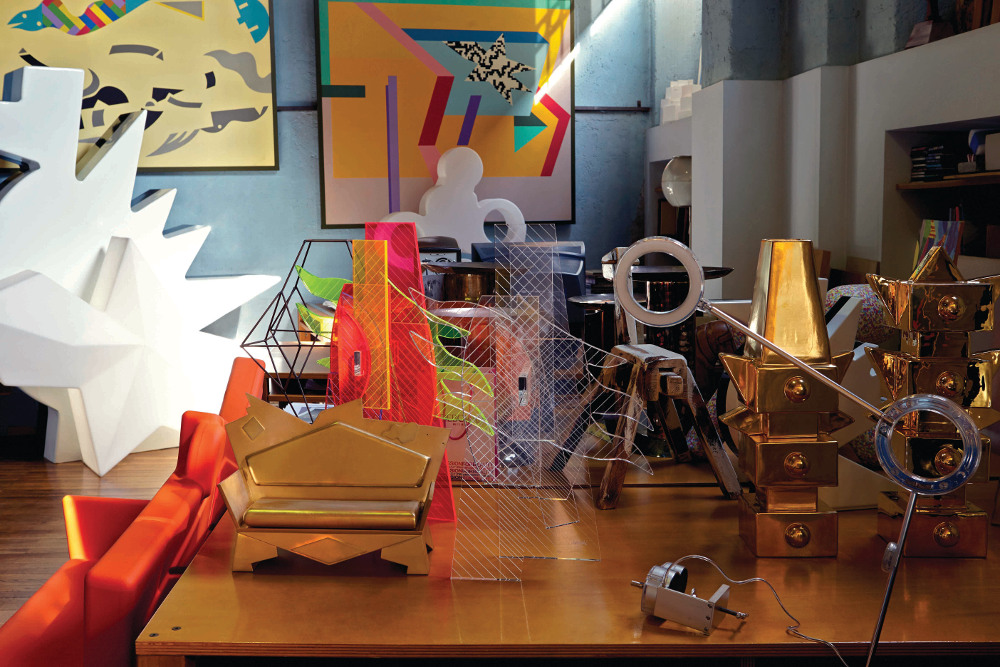 Prior to establishing Atelier Mendini with Francesco in 1989, Mendini played a key role in establishing Italy's position as a global force within international design. He completed his studies in architecture at Milan's polytechnic in 1959 and spent time in the studio of designer Marcello Nizzoli, before working for 15 years in publishing as editor of three of Italy's most important design magazines: Casabella, Domus and Modo. It was only at the age of 50 that he received his first architectural commissions, which included the iconic Groninger Museum in the Dutch city of Groningen.
During the 1960s and 70s, Mendini was a prominent member of the Radical Design movement, which rejected the commercial and functional constraints of mass-produced modernist design and instead developed conceptual objects that combined clashing colours and cultural references. In 1979, he cofounded the experimental design collective Studio Alchimia along with Ettore Sottsass, who later left to set up the more commercially focused Memphis group. Mendini's influential output as a designer, editor and curator during this period helped to form the basis for the postmodern design movement, which continues to influence work today.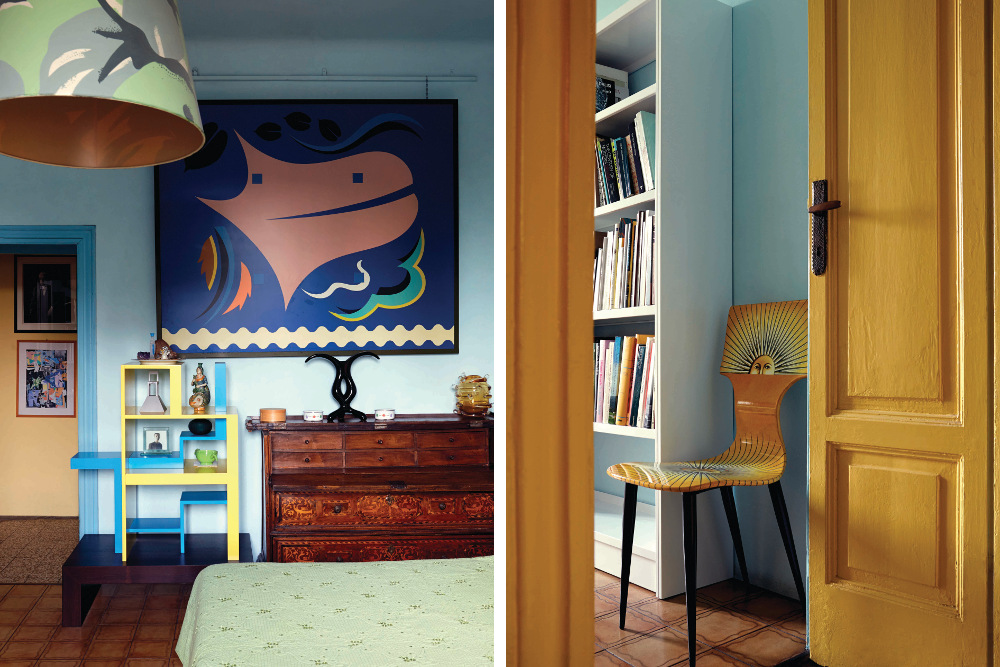 "He was an intellectual driver, a theorist who also put his provocative ideas into practice," suggests Glenn Adamson, the director at New York's Museum of Arts and Design. "In several cases, he blended the roles of editor and designer, putting his own creative work into the context of others' talent. For me, Mendini exemplifies postmodernism in that he considers authorship as a form of collage and collaboration." Although Mendini's output is not as widely recognised as some designers of the time, including Sottsass, he is revered as one of the industry's greatest thinkers and his every move continues to be studied by those hoping to learn from a true master.
For the past two decades, Mendini's focus has been on designing furniture, lighting and products for brands including Alessi, Swatch, Hermès and Swarovski. Despite being predominantly produced for the mass market, these objects retain his characteristic sense of wit and aesthetic flamboyance, which is how he continues to express his own radical vision. "The problems in the world at the moment are so many and so difficult to solve that a designer gets crazy," he proclaims. "I try to be utopian and maybe the beauty [of a product] can be a possibility. I hope those signs in the world can be something positive."
Most of Mendini's time is spent talking in person or on the phone to clients, advising students and conducting "hundreds of interviews". He uses the rest of his time to consult with Francesco, whose office is next door, or with the team in the studio who are working on projects for clients all over the world. The apartment above provides a haven that Mendini can escape to, where he can focus on generating ideas away from the demands of other people. "The most important part of my work is sketching and having ideas," he explains, pointing to a pile of his enigmatic cartoonish drawings, "so I need to stay alone for a part of the day. Upstairs is my house and I have to be there alone meditating and then here when I talk with people."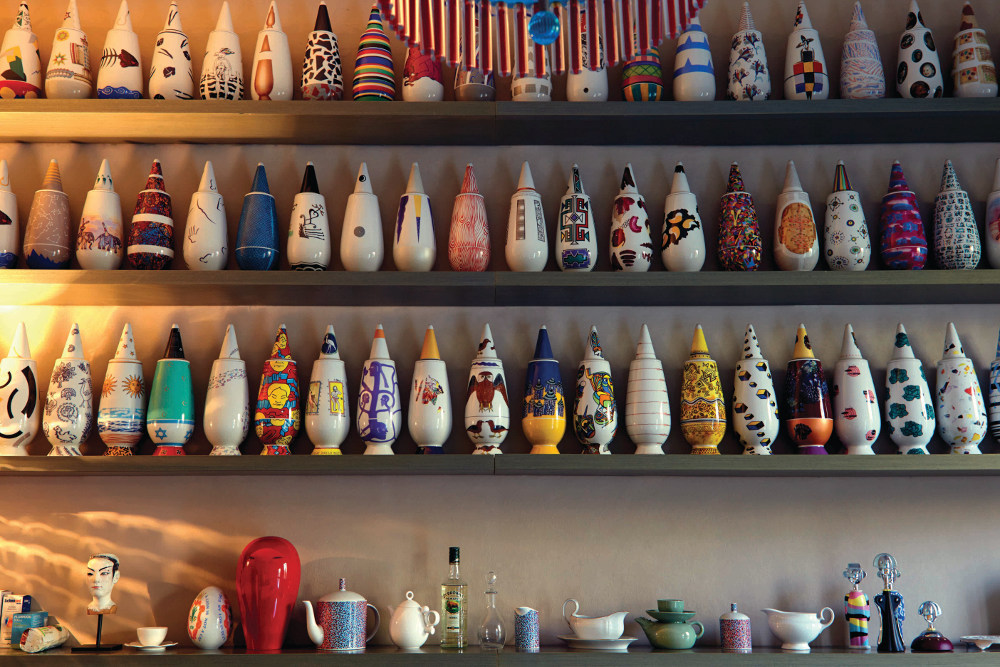 Mendini's home is one of dozens of apartments built for workers around the turn of the last century above a factory that produced locomotives. The studio is situated in the adjacent high-ceilinged warehouse, where parts for the trains were stored. The apartment is compact and decorated with an eclectic array of artworks and furniture, but with few of Mendini's own designs. "In my house in the mountains I have some very beautiful pieces," he explains, "but my life here is very simple." Instead, there are artworks by some of his friends and artists he admires, including a chair by British designer Tom Dixon and a wall hanging by graphic artist Massimo Giacon.
Back in the studio, almost every surface is littered with sketches, objects and materials relating to past and present projects. Inevitably, it's a colourful environment with a friendly, familial feel. Mendini's daughter Elisa pops in for a quick word and three of Francesco's grandchildren are watching videos on a computer by the entrance. At two o'clock, everyone in the studio will sit together for lunch around the large table in the kitchen. "This place is very positive," explains Mendini. "I find a good energy here. The people who come here to work, they always stay."
A typical example is Belgian architect Alex Mocika, who joined the team in 1988 to work on the Groninger Museum project, and never left. Mocika helped to develop the layout for the upcoming exhibition in Seoul, which will present around 500 products and objects from Mendini's archive. A consequence of the enduring international interest in his work is that Mendini regularly travels overseas to attend such events, as well as to meet with clients and manage production of his designs. "It's fatiguing but I like the connection with a very different mentality in places like South Korea," he explains. Evidence of the demand for his time and his willingness to travel can be found on the landing between the studio and his apartment, where there are three suitcases: "For two days, for three days and for eight days." It could be a long time before that house in Bergamo sees its owner again; the maestro still has a lot of work to do.
Photography Alberto Zanetti
This article was taken from issue 17 of PORT. Click here for more info about subscriptions or buying a single issue.