Pulitzer Prize-winning journalist Albert Scardino discusses the morally underhand methods of the British Press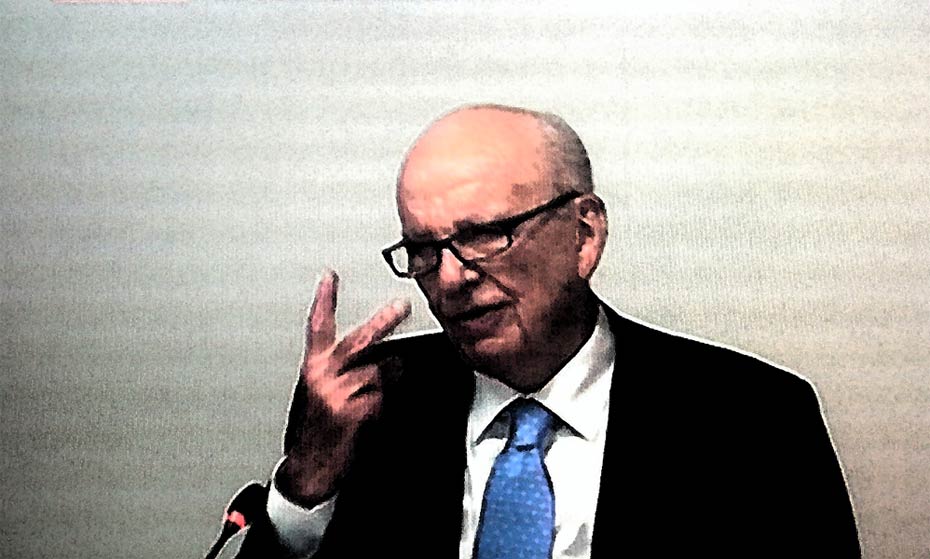 "So sorry" could be Britain's national motto. Just catch the eye of someone on a street corner and he's likely to apologise. Railway conductors routinely seek the pardon of patrons for the late running of trains and "any inconvenience caused". Even hoardings at construction sites ask forgiveness. Why then does the British press find it so difficult to admit its sins and start its penance?
Just listen to the witnesses at the Leveson Inquiry into the Culture, Practice and Ethics of the Press. The allegations of illegal conduct against journalists and the private detectives they relied on seem to touch on every part of the criminal code: extortion, fraud, assault, bribery, theft, electronic surveillance, perversion of the course of justice, invasion of privacy, even murder.
Journalists broke into computers and telephones to steal information. They posed as doctors and accountants to obtain confidential information about private individuals, a technique they call blagging but which the law calls fraud. Photojournalists spit on mothers carrying babies in order to capture the look of disgust as they turned toward the camera, a technique that amounts to assault.
News Corporation operated a police state, using its news columns as its instruments of torture. The public officials who were corrupted by journalists seem to have included police detectives, health care workers, prison employees, even a government cabinet minister's staff. Prime Ministers, business executives, teenage singers and sports stars, ordinary Joes who happened to rent apartments to crime victims – all cowered before the intruding journalists.
Intimidating surveillance was used on lawyers, police investigators and critics in Parliament. Evidence was destroyed on an industrial scale.
James Murdoch, chairman of News International until recently, says that receiving market sensitive information before it was divulged to the public was just an ordinary part of business-government relations. His claim during testimony at the Leveson inquiry that he would never use his newspapers to gain commercial advantage brought gales of laughter from the press gallery. After being accused in a Parliamentary hearing of running a Mafia organisation, he was nicknamed in some quarters "Il Bambino". His father, Rupert, continues to be granted access to private entrances at court and government offices to avoid the media scrum.
"To hear British journos tell it, this is freedom of expression. Or the public's right to know. Or public interest"
Sorry? Not a bit. To hear British journos tell it, this is freedom of expression. Or the public's right to know. Or public interest. Not only have they refused to apologise to anyone, they now seek permanent waivers to behave this way in the form of attachments to laws granting them immunity. They seek protection from enforcement of the law, so long as they themselves believe they are acting in the public interest. Le loi, c'est moi or translated from the French, fuck off.
Denial of the rottenness of the culture runs across the entire spectrum of British journalism. The editor of the Daily Mail, Paul Dacre, is outraged that there has been an attempt to drag his paper's reputation "into another newspaper's scandal," forgetting conveniently that the Mail has faced many of these allegations themselves in the recent past. Anne McElvoy, the well travelled public policy editor of The Economist, insists that the current scandal involves bribery and phone hacking, both crimes, and should be prosecuted, but the investigation into the culture and ethics of the press goes too far.
She says all journalists have misrepresented themselves at one time or another by blagging or fraud in order to obtain a story. As for the rest of the alleged crimes, "Oh, come on."
Journalists can be quite aggressive physically in defence of their immunity. Police officers showing up to arrest a journalist at News International for repeatedly breaking into electronic communications of members of the royal family found themselves facing an angry mob of reporters and editors. Badly outnumbered, they were forced into a conference room to wait while the perpetrator was produced. Who knows what evidence was destroyed in the meantime. Rogue reporter, as the company claimed for four years? No, just the only one in the slammer at the moment. At least 25 others have now been arrested, including two former editors in chief. Four journalists
have had their cases sent to the Crown prosecutor to be charged, and more are to follow, say the police.The greatest enemy of freedom of expression in Britain has turned out to be the British press. Take the case of NightJack, a blogger writing anonymously from within the police services about life inside the station. He was careful never to compromise the identity of victims or to jeopardise the ability of the Crown to prosecute suspects. What he produced was a running commentary on life inside a police station, a perspective the public never sees.
He could carry on blogging only so long as he remained anonymous. Were he to be unmasked, his superiors would have to discipline him. He would lose his microphone, maybe his job.In 2009, NightJack won the Orwell Prize, Britain's premier award for political writing. That award tempted a media reporter at The Times, Patrick Foster, to break into NightJack's e-mail system to establish his identity.
"Not only had the paper destroyed Horton's freedom of expression… but it had also compromised the criminal justice process in Horton's home town"
Hacking into a computer in Britain is a violation of the Computer Misuse Act of 1990 and could subject the violator to a prison term. Foster told News International's in-house lawyer, Alastair Brett, what he had done. In an e-mail to a colleague, Brett described Foster as "a naughty boy."
NightJack sought an injunction to prevent The Times from outing him. Brett concealed from the judge considering the injunction that the break-in had occurred (see amendment below). They claimed the identity had been obtained from publicly available information. That added a new layer of possible criminal behaviour to the mix – perjury.
They weren't done. The judge cleared their way to publish, which The Times did on 17 June 2009, rounding out their performance with the possible commission of defamation. They claimed that the public interest was being served by unmasking a blogger whose revelation of details of criminal cases compromised the chance to prosecute suspects.
Only by starting with NightJack's identity – Richard Horton, a Lancashire detective – could a reader determine what cases he had been writing about. Not only had the paper destroyed Horton's freedom of expression; not only had it deprived the public of a rare point of view from inside the rank and file, but it had also compromised the criminal justice process in Horton's home town.
Times Editor James Harding eventually apologised to somebody, three years later. He told the judge in the injunction proceeding that he was sorry to have misled him. He couldn't bring himself to say sorry to the public for depriving us of Horton's point of view. He couldn't ask forgiveness from the Lancashire community for compromising the prosecution of alleged perpetrators. He certainly couldn't admit to Horton that he held his own freedom to define the public good to be more important than a Lancashire constable's.
As for Brett, the in-house counsel who could have stopped the tawdry affair at the very beginning, he left News International in 2010. Testifying to the Leveson Inquiryin March, he couldn't bring himself to apologise to anyone for misleading the court.
He couldn't even concede that the reporter who hacked NightJack's email system had broken the law. "I wasn't aware at the time that it was a violation," he said, after 33 years running the legal department of Britain's largest newspaper company. As Justice Leveson castigated him for misrepresenting the situation to the court, he tugged his forelock and mumbled, "Yes, mi-Lord, no mi-Lord," but he couldn't bring himself to say he was sorry to NightJack or the public.Richard Horton is back in court now, with a civil suit seeking big bucks from The Times newspaper for breach of confidence, misuse of private information and deceit. If he wins on that last point, he may succeed in reforming the British press all by himself.
Albert Scardino is a Pulitzer Prize winning journalist. He has written for the New York Times and The Guardian
---
Amendment 24/07/12: Following a discussion with the legal department of
The Times
, we have removed a reference to editor, Mr James Harding. For a full version of Mr Harding's statement at the Leveson Inquiry, please visit the official Leveson Inquiry site.