David J Constable wakes up hung over in the jungle, before discovering a painted village bustling with artwork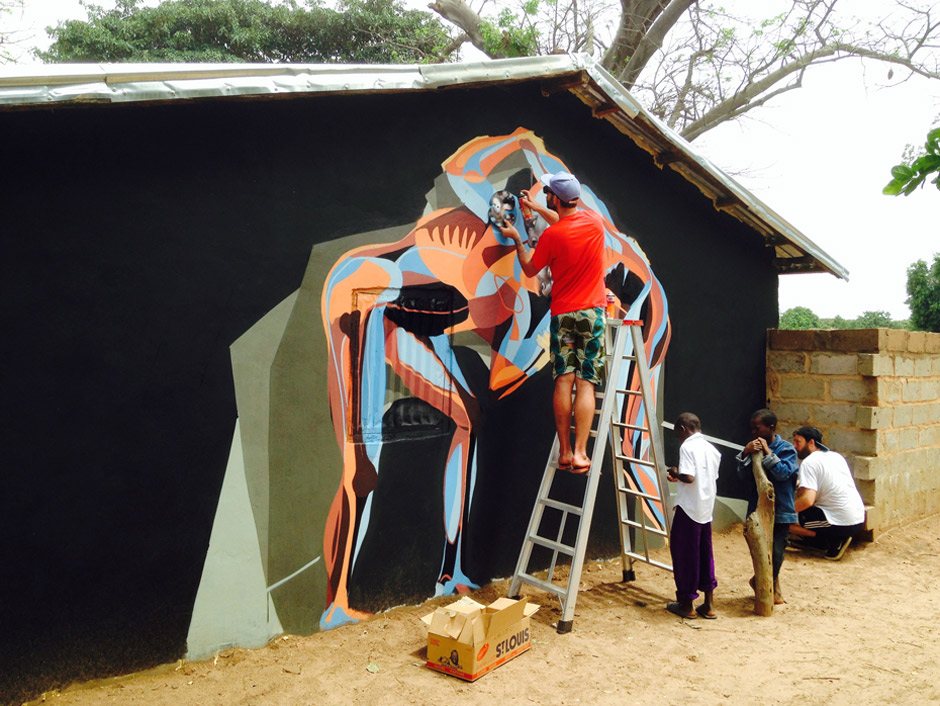 I woke up just as the sun was rising, bleary-eyed and naked, hungover in the jungle.
Makasutu is a sub-tropical jungle filled with a billion impish monkeys on the West Coast of Africa, Mandina Lodge the luxurious outpost at its centre. I arrived during a storm the previous day, which swept through The Gambia, whipping-up dust in Banjul and destroying marketplaces in Serekunda. Trees were floored as sandy twisters pushed through the trails. Telephone wires fell, traffic was halted and goats were lifted from the ground, held only by the knotted leash tied around their scrawny necks.
People ran. Everything had been licked by the fierce cruelness of the Anemoi Wind Gods.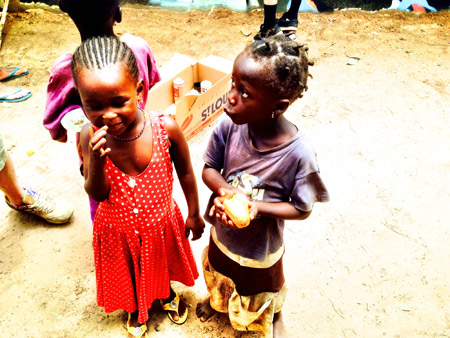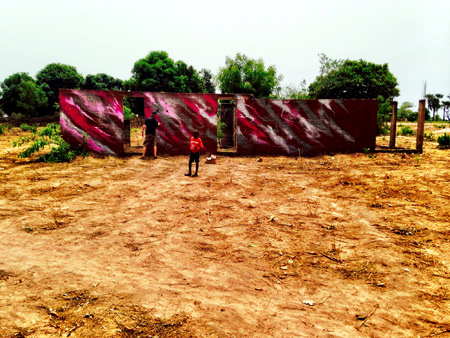 I was there to meet a collection of street artists, who, since 2010 – when they gave canvas treatment to the village of Kubuneh – have been visiting Mandina on the invitation of owner Lawrence Williams. International artists from Brazil, Israel, France, Germany, Switzerland, South Africa and the United States travel to be part of the Wide Open Walls project, an initiative created by Lawrence in order to forge a closer bond between local villages and communities through the installation of reputable wall art.
Artists typically spend a two to four week residency at Mandina where they visit villages each day, painting the walls of buildings in their own unique style. Their work and presence help to establish a deeper community spirit, bringing together local artists and causing intrigue and gaiety for the village children.
The first two artists I met were Neil Edward and Hadley Newman, part of the self-proclaimed duo Best | Ever. Both were regulars to the project having visited The Gambia before, but it was my first time. I'd travelled all this way only to find myself sitting with fellow countrymen from Peckham and Bournemouth, drinking bottles of Julbrew and looking out across a wind-licked forrest of devastation.
We shared more than passports and hangovers the next day when we set off for the village of Galloya in a shell of a taxi, long since removed of seatbelts, suspension and safety. As we entered the village, children appeared from corners, their hands out-stretched for sweets or empty water bottles, shouting as their little legs carried them towards the bouncing vehicle.
A slippery heat fell as I walked around the village, studying the multicoloured licks on walls amid the persistent rattle of cans and snakelike hissssss released from the click of nasals. Neil and Hadley began work on the side-wall of a house, spraying an intricate design of two men wrestling. Two bodies bumpy with strength wrapped in a grapple, every limb, muscle and straining tendon painted a different, vivid colour. The mural's faces were complex, the shading  proof of their talent.
"We start one wall, then a neighbour will come out to see what's happening and ask if we can do theirs too. A boy once asked me if I could do the Barcelona logo" says Neil.
A flock of girls stood and gawped intensely at the high, colourful murals. Paint was added and stencils removed to reveal intricate shapes and designs; all colourfully sprayed over brick, clay and corrugated iron.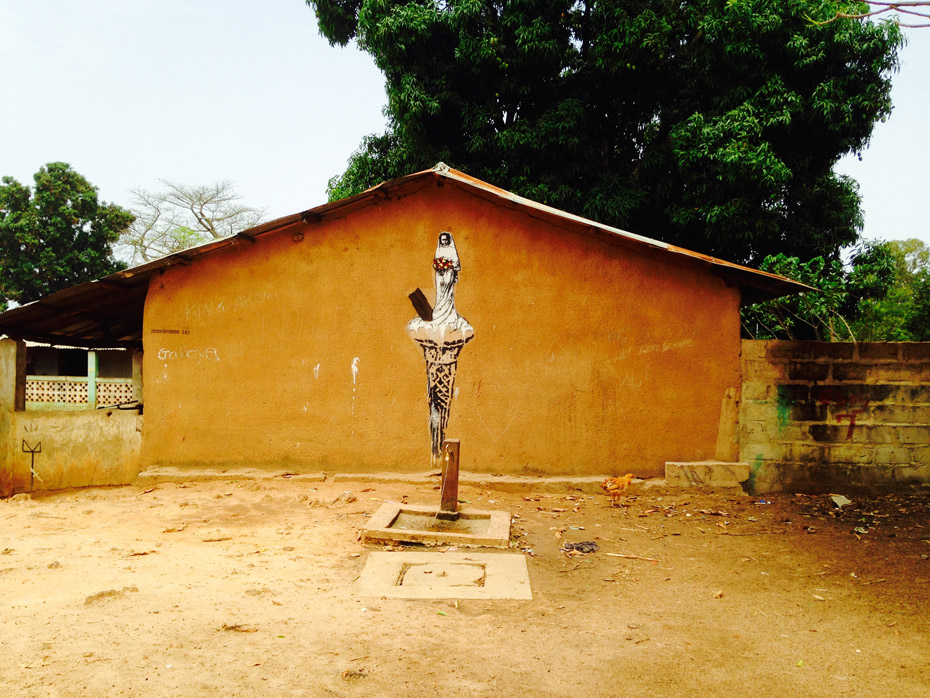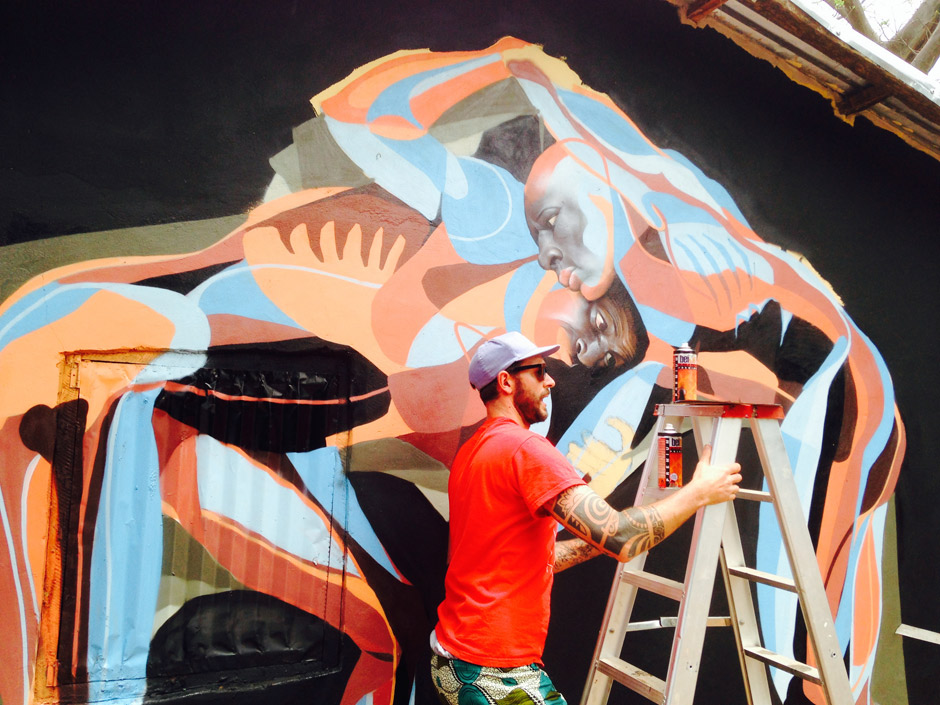 James Choules (known as Sheone) is from Paris, via London, and blended sprays of black, grey and pink, each at a diagonal angle, along the face of an abandoned building. It's a camouflage-like design with layers of textured roseate. A curious boy stood behind James watching him work, captivated by the exterior overhaul and the quick-fire release of colour from the cans. A derelict building transformed from abandoned structure to standout art installation.
Other pieces of work are from artists who've left their mark during previous excursions: work by ROA from Ghent; TIKA from Switzerland; and Know Hope from Tel Aviv. Lawrence has contributed himself, working with local artist Njogu on a Cornetto cone on the side wall of a compound. A white bride holding a bouquet joins the chocolate flake in the white, peaked ice-cream. It's a little torturous for the children, and if they haven't thought of the cooling relief of a freshly-whipped 99 ice-cream earlier, then they are now.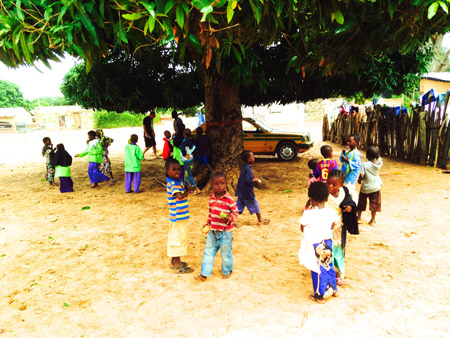 Luan Banzai has travelled from Curitiba in Brazil to be part of the project and works on multicoloured, eye-catching shapes along a long wall. Spirals, cubes and elongated faces painted black turn a breeze-block wall into an exaggerated canvas. "The kids just want to talk about football," says Luan. "My work has become a conversation starter between six-year-olds in Africa and an artist from Brazil."
I played football with a group of boys and passed the ball along the arid dirt. One boy who was wearing a knock-off Manchester United shirt that hung over his knees demonstrated his skill over the others. Outclassed, I slumped away and back to spectating.
With the art has come gossip and curiosity. Word that both beautiful and outlandish artistry grace the walls of village buildings. Intrigue has brought visitors and tourism has bolstered, meaning precious income is beginning to reach much needed villages. But the savage loom of Ebola has destroyed bookings for much of next year, and as a consequence, to a smaller number of artist bookings. But perhaps this will allow an opportunity for more local artists – and children – to experiment and pickup spray cans or a paint brush?
Wide Open Walls has been shortlisted for the International Award for Public Art and Lawrence has spoken of an eventual book to document the initiative, one filled with the creativity of participating artists and the photography of cheerful children united through the project. They'll be a gallery show in London at the Pure Evil Gallery next spring, in the meantime, Lawrence continues his search for exciting artists to join Wide Open Walls.