Port speaks to artist Werner Büttner about growing up in East Germany, the experience of moving to West Berlin just before the wall fell, and his new show at the Marlborough Gallery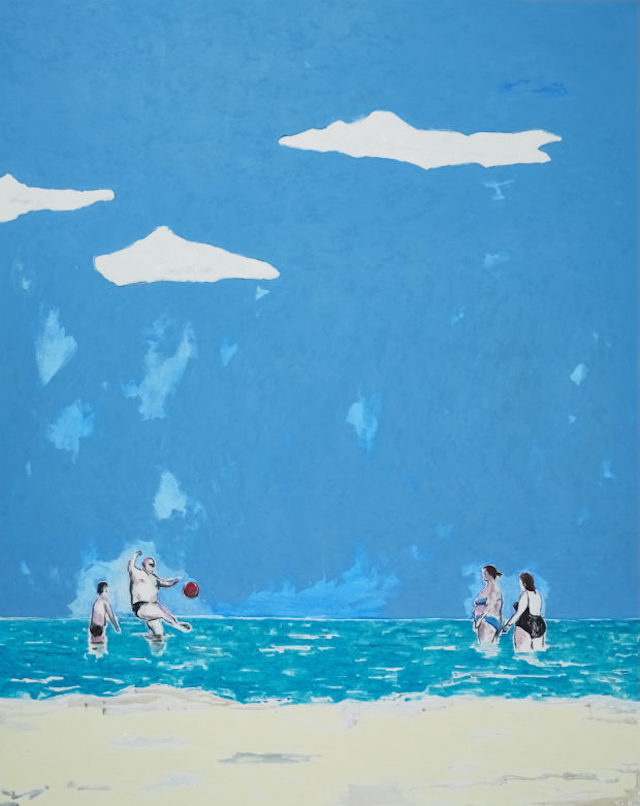 Provocative art tends to take a post-modern form, whether that be film, installation or performance art. In transgressing the boundaries of traditional media, it signals its subversive tendencies. But for Werner Büttner, once a member of Germany's Junge Wilde or 'wild youth', figurative painting holds far greater expressive potential in all its narrative lucidity and metaphorical inference.
Büttner relishes each brushstroke, applying the paint in layers until he has built a thick crust. Every inch feels powerful and deliberate, yet Büttner insists he has no emotional relationship to paint, "I try to enslave it [only] to end up in splendid arbitrariness." The images themselves are astutely observational with a dark, comic edge. "Humour is the only appropriate reaction I have found facing what's now 64 years of the 'condition humaine'."
At his latest London show, Plenty of Room for all Sorts of Happiness at the Marlborough Gallery, works from Büttner's early years fill the downstairs gallery, with more recent painting hung on the upper level. "I liked the possibility of walking around one floor and seeing works by an author in his thirties and then seeing the same author in his sixties on a different floor," Büttner says of the strict division. Creepy and caustic, surreal but incisive, the early works are tonally dark in every sense. In the Vineyard, a painting from 1981, readily evokes a desolate graveyard with a monstrous, ghostly, almost illegible figure emerging from a wild gale that ravages the landscape.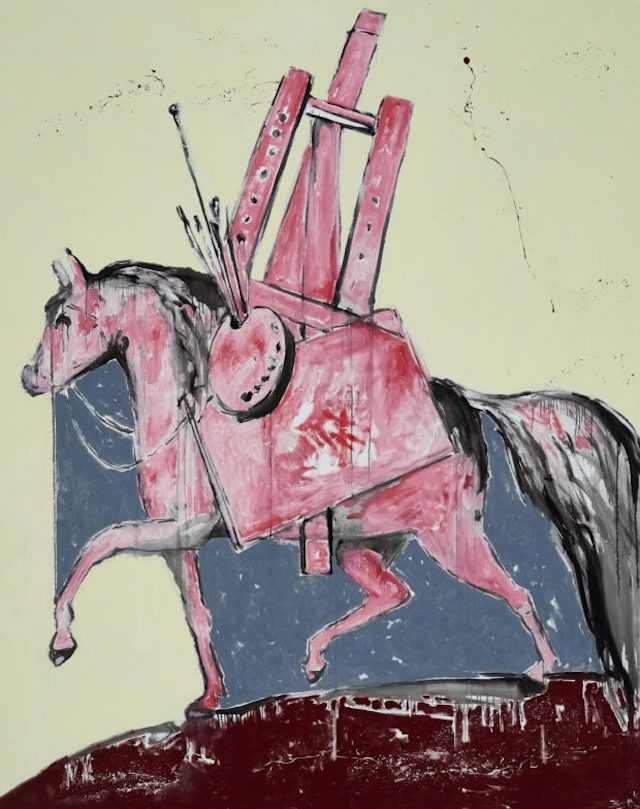 His contemporary paintings are lively and less perverse – a bright pastel pink brings ambiguous meaning to A Flogged Horse (2016), while the streaks of orange in Holding Loop in the Void (2015) are positively kaleidoscopic. In Büttner's recent work, his social commentary of the 1980s is as present as ever but he more freely dabbles in the ridiculous and the mundane. He admits that "the guy who did the paintings on the ground floor seems a bit more mournful and upset than the guy upstairs… I like my most recent work best."
Born in 1954 in Jena, East Germany, Büttner spent the first seven years of his life living under the Soviet-controlled German Democratic Republic until his mother took him to Munich, just before the construction of the Berlin Wall. Büttner's childhood is addressed in On Thrones and Entanglement, an unusually solemn self-portrait in which Jena is foregrounded by a young boy on a pony. The painting's title refers to Martin Heidegger's theory of 'throwness', the idea that we are thrown into existence without our consent and must attempt to exercise autonomy over our lives.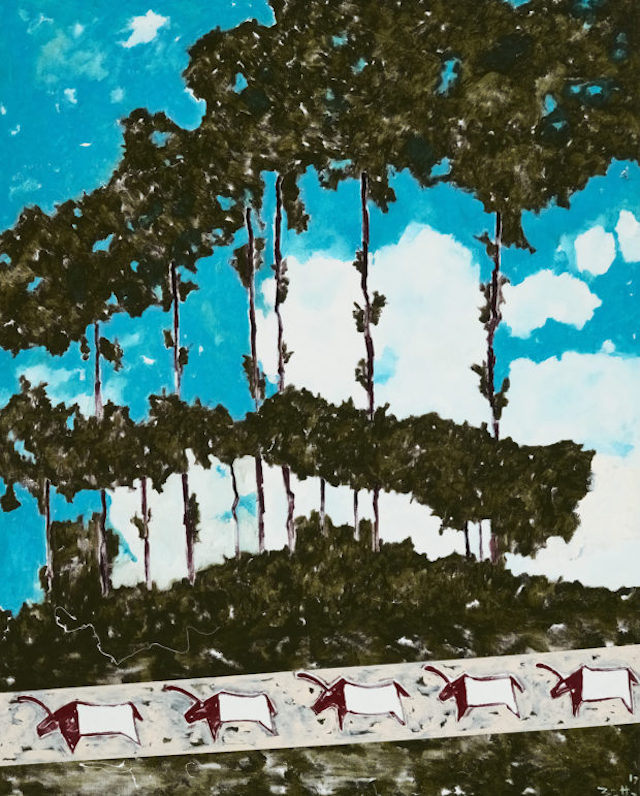 Once thrown into the world, as Büttner says, "you are immediately entangled in many calamities… in a landscape and a language, in a climate and social order, in a political and economical system… all this limits somewhat your freedom to design your own fate". Appearing to ride away from the town that is neatly bordered off into the background, the painting depicts an alternate existence that was left behind, at the last moment, but whose legacy endures. For Büttner, living under the regime was formative but his escape was liberating in more senses than one – "the delight of having two opposing systems made me flee all systems, made me distrustful, sceptical and melancholic."
By the late 1970s, Büttner was employed as a social worker at the Berlin-Tegel Prison, despite having studied Law at university. He broke onto the art scene in 1979 when he took part in Elend, a group exhibition in the Büro, a loft space set up by Martin Kippenberger and inspired by Warhol's Factory. He went on to appear in a string of fringe shows with other members of the Junge Wilde. Belonging to the avant-garde community was extremely seductive – Büttner joined after a chance meeting with Albert Oehlen, the flatmate of a one night stand.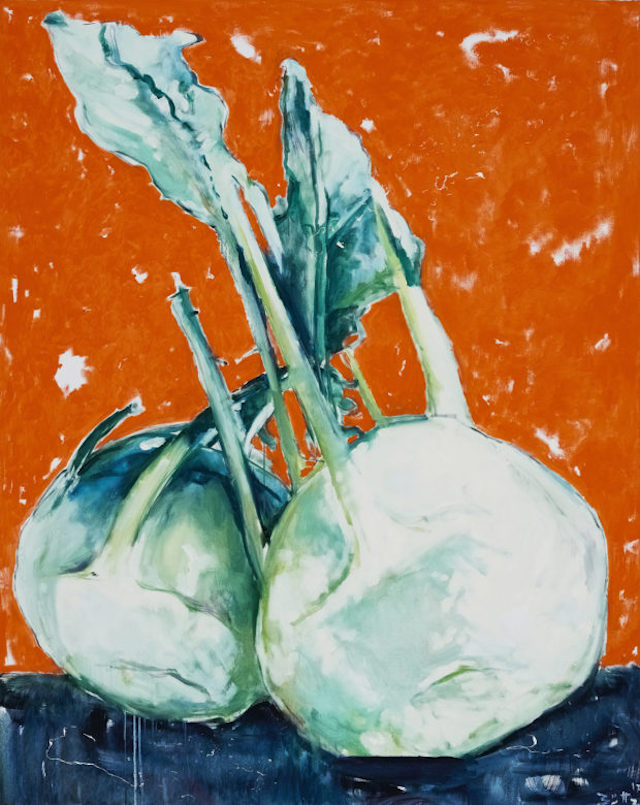 In romanticised recollections he describes the shared "hunger to be heard, the same heavenly pubs, the urge for attractive and digestible company". Ultimately however, he saw the group's activity as "foolish dalliance" rather than a guiding force in his art: "I was more influenced by dead colleagues like Magritte, de Chico, Ensor or Goya." As Büttner became increasingly recognised, the inevitable forces of establishment took over and within a decade he was appointed Professor of Painting at the University of Fine Arts in Hamburg. It marked the start of a new phase for Büttner, with the groups he belonged to disbanding.
When pressed on his motivations he offers only a cryptic hint: "My laughter is self-sufficient; in other words, extremely clever. By this you avoid the silly longing for applause." Plenty of Room for All Sorts of Happiness reveals that, three decades later, the irony of his youth endures.
Plenty of Room for all Sorts of Happiness runs at Marlborough Gallery, 6 Albemarle Street, London until 23 June 2018.