Port meets Chinese artist Liu Bolin to witness his latest disappearing act on the grounds of Maison Ruinart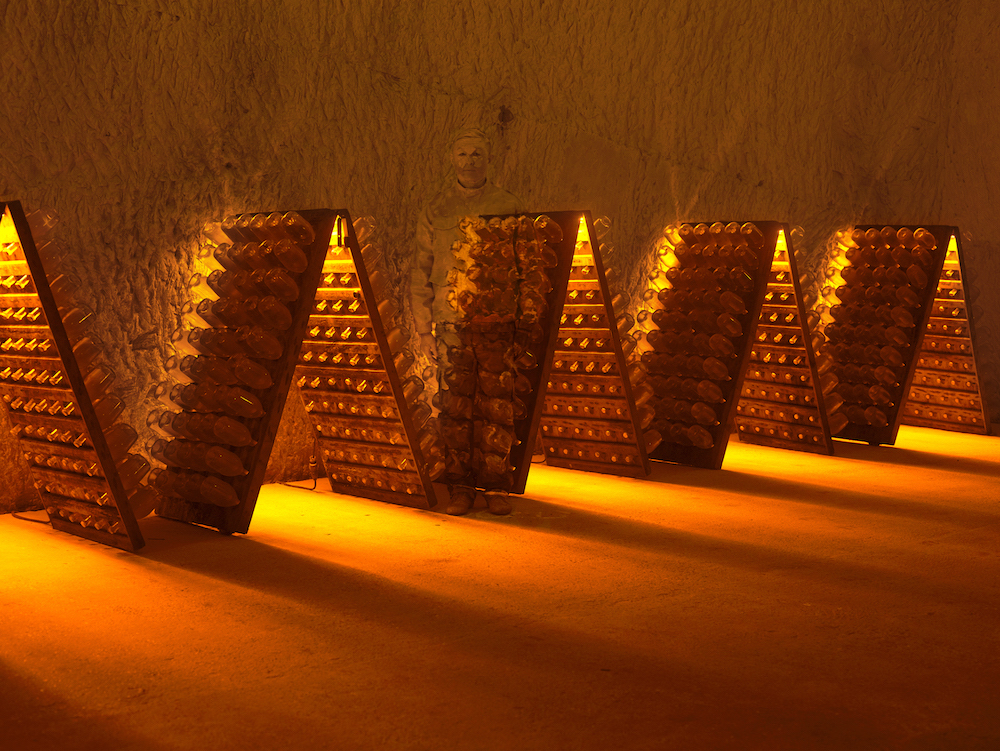 "I decided to vanish into the world around me. Some say I disappeared into the landscape; I say that the environment took possession of me." – Liu Bolin
Nicknamed 'The Invisible Man', Chinese artist Liu Bolin has been making his presence felt on the performance art scene since the late 1990s. In 2005, he began a career defining project, Hiding in the City, a silent political protest against the Chinese government which had just burnt down the artist's village of Suo Jia Cun, and was demolishing Beijing's suburbs in preparation for the 2008 Olympic Games. Bolin began painting himself into the city streets, an act of camouflage that drew attention to the very surroundings that he was blending into. Wielding this power for maximum impact, he chose politically provocative locations such as graffitied walls or propagandist signs. 
Bolin has since taken his disappearing act to several international cities including Rome, London and New York, and for his latest project he has teamed up with Maison Ruinart in the French city of Reims. Established in 1729, Ruinart is the world's oldest champagne house, but its history extends as far back as the early 4th century when the region's chalky earth was first mined, a practice that continued through the middle ages until, at the end of the 18th century, Claude Ruinart rediscovered the vast maze of underground cellars, or 'crayères' as they are locally known. Cold, dark, and humid, Ruinart soon realised that they were the perfect place to store champagne.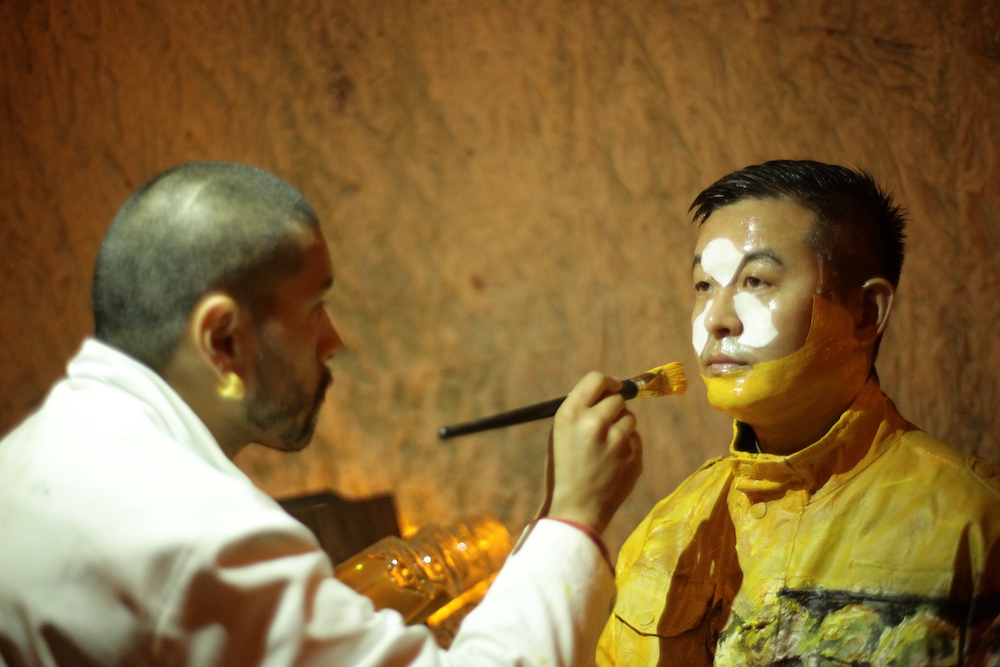 It is through this origin story that Ruinart's close relationship with art begins, as the crayères are filled with affectionately preserved 'graffiti, or ghoulish faces carved into the walls, which might date as far back as the 17th century. In 1895, Maison Ruinart became an early patron of the Art Nouveau decorative artist Alphonse Mucha by commissioning him to design an advertisement in his trademark style and font. A champagne glass is balanced delicately on the fingertips of a slightly wild-haired woman, adding a touch of instant glamour. Ruinart has celebrated this artistic legacy by hosting an annual artist in residence since 2013, the latest of which is Bolin. I visited Maison Ruinart in early March to meet Bolin in situ and discuss Reveal the Invisible, an impressive collection of eight new photographs that he took there late last summer.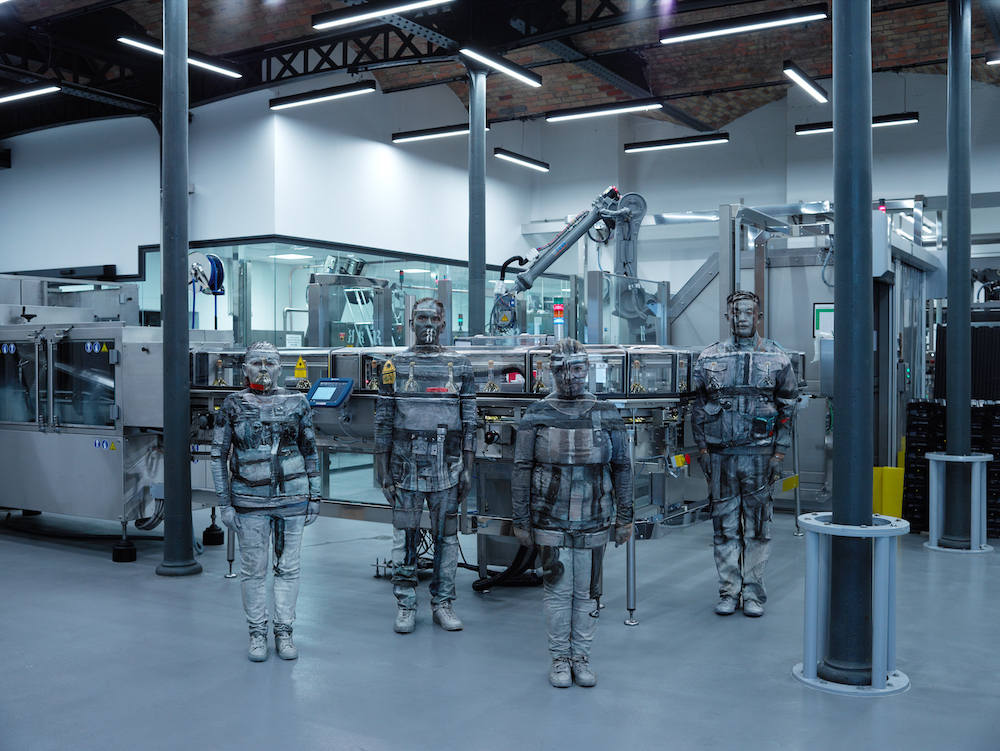 On arrival we are taken straight underground to the crayère. Dug outwards, because the chalk's quality increased the further down miners could reach, these cavernous voids are majestic, towering domes as cold and echoey as a cathedral. The endless winding walls are lined with crate upon crate of champagne bottles. One could easily get lost and just as easily might want to. When I get the chance to speak to Bolin, he friendly yet has a composed, self-assured presence. He fondly recalls receiving an invitation to stay at the Maison, and how intrigued he was to learn more about the brand: 'When you see a bottle of Ruinart, it's hard to imagine the many complex processes that are required to produce it.'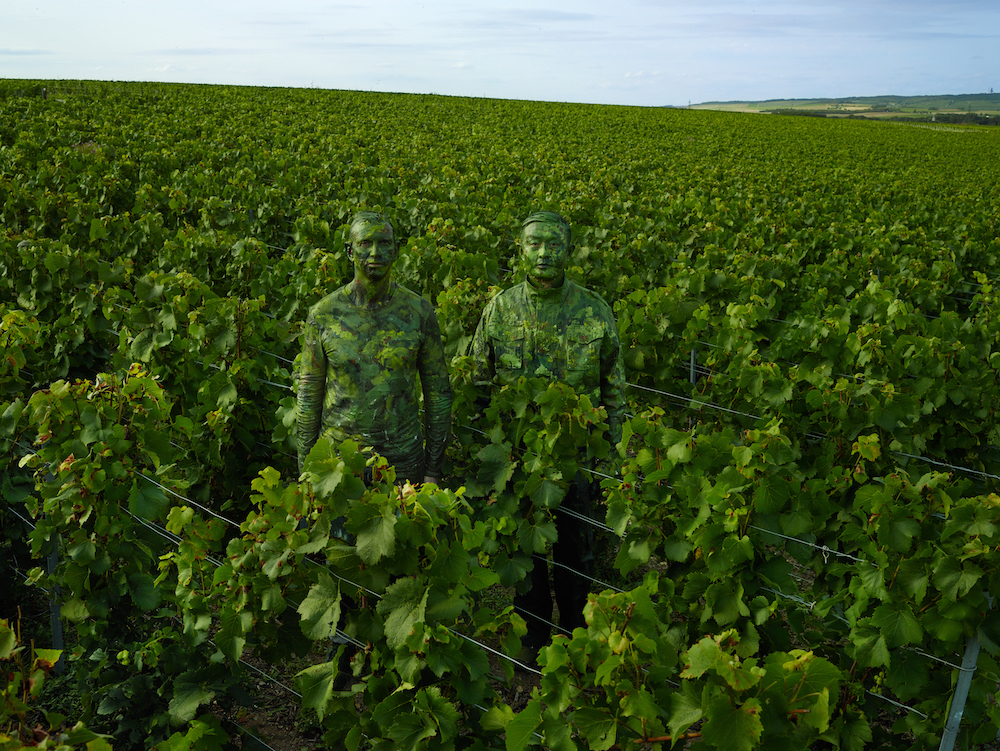 For the photographs he wears a serene expression with only his eyes emerging from the scene. In all other senses he makes himself subtly absent, and as we search for the contours of his body we are simultaneously introduced to the various stages of champagne production, from the sunny vineyards just days before harvest to the busy factory line and eventually several years of storage underground. Those photographs taken inside the crayères relied on exceptional skill, with Bolin adapting his process to account for the unique dim, orange, low-UV lighting and the damp conditions that prevented his paint from drying.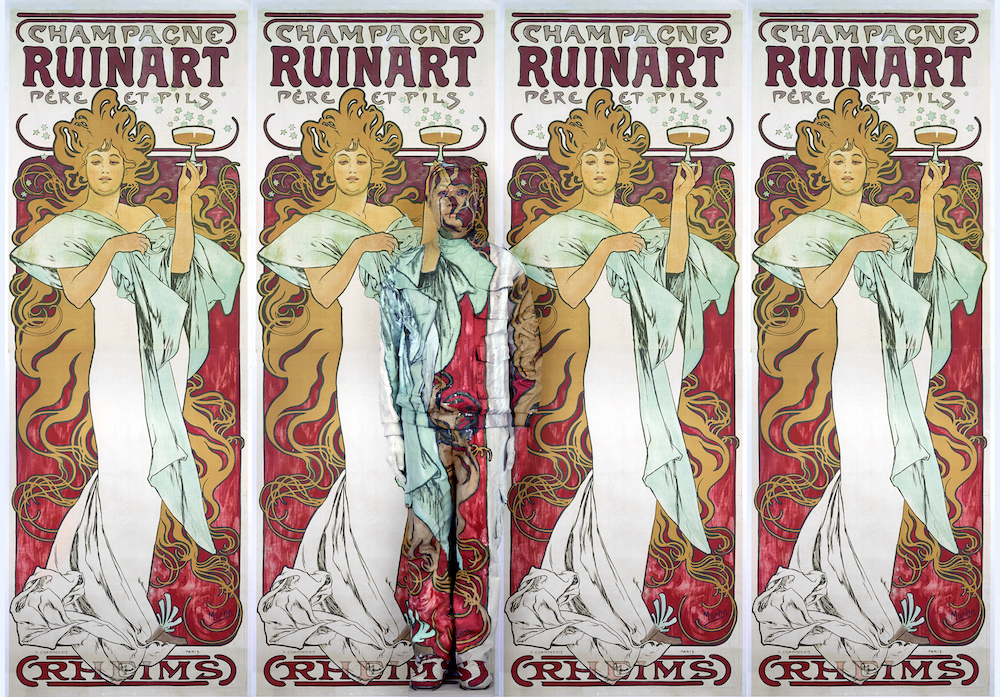 A few of the works feature nameless workers, whose presence brings the scenes to life with charming authenticity. Normally hidden behind the production and rarely our first thought when eagerly popping open champagne, they remind us that behind the cuvée is a community that brings great expertise and pride to the traditional process. Olivier, an employee at Ruinart, describes spending two days with Bolin at the Maison's factory: 'The first day was spent deciding on a composition with good lines and an interesting structure. I then had to remain very still and calm while Bolin traced the background onto my clothes. On the second day I had to stand up straight all day while I was painted, with only short ten minute breaks every hour.'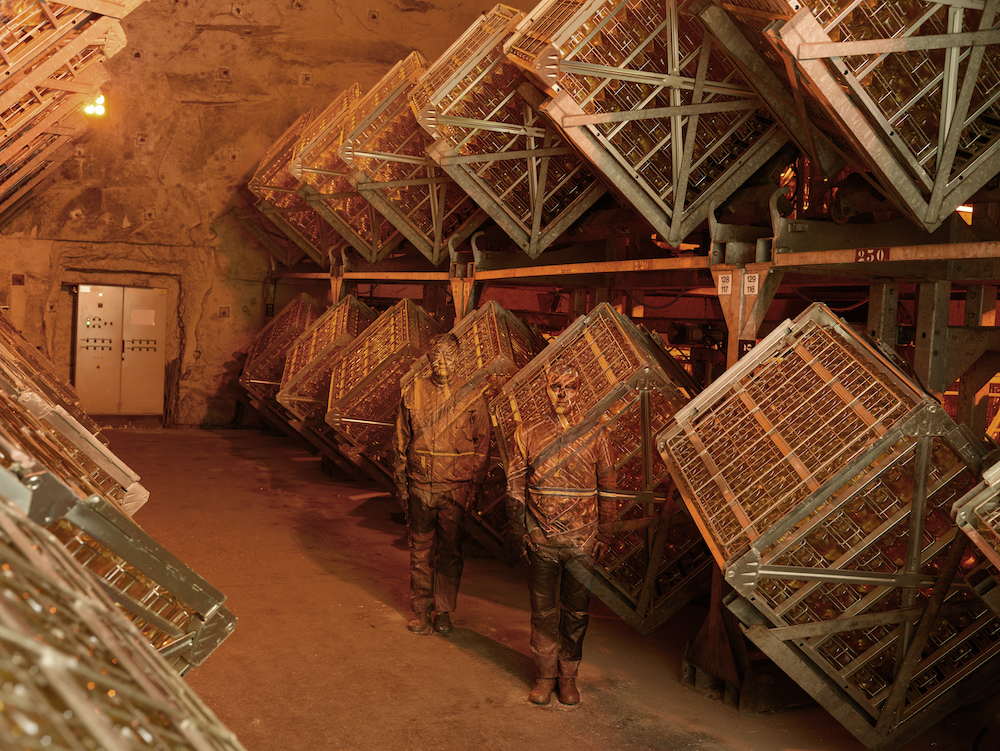 I caught a glimpse of the preparation that lies behind the scenes of Bolin's work at the exhibition launch party at the Grand Palais the next evening. Despite the almost limitless glasses of champagne being served, the highlight was a rare live performance by Bolin, who painted himself into an image of Jean-François de Troy's The Oyster Luncheon. The painting is believed to be the very first to feature champagne, and it captures the right spirit with a rapturous gathering of revellers who gasp with delight as a cork springs up through the air. Watching Bolin's now familiar face transformed into the ruffled sleeve and titled hand of a man mid-sip was enough to mesmerise the crowd for well over an hour. Even so, it was almost without our realising it that, some hours later, he quietly slipped away. 
'Reveal the Invisible' will be on display at Frieze Art Fair from 4-7 October at Regent's Park.