Brooklyn-based artist and designer Mike Perry unveils his exhibition of colourful nudes, celebrating the female form in all its glory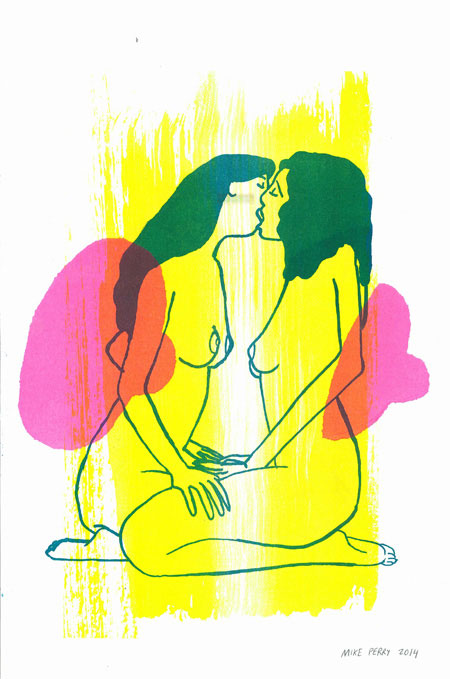 ---
"At the opening, I kept thinking to myself: I could totally offend someone tonight by making this work. Never once in my life had I thought that before – abstract paintings never offend anyone"
---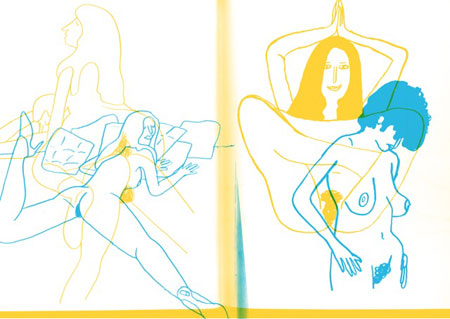 With an exhibition of Egon Schiele's "radical nudes" already underway in the capital, it seems the naked form is on everyone's brain at the moment, no less Brooklyn-based artist and designer
Mike Perry's
. His latest show,
My Mother Caught Me Doodling
is underway at Hoxton's
KK Outlet
. In it, Perry takes a celebratory approach to the female nude in a series of brightly coloured graphic studies, drawn from the depths of his imagination and rendered in Technicolor.
"When I was a kid", he explains, "I would make all of these drawings of naked ladies, and I'd rip them up immediately." These drawings were of course adolescent doodles, the handiwork of a teenage boy curious about the female form. "I would be so afraid that someone would see it in my sketchbook that I'd rip it out and destroy it. I'd feel really uncomfortable about it, but it was like a compulsion to draw it" Perry adds, "I was 13 years old and I was trying to figure it all out."
The body of work on show at the KK is testament to the journey Perry has taken in finally 'figuring it out': "When I was younger, I was into figurative painting, then I went to school and out into the world and my work got super abstract – it was about colours and shapes, but I wanted to draw people. I needed to do this" he says, pointing to the prints hanging on the wall. He began a sketch book – "my 'people' book" – which he filled as he began tackling shape, form and human proportions, before moving onto the next challenge: "The thing I'd always felt really uncomfortable drawing – women."
"There's a progression" he says of his increasingly loose figurative style, "five years ago, I was so self-conscious: I wanted my women to feminine, not like dudes with long hair. My skill level was too basic; I wanted them to look beautiful. Now, it's not so much about them being attractive, it's about shape and form." Proportion and fluidity mix with a sense of playfulness that charges the women with an inherent sense of vitality. And provocativeness.
Drawn from a mixture of Internet images and vintage magazines bought off eBay, the figures are positioned in increasingly bold and sexual positions. Was Perry concerned about the reception of the work, I ask. "Absolutely. At the opening, I kept thinking to myself: I could totally offend someone tonight by making this work. Never once in my life had I thought that before – abstract paintings never offend anyone, you like them or you don't. But it feels good to try something new, to step out of my comfort zone and feel comfortable drawing people".
The works themselves are more playful than explicit, with an underlying sense of positivity and awe coursing through his pen strokes. But still, Perry says, "I took so much comfort when my wife said this is her favourite body of work I've made. It means so much I've not offended her, and that's really important because that's not what I'm trying to do. They're a celebration."
Perry's figurative approach looks set to continue."I started drawing women naked, but now I'm drawing men too. It's been so much fun to draw people – this whole thing has been a journey into my own skin. I'm finally becoming comfortable in it."
My Mother Caught Me Doodling runs until 27 at KK Outlet, 42 Hoxton Square N1 6PB