Port's photography director reflects on a new book by American photographer Raymond Meeks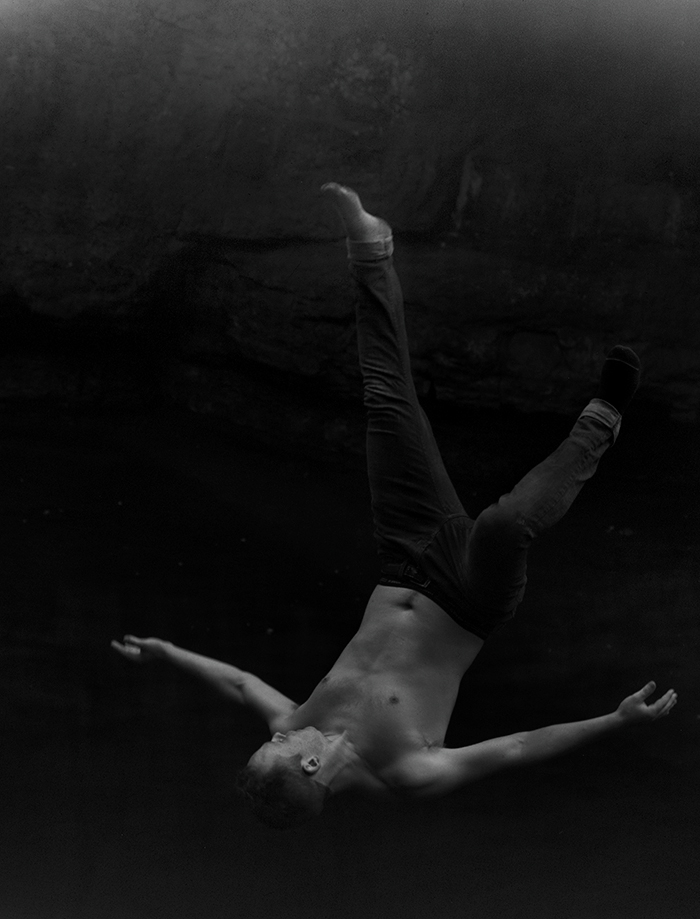 In Peter Yates'1979 coming-of-age-bike-race film Breaking Away,four aimless teenagers spend their time swimming and diving into an abandoned stone quarry outside Bloomington, Indiana. I was reminded of these scenes when I looked at Raymond Meeks' photographs: bodies falling, rendered almost black by manipulations in the darkroom, suspended improbably at the murky apex of their drop into water. Other, more sinister eidetic images surface in the memory: Capa's The Falling Soldierand the videos and stills of office workers tumbling from the Twin Towers. Images of people falling never fail to capture our humanity.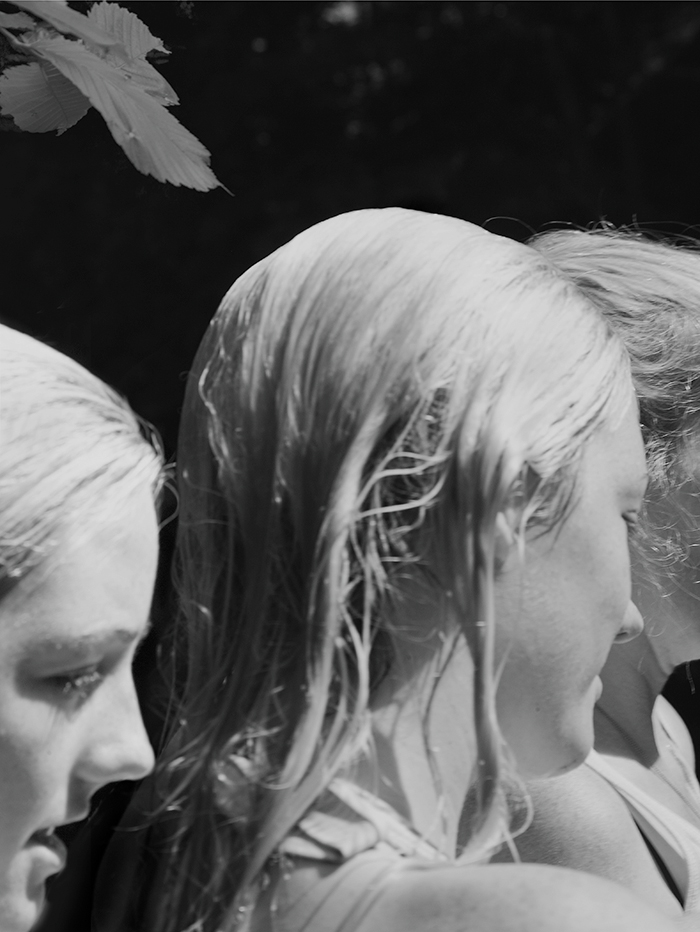 "I photographed for three years at a waterfall near my home in Upstate, New York, at a place the locals call Furlong. My initial response was purely visual. Pale bodies suspended in negative space – untethered."
These untethered bodies punctuate the pages of Meeks' new book, Halfstory Halflife, published by Parisian publishers Chose Commune. The collection is masterfully sequenced – the rhythm sometimes frenzied with bare torsos crashing through undergrowth as if in perpetual motion, at other times the stillness seems eerily gentle.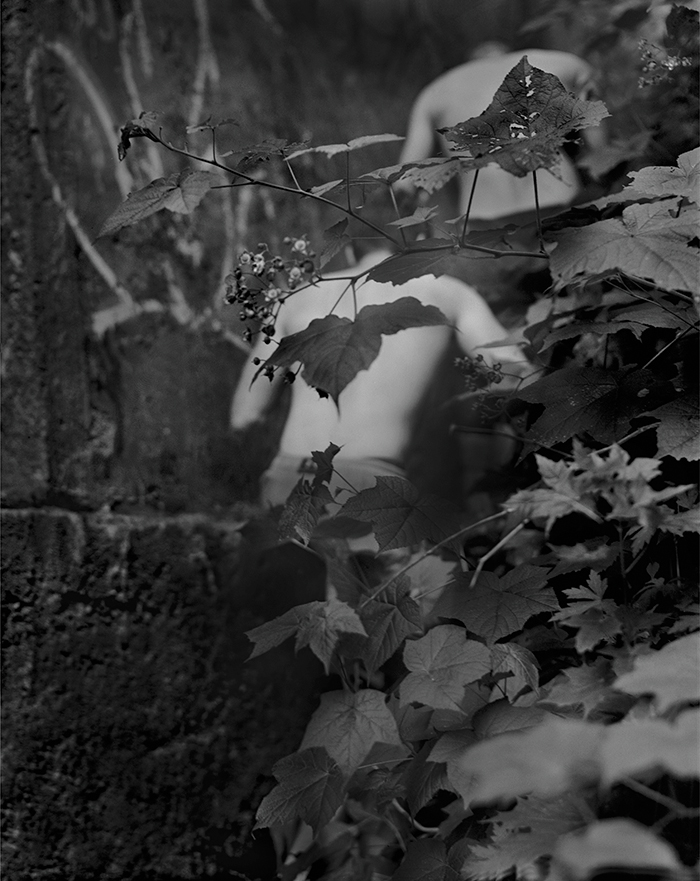 Meeks talks of the masculinity of the project, saying "Halfstorybecame a decidedly male-centred story after a series of edits." He goes on to explain the one image that is not of men: "Though the single photograph that presents young women is essential in acknowledging the assumed presence of females and perhaps introduce a tension that accompanies the absence of feminine form at such an impressionable, hormone-driven age."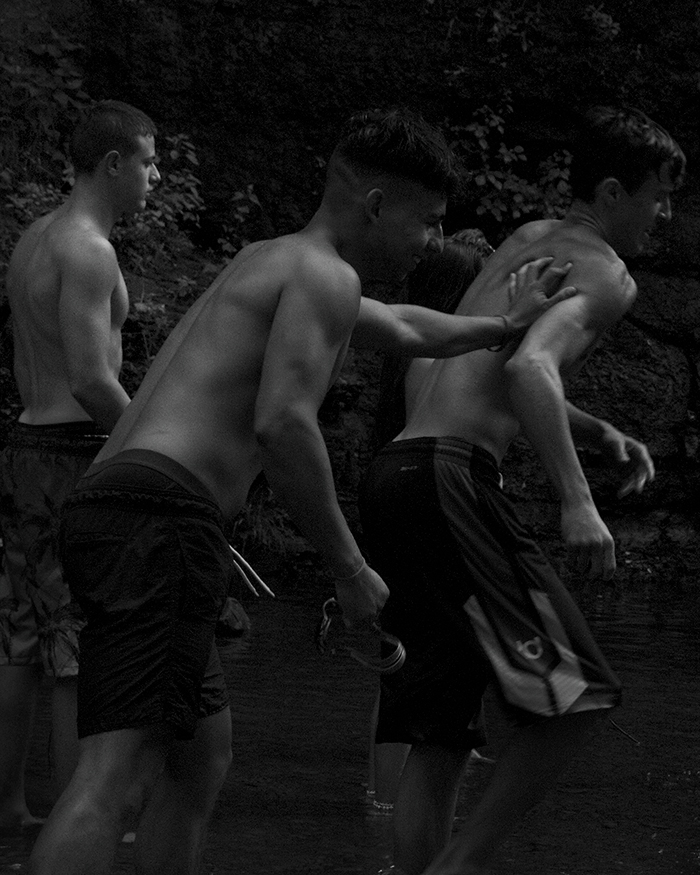 One spread in Halfstory Halflifeshows a young man dragging on a cigarette, naked except for a pair of shorts that merge with the murky-black background and, on the facing page, a small white butterfly. The fragility of this delicate image in the final stage of its lifecycle serves to remind us of our own mortality. In another spread, a man, half-dressed, is falling upsidedown; alongside him an image of leaves. Meeks is interested in this paradox.  "Furlong is a place where teens have gathered from time immemorial to engage, socially – seeking acceptance and approval, wanting to fit in. And yet, when one steps from the edge and gravity takes hold, we're alone and left to our own devices in these delicate vessels."
Halflife Halfstoryis available from Chose Commune