George Upton meets Britain's greatest living stone carver, to discuss travelling with American draft dodgers and how her art could save the planet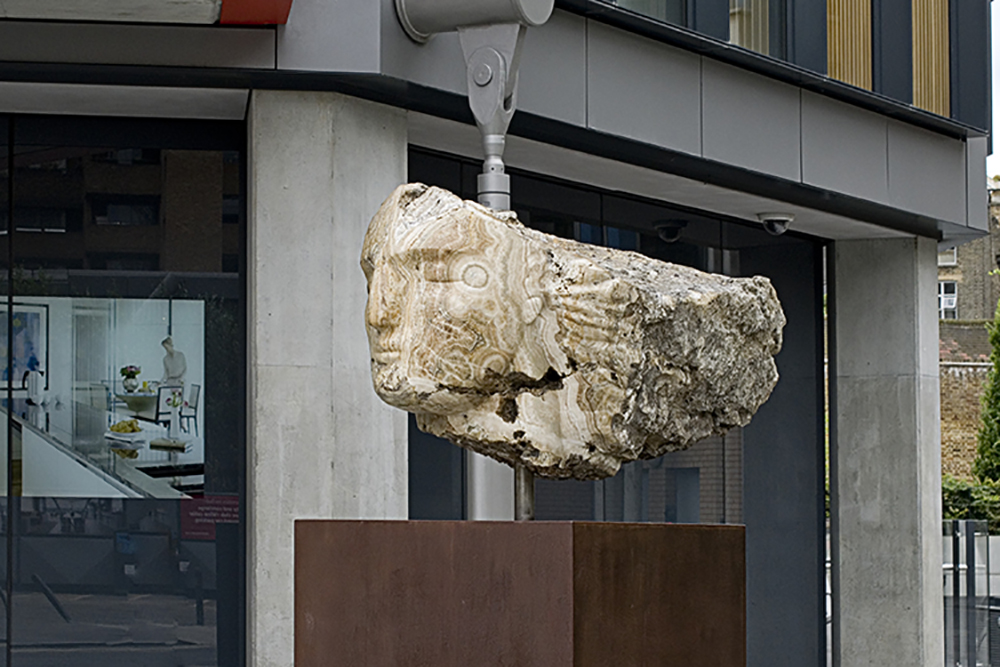 From a cluster of buildings nestled in the Tuscan hillside, comes the sound of cicadas, birdsong and trees rustling in the breeze. There's a hubbub of voices and the sounds of industry – a rhythmic tapping of stone on metal. It's timeless and universal, the sounds that rise up through the afternoon heat having accompanied man for thousands of years. That is until the scream of an American air force jet, stationed at a nearby base, punctuates the scene and I find myself back in a room above New Bond Street, London; the idyllic music of the Italian countryside is replaced by the rumbling of the city.
Emily Young has been describing life in the abandoned convent in Italy where she now lives and works, carving the monumental heads and bodies that have earned her the title of 'Britain's foremost living sculptor'. It is a fitting location for Young's work to be produced. With a proximity to the natural world that she finds inspiration in, it is a close approximation in lifestyle to the timeless, universal appeal Young attempts to achieve in her sculpture. "If it's not eternally true, it's eternally out of date," she tells me with a smile.
When we meet in London, however, more pressing matters are on her mind. We are sat in a room on the top floor of The Fine Art Society as Young's exhibition Call and Response had just opened in tandem with a show of the same name in Venice. The city is in the grip of a heatwave and the windows have been thrown wide to tempt a non-existent breeze – the day before was the hottest July on record.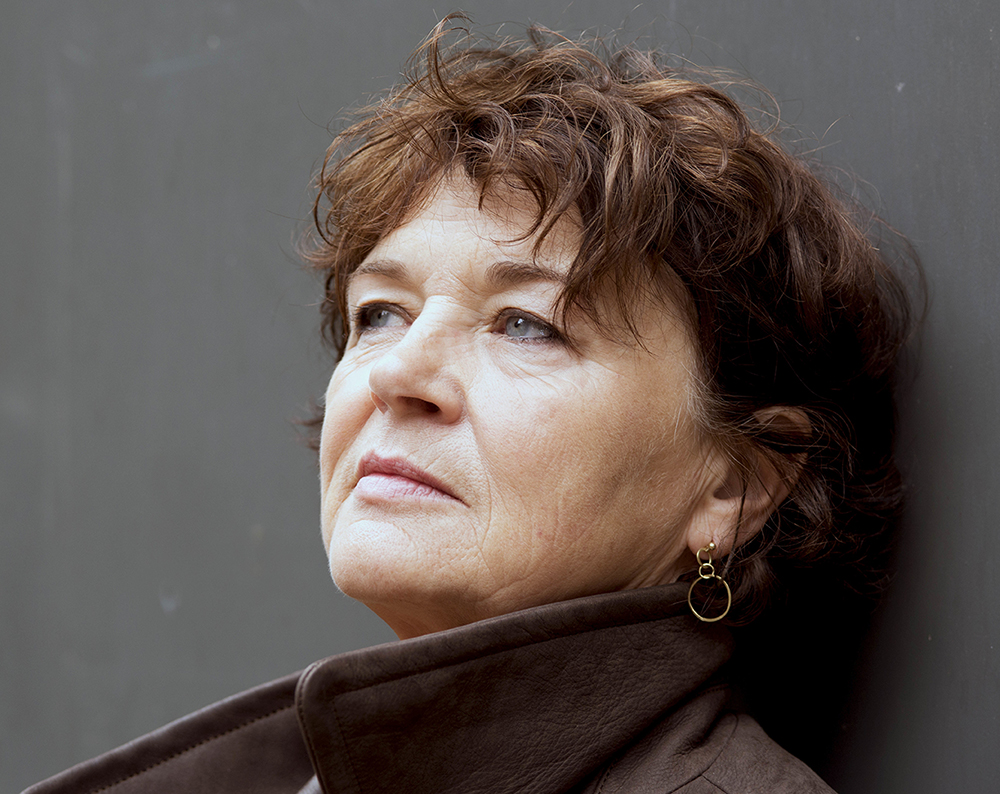 "Yesterday was a horrible day to be a human in the city, everything will have to change," says Young. As an artist who has focused on man's relation to nature for over 30 years, her art has become politicised of late. Her calm, peaceful sculptures have been pressed into active service. Off the coast of Tuscany, 12-tonne heads carved from Carrara marble are being installed on a seafloor ravaged by illegal dragnet fishing. These Weeping Guardians will eventually form a 30km-long deterrent against destructive fishing practices, facilitating the restoration of the marine ecosystem.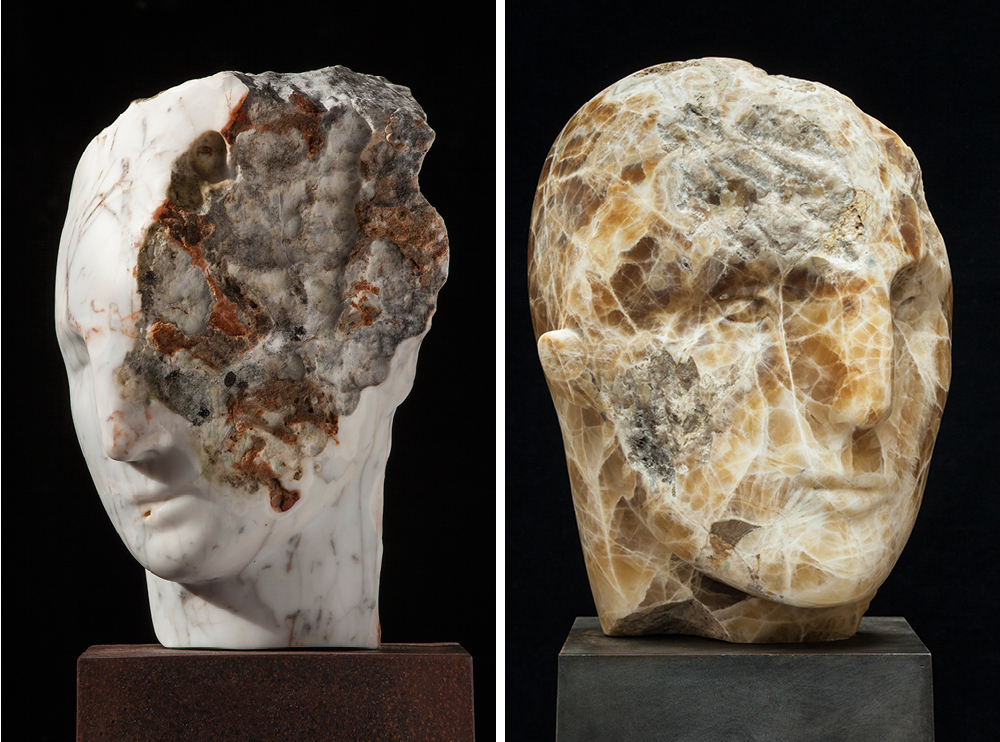 Young's environmental activism stems from a love of the natural world and humanity that she developed while travelling, well before she took up a hammer and chisel. Growing up in a household of writers and artists, decorated with the sculptures of her grandmother – a pupil of Rodin – it is no surprise that she exhibited a natural flair for art at school. She began a degree in fine art but left the patriarchal environment she found at the Chelsea School of Art in the mid-sixties to travel. Accompanied by a pair of American draft dodgers, Young set out for India overland.
"That trip was an awakening to art outside Europe," she tells me. "When I travelled overland to India it was almost like going back to the Old Testament and what I found consistent with now was our relationship with our environment." After beginning stone carving by chance many years later, finding a hammer and chisel in her house and working on a marble off-cut from her kitchen, she returned to this idea. "We would recognise our ancestors from 200,000 years ago. We would have been similar, had similar instincts. What could I make that's also true for them?"
I ask Young about her creative process: "I found I was drawn to the graveyards, the area at the back of the stone yards for rejected pieces that have these great flaws," she says. "The blocks people normally work with have six sides. I thought that was really boring because you killed the material, killed its history. I like the rocks the earth shuffles up for you, weathered over hundreds of millions of years."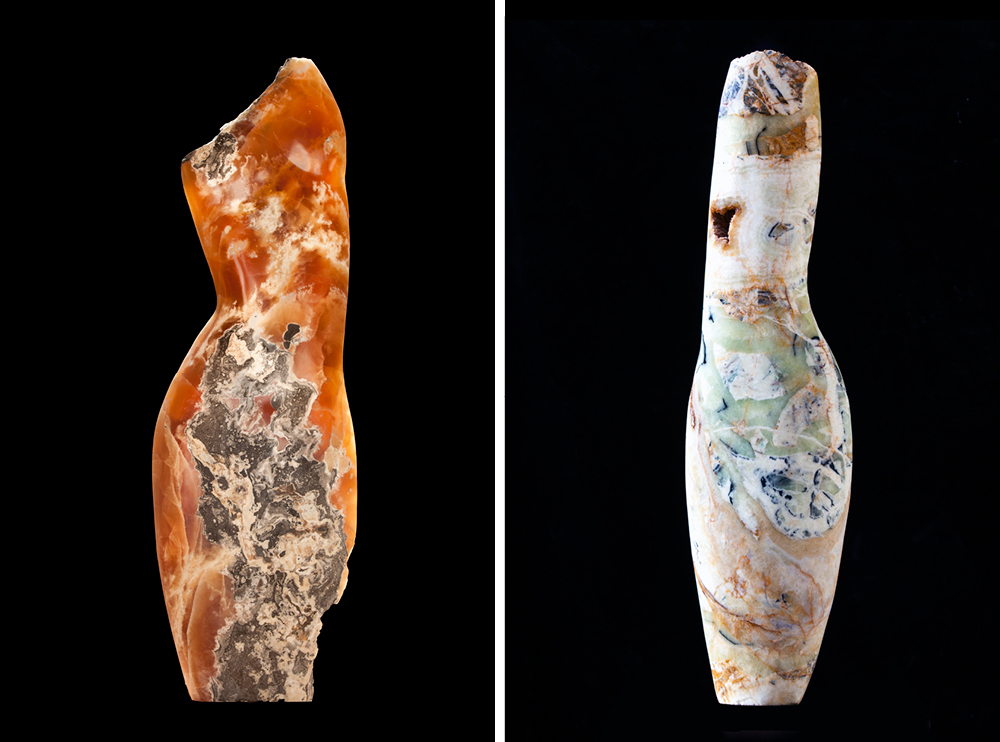 Stone carving is nothing new – in fact that is exactly its appeal for Young – but there is something original in her approach to the medium. Throughout history, sculptors have used stone as a way to realise their design – seeing the stone as a three-dimensional blank canvas on which to impose their idea, favouring the smoothest, most consistent block to work with. Young, on the other hand, prefers to let the stone inform her design.
"Working the way I do, these amazing secrets are revealed to you, which I see as taking a very feminine approach," she says. Rather than a masculine, "imperialistic, colonising of nature", Young lets the stone dictate its form. The result is half-finished, still raw. Young's art never never hides its substance, its materiality, and there is an exciting play of polished, formed stone against the raw natural form that has formed over hundreds of millions of years.
To Young the imperfections in a piece of stone are part of its idiosyncratic personality, but this is not to say that Young does not spend hours gently working it into monumental heads or abstracted human forms. I ask her whether she draws from life or if there are any art historical precedents that have influenced her style. She acknowledges that there artworks that will have slipped into her subconscious, but she does not base her figures on real life. "I'm trying to get a look that anybody who has lived anywhere at any time on earth will recognise – two eyes, a nose," she says. "The ancient Greeks, Michelangelo, they've done all that can be done in terms of anatomical verisimilitude. I want to do something that anybody will get and will show the nature and the material, wild and free." But there is an expression on their faces, a personality? I ask. "The face is quiet, and often their eyes are shut because I want the viewer to have a moment to respond to the stone, to understand quietness in the stone, even though it may have been created in volcanoes and earthquakes," she adds.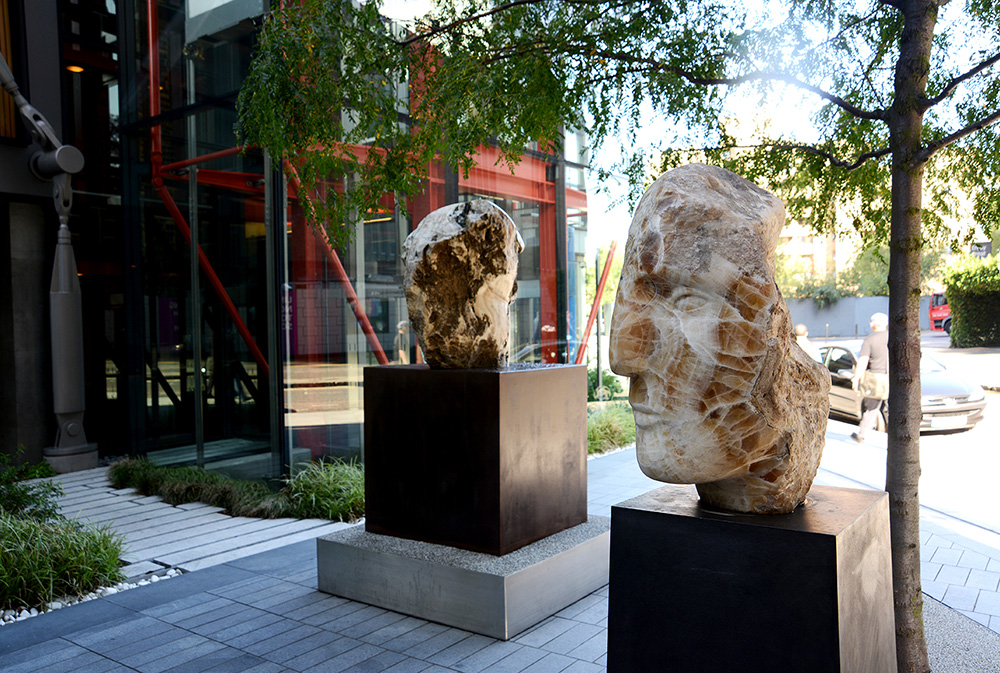 For London Design Festival this week, Young has installed a sculpture trail at the NEO Bankside. Six monumental heads join three already installed at the site, facing the Tate Modern. It is part of Young's programme of bringing nature into the urban environment, of reminding the city's inhabitants of the organic world that we live and depend on. They shouldn't be out in nature," Young explains. "They should be seen, in the streets and public galleries. I want to wild the city."
More than giving nature a relatable face that we can empathise with, drawing us in to witness the half-finished, marbled, fissured stone, Young's latest work forms a poignant connection with Weeping Guardians, the monumental submerged heads off the Italian coast. Projections show that if sea levels rise by 10m, much of south London would be submerged and Young's Southbank heads would join their Italian cousins beneath the sea.
Throughout Young's work there runs a unifying seam. Her philosophy of wonder at the natural world, an adoration of time, humanity and the churning earth beneath our feet is a kind of mystical pragmatism. On the surface her rationalisation of the title of the exhibition split between The Fine Art Society and a monastery in Venice, Call and Response, seems to echo a New Age mysticism. But when I meet her, there is nothing supernatural in Young's understanding of the world. Just as she describes her perfectly circular discs of stone, not as abstract forms, but as "moons and suns", Young's work is, quite literally, down to earth. Her method and medium may have ancient antecedents and, if compared to the glitz of controversy in the contemporary art world, she could appear naive, but her work resonates poignantly as we begin to reevaluate our relationship with our planet.
Emily Young's sculpture trail at NEO Bankside on London's Southbank runs until the 18th October and Call and Response at the Madonna dell'Orto church in Venice runs until 22 November.