Eritrean-Swedish photographer Malin Fezehai tells us how she captured this stunning image of a young village girl in Pakistan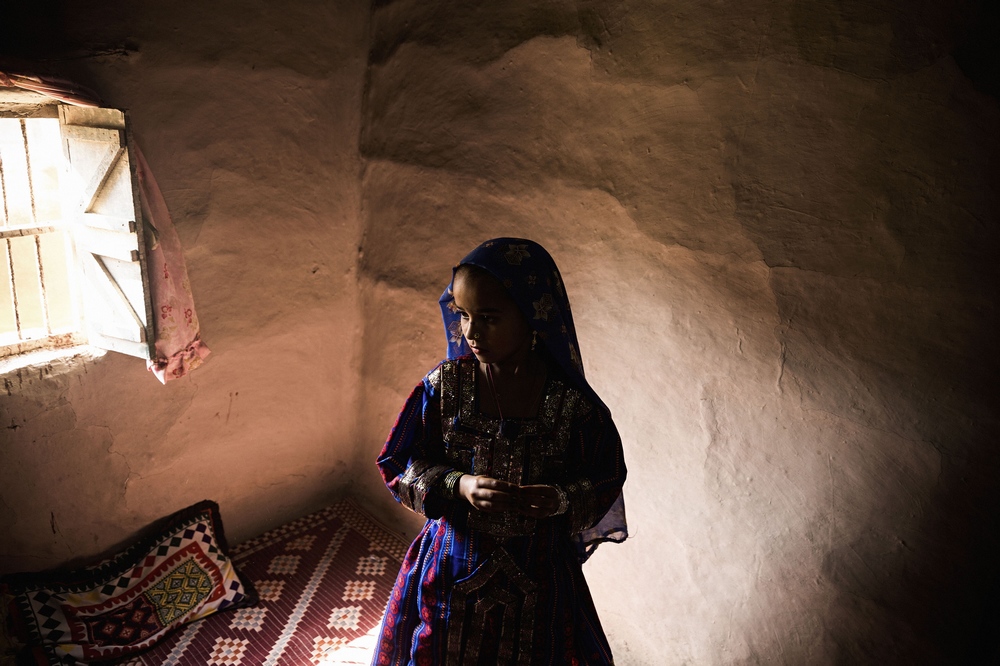 In order to document the effects of water scarcity and climate change on the lives of schoolchildren living in the Indus Delta, I travelled to southeastern Pakistan through villages in the Thatta region. WaterAid, who commissioned this trip, had to arrange a driver and government escorts to transport me. Large vehicles and men in uniforms took me to a school in the village of Muhammad Ali Bharj—a location, where WaterAid had decided to build taps and bathroom facilities.
That day, the school was closed but the children from the village still came out to greet us. With her small voice, a Pakistani girl in an elaborate dress invited me into her home to meet her family. The opening of this door presented the opportunity for a series of revealing portraits; women scurried around the house, preparing for a wedding to be held that day. Like the girl, they all wore vivid traditional dresses covered in beading.
The soft-spoken girl with embroidery dripping off her, was stunningly illuminated when she stepped into a shaft of window light. Faced with those moments, it is important to be calm, to match the energy of a little girl eager to show off her fancy dress, and to remember myself as a little girl in those rare occasions of being dressed up. To accept it in the camera sweetly, as part of the ritual of showing off. Yes the light was right, but more than that the spirit of the moment was right.
She'd never been to school— perhaps because in this village, school was only starting to become a priority for young girls like her. But there, in her wedding best, she was undoubtedly seen as a shining star in her community.
Noori Tales: 'Stories from the Indus Delta' featuring photographs by Malin Fezehai in collaboration with WaterAid and the H&M Foundation, will run at Kungsträdgården, Stockholm, from 15 August – 4 September 2016