Nicolò Degiorgis explains the story behind this striking image of a mass prayer protest in northern Italy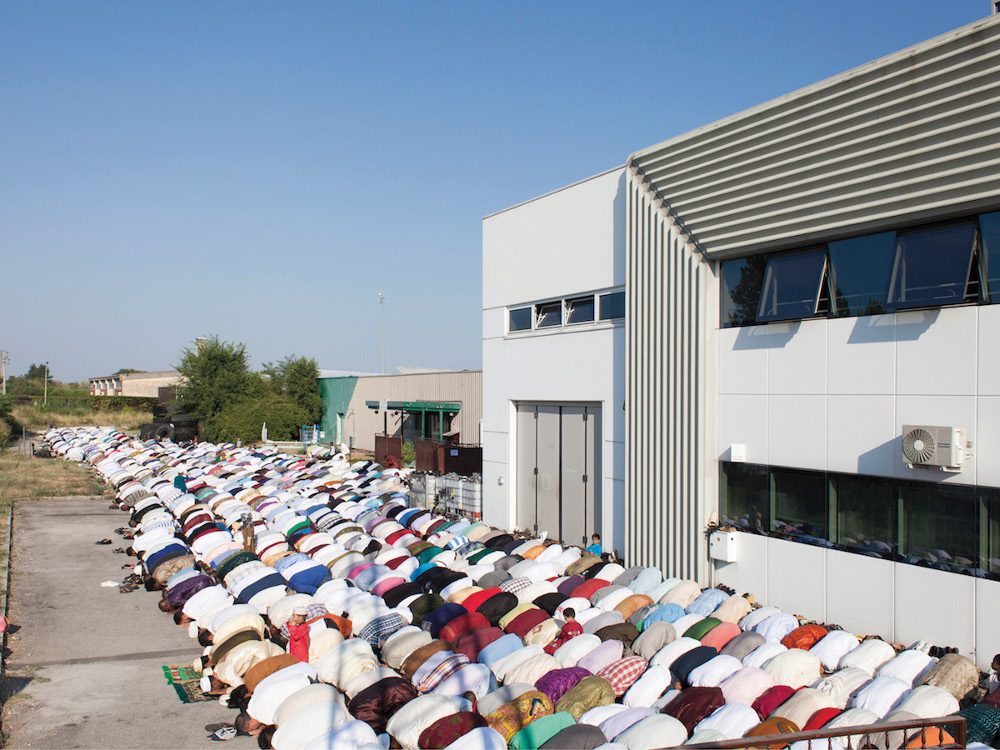 Hailing from the autonomous Italian province of South Tyrol, photographer Nicolò Degiorgis first began documenting the wave of Muslim migrants arriving in the country's north east in 2009, for a series titled Hidden Islam, which he later released as a self-published book of the same name with an introduction by Martin Parr.
Despite the enshrining of religious freedom in its constitution, only eight official mosques exist throughout Italy for a Muslim population of approximately 2.2 million – the fourth largest Muslim population in Europe – forcing many practitioners to create find temporary, ad-hoc spaces in which to worship.
Through his imagery, Degiorgis explores the contentious issue, made even more acute in the region he calls home by the presence of the right-wing Lega Nord (Northern League) – a political faction behind many anti-Islamic campaigns that are thought to have ignited racial tensions across the country.
Here, Degiorgis discusses Islamophobia, documenting peaceful protest, and how freedom of religion is a pre-requisite for modern democracies.
"This image was shot was taken in 2013 – it was the last time I documented the [local Muslim] community in a city called Treviso, close to Venice. In 2001, shortly after 9/11, the mayor of Treviso shut down the city's mosque without any particular reason. The community was then obliged to find places to pray, but they were constantly being kicked out. Then they bought the warehouse you see in the back of this picture and were thinking about establishing a mosque, but were stopped by the local government. So, to protest against this decision, they started to pray outside and did this for several years.
"This particular shot is from the last day of Ramadan, so the community appears bigger than usual. I think people prayed on the car park for about an hour or so; they have used the parking lot for prayer every Friday for at least three years now, but during Ramadan it was every day. Compared to Christianity, Islam has a different philosophy as to what constitutes a 'space of prayer' and, growing up Catholic, I was used to the Church being institutionalised in a certain way. In Islamic countries, it's quite common to have prayer rooms in shops, malls and supermarkets.
"Being accepted by the community was easy, most of them were very open. Taking pictures was a bit more of a delicate topic. On this project, I was invited to learn by the people I met. Sometimes the communities were very structured, led by schooled Imams brought to Italy from foreign countries. These men would often have a very clear direction on how to live and what to believe. In smaller communities, out of necessity, someone would become an Imam – I found these men would find it harder to explain certain dynamics to a non-Muslim, despite his devotion to his culture and religion. For everything I learned, there were unanswered questions, and this is why Islam is so fascinating, yet very hard to grasp for so many people.
"The majority of the Hidden Islam project was shot near to where I was living in Venice and Treviso (both in the Veneto region), but [some of it was shot in] Trentino and South Tyrol. We have Muslims in South Tyrol, but the communities are small. The situation in South Tyrol is peculiar on many levels as the historic mixing of Italian, German and Ladin communities has created a background of showing sensitivity towards minorities.
"My intention with the book is to explain a complexity that lies behind an apparently black and white issue. It emphasises how freedom of religion is a part of democracy and our constitution. We're not talking enough about Islamophobia – not just in Italy, but on a European level.
"One of the risks of making such a book is that it can be used in order to boost the rights of the Muslim community, but on the other hand could be used by the far-right to hype their political agenda. This is something I feared before publication, but I think it lets whoever is holding it make their own conclusions."
Nicolò Degiorgis is a member of the Wanderer Collective – a group of artists, designers, photographers and makers from South Tyrol. Other members include Martino Gamper, Brigitte Niedermair and Stefan Siegel. Hidden Islam is available to buy via RORHOF
Interview and additional text Ray Murphy