Banksy, Bruno Tanquerel, Robert Lewis – they've all left their mark on this hotel in New York, as Caroline Solomon and Reto Sterchi find out…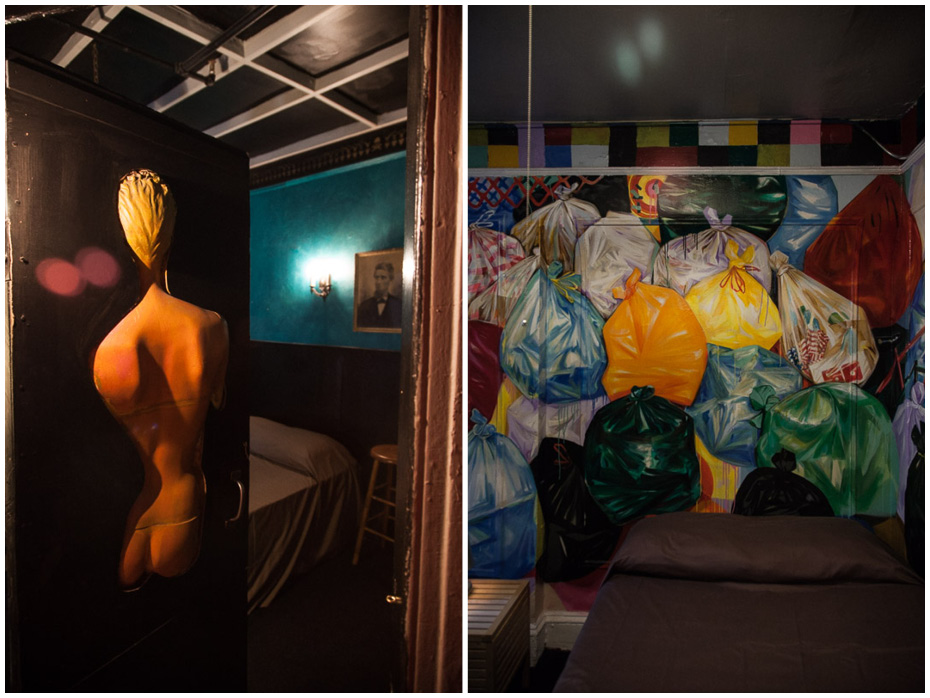 On the corner of a street in the quiet neighbourhood of Kips Bay in Manhattan is a slim brick building home to the Carlton Arms hotel, an establishment that transcends mere oddity. It is a five-floor labyrinth of 54 imaginative rooms regularly updated by artists whose colourful interiors depict everything from dancing primates and mesmerising blue Venuses, to rustic Tudor-style cottages and outlandish murals of bloated, candy-coloured garbage bags.
This feverishly madcap hotel, on 25th Street and 3rd Avenue, has existed for a century in various incarnations, from a dilapidated boarding house to a Prohibition-era speakeasy to a prostitution hub. In the 1980s, however, the arrival of new manager, Ed Ryan – a Bronx-born writer, construction-worker, and worldly adventurer – ushered in a hotbed of artistic activity.
He began inviting travelling artists to work at the hotel, offering them free rein to leave their creative imprint on rooms. The first to decorate the hotel was clerk Gil Dominguez, who turned a staircase into a mural of art deco silhouettes. Rooms are regularly updated and revised by new artists, turning the hotel into a kind of living and breathing museum, but Dominguez's work has remained untouched.
John Ogren, who has a playful manner that complements the establishment, currently manages the hotel. He has worked at the Carlton Arms since 1986. "It's like the song 'Hotel California,'" he recently said, quoting its famous refrain: "You can never leave."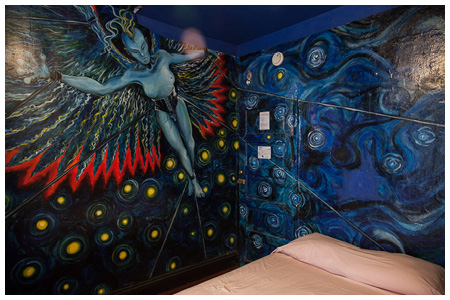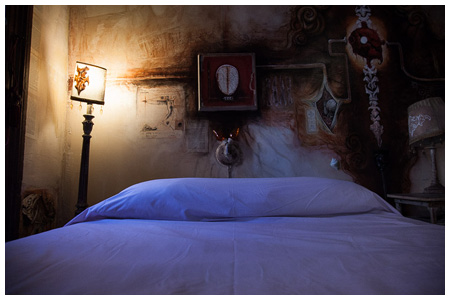 ---
"The Spanish and French Canadian artists show unbridled passion and throw paint everywhere, while the Japanese are very meticulous"
---
The Carlton Arms' clientele are predominantly travelling European backpackers and art school students. And its guests are surprisingly respectful of the works: the worst form of vandalism that happens is a guest might carve their initials into a closet door (in particular, one guest named 'El Diablo' made a point of making his presence known to future guests).
Artists given the task of decorating a room can let their imaginations run wild. Thus, some rooms end up more practical than others. Consider Room 9C (since transformed into a mural of primates), designed by Bruno Tanquerel in 1990. It used to contain a white chair pinned to the middle of a wall and a chest of drawers that was permanently tipped on its side. Or Room 5A, which was once decorated by artist Robert Lewis in a series of miniature black and white photographs of seemingly dead people. One guest of 5A promptly left the next morning, leaving a deck of fifty-two playing cards taped on top of each portrait.
For Ogren, although the hotel's constant artistic evolution is part of what makes the place special, it can be difficult to part ways with a room's art. "The art really becomes a living being, and it becomes a part of us here at the hotel," for Ogren, "but the transformation is necessary because of the natural wear and tear of the building."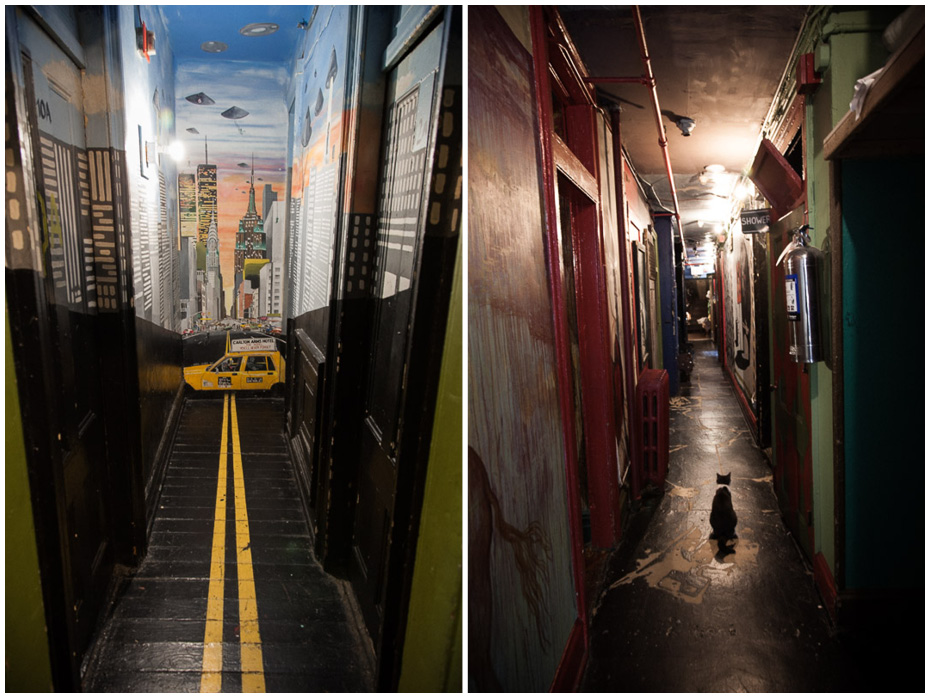 Awkwardly, artists sometimes drop by around the time their room is up for redecoration. German Artist Ana Lubner, who decorated her room 30 years ago, returned to the hotel just three days before it was due to be redone. "They just know," he says.
One of the hotel's more public claims to fame is its connection to the elusive artist Banksy. He stayed there as a young artist and some of his early works grace the Carlton Arms' stairwells. In particular, Room 5B, which was designed by Banksy in 1999, is a whimsical mural of cartoonish safari animals. It is among the more widely requested rooms. But try to pry information about Banksy's true identify from the staff, and you'll have little luck.Ogren said the hotel's rich universality is one of the personal pleasures of his job. "You learn a lot about cultural differences working here. The Spanish and French Canadian artists show unbridled passion and throw paint everywhere, while the Japanese are very meticulous."
"We all become part of each other after awhile."
Words Caroline Solomon
Photography Reto Sterchi